Published 07-14-15
Submitted by AMD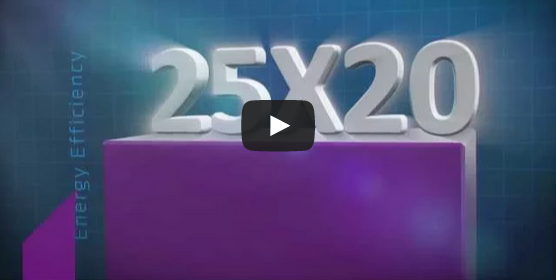 Click to watch the video
One year ago AMD announced its 25x20 initiative with the goal to achieve a 25x typical energy efficiency improvement of our APUs (Accelerated Processing Units) by 2020, from a 2014 baseline. Energy efficiency has long been a product design goal of AMD, and with the explosion of computing devices and capabilities over the last 20 years, AMD is on a path to focus on the energy and environmental footprint of computing. Energy efficiency is calculated as a ratio of work completed (i.e. performance) to how much energy is consumed completing that work. 
The recently introduced 6th generation A-Series APU, formerly codenamed "Carrizo," for thin and light laptops is a great example of the company's commitment. Carrizo offers more than twice the typical-use energy efficiency of the previous "Kaveri" generation of AMD APU, and alongside superior computational performance offers more than twice the battery life. With superior graphics and long video playback, "Carrizo" delivers exceptional experiences never before seen in a mainstream notebook.
While AMD has more to accomplish, the energy efficiency of "Carrizo" puts the company ahead of the trend line needed to achieve 25x20! Future energy-efficiency gains will continue to stem from architecture, new circuit design, and power-management techniques. To learn more about "Carrizo's" contributions toward reaching 25x20, watch AMD's video or dive into technical details presented at ISSCC 2015. 
Creating low-power products is not only good for AMD's business and customers, it is good for the environment. A year ago AMD made an important commitment to achieve specific goals across our products and have made significant progress with their 6th generation A-Series. The industry can expect continued improvements in the energy efficiency of AMD processors – APUs, CPUs and discrete GPUs – over the next several years as a result of design innovations embodied in the 25x20 initiative.
This press release contains forward-looking statements concerning Advanced Micro Devices, Inc. (the "Company"), including, the ability of the Company to continue to innovate in energy efficiency improvements at a rate that meet or exceed its 25X goal by 2020; the expectation that the bulk of energy-efficient gains will stem from architecture, new circuit design, and power-management techniques; the ability of the Company to continue to improve the energy efficiency of its  processors over the next several years through its design innovations embodied in its 25x20 initiative; which are made pursuant to the safe harbor provisions of the Private Securities Litigation Reform Act of 1995. Forward-looking statements are commonly identified by words such as "would," "may," "expects," "believes," "plans," "intends," "projects," and other terms with similar meaning. Investors are cautioned that the forward-looking statements in this press release are based on current beliefs, assumptions and expectations, speak only as of the date of this document and involve risks and uncertainties that could cause actual results to differ materially from current expectations. Risks include that Intel Corporation's dominance of the microprocessor market and its aggressive business practices may limit AMD's ability to compete effectively; that AMD relies on GF to manufacture most of its microprocessor and APU products and certain of its GPU and semi-custom products. If GF is not able to satisfy its manufacturing requirements, AMD's business could be adversely impacted; that AMD relies on third parties to manufacture its products, and if they are unable to do so on a timely basis in sufficient quantities and using competitive technologies, AMD's business could be materially adversely affected; failure to achieve expected manufacturing yields for AMD's products could negatively impact its financial results; the success of its business is dependent upon its ability to introduce products on a timely basis with features and performance levels that provide value to its customers while supporting and coinciding with significant industry transitions; if AMD cannot generate sufficient revenue and operating cash flow or obtain external financing, it may face a cash shortfall and be unable to make all of its planned investments in research and development or other strategic investments; that AMD may not be able to successfully implement its business strategy to refocus its business to address markets beyond AMD's core PC market to high-growth adjacent markets; the completion and impact of the 2014 restructuring plan and its transformation initiatives could adversely affect AMD; global economic uncertainty may adversely impact AMD's business and operating results; AMD may not be able to generate sufficient cash to service its debt obligations or meet its working capital requirements; AMD has a substantial amount of indebtedness which could adversely affect its financial position and prevent it from implementing its strategy or fulfilling its contractual obligations; the agreements governing AMD's notes and its amended and restated senior secured asset based line of credit for a principal amount up to $500 million (Secured Revolving Line of Credit) impose restrictions on AMD that may adversely affect AMD's ability to operate its business; the markets in which AMD's products are sold are highly competitive; and the loss of a significant customer may have a material adverse effect on it. Investors are urged to review in detail the risks and uncertainties in the Company's Securities and Exchange Commission filings, including but not limited to AMD's Quarterly Report on Form 10-Q for the quarter ended March 28, 2015.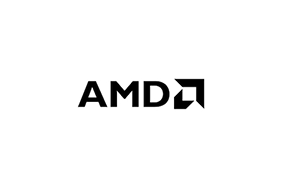 AMD
AMD
About AMD
For more than 50 years AMD has driven innovation in high-performance computing, graphics and visualization technologies. Billions of people, leading Fortune 500 businesses and cutting-edge scientific research institutions around the world rely on AMD technology daily to improve how they live, work and play. AMD employees are focused on building leadership high-performance and adaptive products that push the boundaries of what is possible. For more information about how AMD is enabling today and inspiring tomorrow, visit the AMD (NASDAQ: AMD) website, blog, LinkedIn and Twitter pages.
More from AMD