Published 06-30-15
Submitted by Mars, Incorporated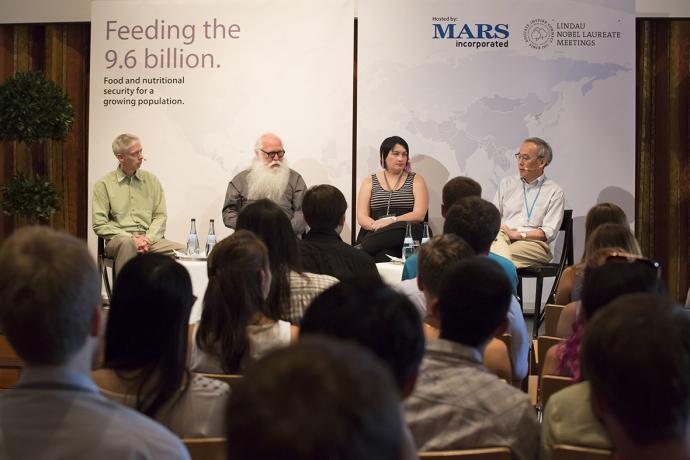 A record number of 65 laureates and over 650 young scientists are meeting in Germany to bridge the scientific disciplines of physiology and medicine, physics and chemistry and mark the 65th Lindau Nobel Laureate Meeting. This morning, Mars, Incorporated and more than 100 leading young scientists addressed the topic of "Feeding the 9.6 Billion" in an interactive panel discussion and Q&A session. The discussion aimed to confront the uncertainty surrounding how the world will sustainably feed an additional two billion people by 2050.
More than six decades after the Green Revolution, malnutrition still affects vast parts of the world and, according to the UN Food and Agriculture Organization, almost 800 million people worldwide are undernourished. With the global population predicted to rise to between 9 and 10 billion by 2050, we face an increasingly uncertain future that demands a coordinated response from all sectors and disciplines.   
Steven Chu, who was awarded the Nobel prize in 1997, served as the US Secretary of Energy in the first Obama administration. During the panel discussion Chu pointed out the need to recognize the link between agriculture and climate. According to Chu, "the food system is one of the greatest contributors to climate change and will also be one its greatest victims. But agriculture can mitigate worsening climatic stresses if sustainable practices are adopted at scale." Chu currently teaches at Stanford University, where he is the William R. Kenan, Jr., Professor of Physics and Professor of Molecular & Cellular Physiology.
In a world where an estimated 2 billion people are anaemic, Mars' Chief Agricultural Officer Howard-Yana Shapiro spoke during the discussion about the need to look beyond calories: "undernourishment is really just the tip of the iceberg. Deficiencies in nutrients like iron, vitamin B12, folate, vitamin A, affect huge numbers of people around the world and lead to physical and cognitive stunting." Shapiro leads the African Orphan Crops Consortium, a multi-sector partnership that is sequencing the genomes of 101 orphan crops in order to improve their yield, nutrient content and climatic resilience. By using traditional breeding methods and making all its data publically accessible, the consortium wants to put superior cultivars in the hands of smallholder farmers and sustainably address malnutrition in Africa. 
Tomorrow, Shapiro will give a presentation to almost 130 young scientists on the African Orphan Crops Consortium and the role orphan crops could play in unlocking food and nutritional security in Africa. He will also raise the topic of aflatoxin and look to the young researchers—the next generation of science—for their support in helping solve this looming global food safety issue.
This is the ninth year of Mars, Incorporated's partnership with the Lindau Nobel Laureate Meetings. It also marks the fifth annual panel that Mars has hosted, with the aim to foster discussions across disciplines to capture a wide range of perspectives on some of the critical issues of our time. Mars also supports young researchers to participate at the Lindau Nobel Laureate Meetings and collaborates with Nature Publishing Group (NPG) to make the dialogue at Lindau accessible to a global scientific audience.
About Mars, Incorporated
Mars, Incorporated is a private, family-owned business with more than a century of history and some of the best-loved brands in the world including M&M'S®, PEDIGREE®, DOUBLEMINT® and UNCLE BEN'S®. Headquartered in McLean, VA, Mars has more than $33 billion in sales from six diverse business segments: Petcare, Chocolate, Wrigley, Food, Drinks and Symbioscience. More than 75,000 Associates across 73 countries are united by the company's Five Principles: Quality, Efficiency, Responsibility, Mutuality and Freedom and strive every day to create relationships with stakeholders that deliver growth we are proud of as a company.
For more information about Mars, Incorporated, please visit www.mars.com. Follow us on Facebook, Twitter, LinkedIn and YouTube.
About the Lindau Nobel Laureate Meetings
Once every year, some dozens of Nobel Laureates convene at Lindau to meet the next generation of leading scientists: undergraduates, PhD students, and post-doc researchers from all over the world. The Lindau Nobel Laureate Meetings foster the exchange among scientists of different generations, cultures, and disciplines. The 65th Lindau Nobel Laureate Meeting (28 June – 3 July 2015) is dedicated to interdisciplinary scientific exchange. 65 Nobel Laureates participate in the 65th Lindau Meeting, among them also Nobel Peace Laureate Kailash Satyarthi and Nobel Literature Laureate Wole Soyinka. They will be joined by more than 650 young participants from 88 countries. The Lindau Meetings are jointly organised by two institutions – the council and the foundation. More information: www.lindau-nobel.org

Mars, Incorporated