Published 05-14-15
Submitted by Mars, Incorporated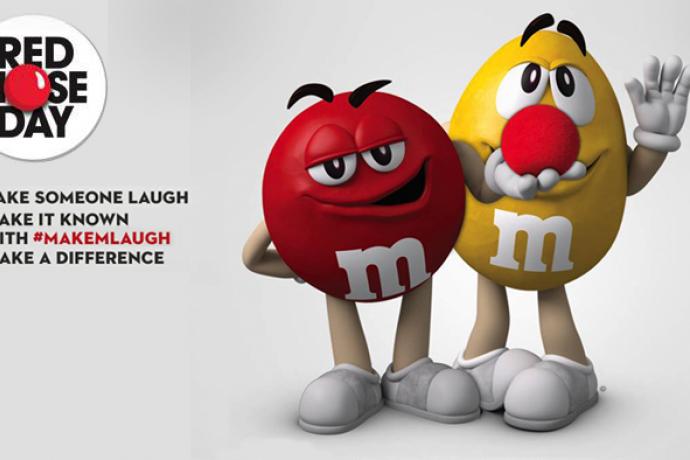 M&M'S® Brand is on a mission to raise money and awareness – and lots of laughter – for the first-ever U.S. Red Nose Day campaign by asking fans and consumers to make someone else laugh.
This week, Mars Chocolate North America announced that M&M'S®, known for its colorful chocolate candies and equally colorful sense of humor, will kick off a new campaign called "#MakeMLaugh" to support Red Nose Day as it debuts in the United States. This integrated, socially driven campaign is one of many ways M&M'S® is partnering with Red Nose Day to rally America to have fun, raise money and change lives. It kicked off with a fast-and-funny comedy event at the M&M'S® WORLD® Store in New York on Monday, May 11, featuring Saturday Night Live star and stand-up comedian Jay Pharoah.
M&M'S® designed the #MakeMLaugh campaign to prompt people everywhere to make someone else laugh and share that moment with the hashtag #MakeMLaugh. The brand hopes to make a $1 million total donation to the Red Nose Day Fund, which supports non-profit organizations that help lift children and young people out of poverty in the U.S. and overseas. M&M'S® will kick-start the effort with a $750,000 donation and are asking consumers to help trigger the additional $250,000 of that total by using or engaging with #MakeMLaugh. For every engagement with #MakeMLaugh from May 11 to May 21, M&M'S® will donate $1 to the Red Nose Day Fund, up to $250,000. 
"The M&M'S® brand and our beloved colorful characters make the world laugh every day, so using our sense of humor to generate awareness and donations for the Red Nose Day Fund is a natural way for us to rally our enormous fan base around this great cause," said Lee Andrews, Vice President, Corporate Affairs, Mars Chocolate North America. "Our goal is to raise tremendous awareness and support for Red Nose Day, and to demonstrate how fun fundraising can be."
The Funniest Five Minutes
Laughter will fuel the #MakeMLaugh campaign, so M&M'S® kicked it off May 11 with a hilarious stand-up act where Saturday Night Live star and comic Jay Pharoah tried to generate as many laughs as possible in five minutes. Fans were invited to join in the fun at the store beginning at 11 a.m. ET or follow on Twitter (@mmschocolate) or Facebook (www.facebook.com/mms).
Red Nose Day Arrives
The British charity organization behind Red Nose Day is called Comic Relief, and it was co-created in 1985 by Academy Award nominee and Emmy Award-winning writer-director Richard Curtis ("Love Actually," "Four Weddings and a Funeral," "Notting Hill"). Red Nose Day was launched in 1988 in the United Kingdom as a biennial fundraising campaign built upon the foundation that mass media and celebrities can help raise money and awareness of poverty to save and change millions of lives. The MALTESERS® Brand in the U.K. has been proud partners with Red Nose Day since 2011 and has helped raise more than £3.5 million.
"After a wonderful partnership with Mars in the U.K., it's brilliant to have the M&M'S® Brand supporting the first Red Nose Day in the U.S.," said Amanda Horton-Mastin, Innovation Director, Comic Relief. "We hope that consumers will enjoy the comedy and fun that sit at the heart of both brands and will join in to help transform children's lives both in the U.S. and internationally."
The inaugural U.S. Red Nose Day will be held on Thursday, May 21, 2015, supported by M&M'S®, NBC and Walgreens. Consumers are encouraged to support Red Nose Day by purchasing one of the campaign's trademark red noses for $1 from Walgreens locations through May 30, while supplies last, with proceeds benefiting the Red Nose Day Fund.
The multi-week campaign around Red Nose Day will culminate with a three-hour entertainment and "fun-raising" event on NBC on Thursday, May 21 (8-11 p.m. ET). Hollywood's biggest stars including Julia Roberts, Will Ferrell, Jodie Foster, Reese Witherspoon, Jennifer Aniston and more, are coming together to have fun, raise money and change the lives of children living in poverty in the U.S. and internationally. The live benefit will feature great comedy, videos produced by Funny Or Die and incredible music performances.
To learn more about #MakeMLaugh and M&M'S® Red Nose Day efforts, visit the M&M'S Facebook page at www.facebook.com/mms, the M&M'S Instagram page at www.instagram.com/mmschocolate or follow the M&M'S Twitter handle (@mmschocolate).
About Mars, Incorporated
In 1911, Frank C. Mars made the first Mars candies in his Tacoma, Washington kitchen and established Mars' first roots as a confectionery company. In the 1920s, Forrest E. Mars, Sr. joined his father in business and together they launched the MILKY WAY® bar. In 1932, Forrest, Sr. moved to the United Kingdom with a dream of building a business based on the objective of creating a "mutuality of benefits for all stakeholders" – this objective serves as the foundation of Mars, Incorporated today. Based in McLean, Virginia, Mars has net sales of more than $33 billion, six business segments including Petcare, Chocolate, Wrigley, Food, Drinks, Symbioscience, and more than 75,000 Associates worldwide that are putting its Principles into action to make a difference for people and the planet through its performance.
Mars brands include: Petcare – PEDIGREE®, ROYAL CANIN®, WHISKAS®, BANFIELD® Pet Hospital, CESAR®, SHEBA®, DREAMIES® and NUTRO®; Chocolate – M&M'S®, SNICKERS®, DOVE®, GALAXY®, MARS®, MILKY WAY® and TWIX®; Wrigley – DOUBLEMINT®, EXTRA®, ORBIT® and 5™ chewing gums, SKITTLES® and STARBURST® candies, and ALTOIDS® and LIFESAVERS® mints. Food – UNCLE BEN'S®, DOLMIO®, EBLY®, MASTERFOODS®, SEEDS OF CHANGE® and ROYCO®; Drinks – ALTERRA COFFEE ROASTERS™, THE BRIGHT TEA COMPANY™, KLIX® and FLAVIA®; Symbioscience – COCOAVIA® and WISDOM PANEL®.
For more information, please visit www.mars.com. Follow us: facebook.com/mars, twitter.com/marsglobal, youtube.com/mars, linkedin.com/company/mars.
About Red Nose Day
Red Nose Day was created to raise money to help children and young people living in poverty in the United States and some of the poorest communities around the world. The inaugural Red Nose Day will be held on Thursday May 21, 2015. The day's events will culminate in a three-hour entertainment TV special on NBC, featuring the country's favorite comedians, musicians and Hollywood stars. Money raised will go to the Red Nose Day Fund, a program of Comic Relief, Inc., a registered 501(c)(3) public charity. The Red Nose Day Fund will distribute the money raised by the Red Nose Day campaign to charity partners whose work helps to achieve Comic Relief, Inc.'s vision of a just world free from poverty.

Mars, Incorporated