Published 04-13-15
Submitted by World Environment Center
The Corporate Eco Forum (CEF) and World Environment Center (WEC) today published new insights from leading Chief Financial Officers on the importance of evaluating and integrating sustainability factors to create business value and strengthen the foundations for long-term growth.  The report, "Sustainability and the CFO: Challenges, Opportunities, and Next Practices," is based on in-depth interviews with leading CFOs and case studies of evolving financial management practices in major global companies that include Alcoa, Ecolab, Puma, Royal Dutch Shell, Unilever, UPS and The Walt Disney Company.
Jean-Marc Huët, Chief Financial Officer at Unilever, shared in the report that, "We're very much focused on making sure our finance people can understand and identify the impacts of societal and environmental factors on strategic growth, access to capital markets, on working with governments and regulators, and in making sure we're competitive against our peers."
Major findings in the report include:
CFOs and their C-suite colleagues are now encountering a new set of sustainability-related risks that threaten to damage corporate and brand reputation, increase legal liabilities, reduce license to operate, hinder access to resources, disrupt supply chains, and reshape the competitive landscape.
Key sustainability-related business challenges that CFOs need to pay attention to include: an uptick in the pace of sustainability-related regulations; growing constraints on key operational inputs; increasing shareholder activism; growing pressures to include sustainability criteria in financial reporting; and rising public expectations regarding sustainability, including among younger generations of talent.
CFOs who apply a sustainability lens will be better able to anticipate and manage risks through improved forecasting and planning.
Improved financial accounting methodologies are emerging to help CFOs obtain more realistic assessments of return on investment and to increase capital productivity.
Sustainability is opening up new avenues for business innovation and growth through enhanced products and services and strengthened customer relationships.
"CFOs face a myriad of new challenges along with heightened expectations for strengthening the short-term and future performance of their companies," commented Dr. Terry F. Yosie, WEC's President & CEO and one of the report's co-authors.  "Sustainability is evolving as a key bridging strategy to enable CFOs to better manage the present consistent with the future needs of their companies and shareholders in the interests of broader societal goals."
"CFOs with insight into sustainability megatrends will help their organizations chart a smarter course to compete effectively in a world where sustainability-related challenges become more dominant," added co-author and Chair of the Corporate Eco Forum, P.J. Simmons. "As the business case for integrating sustainability into a company's core value proposition gets stronger, we expect more CFOs to follow the lead of the farsighted executives we encountered in our research."
Further information about the CFO report can be found here:
Report: http://www.corporateecoforum.com/wp-content/uploads/2015/04/CFO_and_Sustainability_Apr-2015.pdf
GreenBiz Article: http://www.greenbiz.com/article/5-factors-building-sustainability-value-proposition-cfos
ABOUT THE CORPORATE ECO FORUM
The Corporate Eco Forum (CEF) is an elite, invitation-only membership organization comprised mainly of Fortune and Global 500 companies from 18 industries with combined revenues of over $3 trillion. CEF provides a year-round safe, neutral space for influential executives to exchange best practice, collaborate, and innovate. Participants are almost exclusively VP and C-level executives across multiple business functions: CEOs, CSOs, CTOs, CIOs, CFOs, CMO, VPs for Supply Chain and more. The diversity of executives, coupled with the cross-industry nature of CEF, is intended to create a world-class platform to accelerate sustainable business problem solving and innovation. www.corporateecoforum.com
ABOUT THE WORLD ENVIRONMENT CENTER
The World Environment Center (WEC) is an independent, global non-profit, non-advocacy organization that advances sustainable development through the business strategies and practices of its member companies and in partnership with governments, multi-lateral institutions, non-governmental organizations, universities and other stakeholders. WEC's mission is to promote business and societal value by advancing solutions to sustainable development-related challenges.  www.wec.org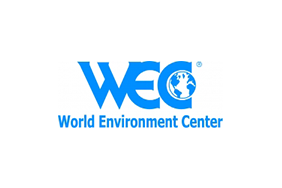 World Environment Center
World Environment Center
The World Environment Center (WEC) is an independent, not-for-profit, non-advocacy organization. Working with the private sector, international organizations, non-governmental organizations and academia, the WEC promotes sustainable development by encouraging leadership, improving health and safety practices worldwide, and fostering the efficient use of natural resources to protect the global environment. The WEC supports its mission through three central programs: the International Environment Forum (IEF); the WEC Gold Medal Award; and Capacity Building for the Environment programs.
More from World Environment Center