Published 03-19-15
Submitted by SCS Global Services
(Marketwired) - Leading third-party certifier SCS Global Services (SCS) announced that it is among the first organizations to be recognized as an eligible Environmental Product Declaration (EPD) Program Operator and independent EPD Verifier by the American National Standards Institute (ANSI) under its new EPD Accreditation Program. A pioneer in the field of environmental claims certification, long-time advocate for environmental transparency, and practitioner of advanced life cycle assessment (LCA), SCS adds this latest recognition to an impressive list of accreditations covering a wide range of environmental, sustainability, and quality certification credentials across multiple industry sectors.
"ANSI's accreditation of SCS as an eligible Program Operator and independent EPD Verifier gives our clients independent assurance of the quality and thoroughness of our services, and sets us apart," said Keith Killpack, SCS Manager of LCA Services.
The ANSI accreditation recognizes SCS' performance under the rules of three internationally recognized standards: ISO 14020:2000, Environmental Labels and Declarations - General; ISO 14025:2006, Environmental Labels and Declarations - Type III Declarations, Principles and Procedures; and ISO 21930:2007, Sustainability in Building Construction - Environmental Declaration of Building Products. The accreditation process is quite thorough, involving an extensive assessment of policies and procedures, as well as shadow auditing.
A leading LCA practitioner and ISO 14025 Program Operator, SCS has been innovating in the field of LCA and environmental labeling for decades. SCS issued the world's first environmental product declarations on consumer products in the 1990s, referred to as Environmental Report Cards, introduced "Type III" labels to the ISO process, and helped write ISO standards for LCA and ecolabeling. Today, SCS is engaged in national and international initiatives to advance the practice of LCA to ensure full transparency around a truly comprehensive set of environmental impact categories, and to support environmental sustainability claims.
About SCS Global Services
SCS Global Services (SCS) has been providing global leadership in third-party environmental and sustainability certification, auditing, testing, and standards development for three decades. Programs span a cross-section of industries, recognizing achievements in green building, manufacturing, food and agriculture, forestry, and more. SCS is a Certified B Corporation™, reflecting its commitment to socially and environmentally responsible business practices. www.scsglobalservices.com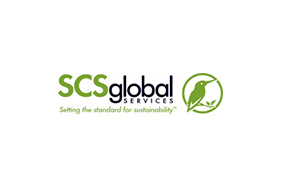 SCS Global Services
SCS Global Services
SCS is a leading third-party provider of certification, auditing and testing services, and standards, founded in 1984. Our goal is to recognize the highest levels of performance in food safety and quality, environmental protection and social responsibility in the private and public sectors, and to stimulate continuous improvement in sustainable development.
More from SCS Global Services