Published 02-27-15
Submitted by Emerald Brand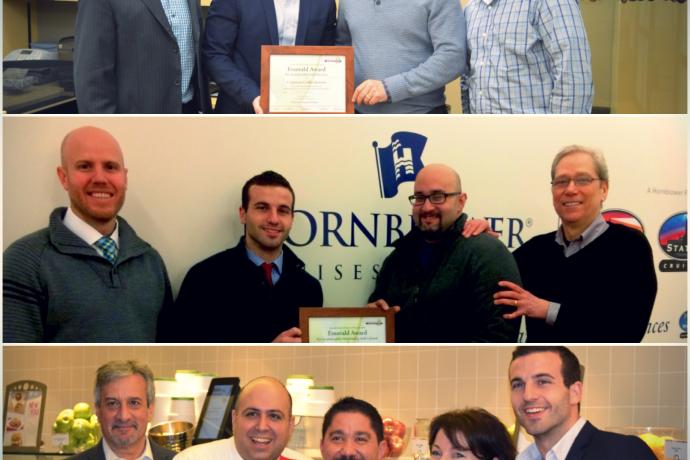 Emerald Award winners: Corporate Coffee Systems, Milbank, Hornblower New York
In 2013, Emerald Brand launched the first annual Emerald Award for Sustainability to recognize environmental leaders across four industries: Distribution, Facilities, Foodservice Operations, and Hospitality. This year, Emerald Brand is recognizing four companies that have significantly reduced their impacts on the environment. The Emerald Award for Sustainability takes into account not only participation in the Emerald Brand Sustainability Program, which includes the use of rapidly renewable, recycled, and compostable disposable products, but also a commitment to green initiatives across the board. This year's award winners have made tremendous strides toward a sustainable future.
Corporate Coffee Systems received the Emerald Award for Sustainable Distribution after launching Sustainable Coffee Adventures, which focuses strongly on organic, fair trade, and Rainforest Alliance certified coffees. Corporate Coffee is "Committed to Caring", offering clients full-service sustainable coffee solutions for the break-room and pantry. 
The Emerald Award for Sustainable Foodservice Operations was presented to Milbank, Tweed, Hadley & McCloy, an international law firm headquartered in New York City. Milbank implemented the Emerald Brand Sustainable Foodservice program in August, 2013. They are recognized globally for their Pro Bono work and commitment to diversity and women in leadership roles.
Hornblower Cruises & Events of New York was granted the Emerald Award for Sustainable Hospitality & Leisure. Hornblower utilizes the Emerald Brand Sustainability Program aboard all of their New York vessels, including their 168-foot Hybrid yacht powered by hydrogen fuel cells, solar panels, and wind turbines. Their Respect Our Planet initiative helps spread awareness about the importance of environmental conservation.
"On behalf of the entire Emerald Brand Green Team, it is our pleasure to recognize these companies as forward-thinking environmental leaders in their respective industries," said Ralph Bianculli, Jr., Vice President at Emerald Brand. "We are fortunate to have the opportunity to be in business with companies that have the same social and environmental goals as we do. We are all working together to protect our people and our planet."
The winners of the 2014 Emerald Award for Sustainability have collectively saved over 1,400 trees, 67,000 pounds of plastic, and 390,000 gallons of water. Additionally, they have diverted 245,000 pounds of waste from landfills and replaced 20,000 pounds of traditional paper with Forest Stewardship Council® (FSC®) certified paper from responsibly managed forests.
Next year, Emerald Brand plans to add a fifth category by launching the Emerald Award for Sustainable Packaging, which will be awarded based on environmental shipping and mailroom practices.

Emerald Brand
Emerald Brand
Emerald Brand's mission is to combat climate change by providing cost-effective sustainable disposable products to businesses and homes. With a line of over 225 products, Emerald can convert entire business facilities such as corporate offices, hotels, universities, and more to a full measureable sustainability platform in the cafeteria, breakroom, facilities, packaging, and cleaning categories.
Emerald specializes in producing Tree-Free and Petroleum-Free products made with agricultural fibers. This process supports local farmers, prevents deforestation, and prevents the burning of this formerly-wasted agricultural material.
You can learn more about Emerald Brand and the sustainable solutions they offer at EmeraldBrand.com.
More from Emerald Brand