Published 02-23-15
Submitted by World Environment Center
The World Environment Center (WEC) has awarded approximately $500,000 to each of the four winners of the Pathways Innovation Challenge:  Lutheran World Relief, Núcleo Biotecnología Curauma, ICAM GROUP, and Vista Volcanes. These organizations are accelerating business development and promoting sustainable economic growth in Latin America.  
The U.S. Department of State has funded WEC and its partners, Le Groupe-conseil baastel ltée (Baastel), Context Partners, and EarthShift, through a grant to select and bring to scale the winning, local solutions identified through the Pathways Innovation Challenge.  The four awardees submitted innovative proposals that respond to the policy needs of the regional, multilateral Pathways to Prosperity in the Americas initiative. Since their selection as winners, these awardees  have engaged with WEC and its partners in creating scaling strategies, work plans, and results-based frameworks to replicate their solutions.WEC and its partners will monitor the four winners' progress over the next two years, and will also reengage 26 semi-finalists of the Pathways Innovation Challenge to help scale their solutions in the region and create a collaborative sustainable business network.  This network will augment the breadth and impacts of these solutions by leveraging the support of stakeholders that will help to grow and fund them.  The innovations address a range of sectors in agriculture, trade and manufacturing from a collection of countries throughout the hemisphere from Chile to Mexico.  
"These actions are designed to challenge participants to provide and grow impactful solutions for society through scalable, sustainable economic development" stated Dr. Terry F. Yosie, WEC's President & CEO. "By funding these awardees to scale beyond their current reach, we will create a network that can empower local innovation and, in doing so, strengthen our region's economies."
For more information about the Challenge, visit http://challenge.wec.org/en/home; for more information on the Pathways to Prosperity in the Americas Initiative, please visit www.pathways-caminos.org.
About Pathways to Prosperity
Pathways to Prosperity in the Americas is a policy-level dialogue that links 16 Western Hemisphere governments and societies collectively seeking to empower small businesses, facilitate trade and regional competitiveness, build a modern and inclusive workforce, and encourage green, sustainable business practices. Pathways member countries currently include Belize, Canada, Chile, Colombia, Costa Rica, Dominican Republic, El Salvador, Guatemala, Honduras, Mexico, Nicaragua, Panama, Peru, Trinidad and Tobago, Uruguay, and the United States.
About World Environment Center
WEC is an independent, global non-profit, non-advocacy organization that advances sustainable development through the business practices and operations of its member companies and in partnership with governments, multi-lateral organizations, non-governmental organizations, universities and other stakeholders. WEC's mission is to promote business and societal value by advancing solutions to sustainable development-related problems. 
About Context Partners
We're all about the people. We're a Social Innovation Design firm helping organizations deepen relationships with their communities to succeed in today's connected world. An activated community is the surest path to increase innovation, stakeholder buy-in, brand engagement and business intelligence.  
About Le Groupe-conseil baastel ltée
Baastel is recognized for its quality services in Monitoring and Evaluation (M&E), Results-based Management (RBM), strategic planning, project and program management, and building individual and institutional capacity in these areas. Baastel's outstanding reputation in the field is built on a record of international and national successes, and expertise that is backed by attention to detail, quality, transparency and neutrality.
About EarthShift
Founded in 2000, EarthShift is a leading international provider of sustainability solutions. EarthShift provides software, training and consulting services that allow organizations to engage in informed decision-making about the social, economic and environmental consequences that flow from their activities. EarthShift leverages innovative approaches to sustainability challenges to effect significant change by shifting the way organizations think and interact with the planet's ecosystems and the life it supports.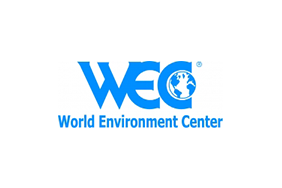 World Environment Center
World Environment Center
The World Environment Center (WEC) is an independent, not-for-profit, non-advocacy organization. Working with the private sector, international organizations, non-governmental organizations and academia, the WEC promotes sustainable development by encouraging leadership, improving health and safety practices worldwide, and fostering the efficient use of natural resources to protect the global environment. The WEC supports its mission through three central programs: the International Environment Forum (IEF); the WEC Gold Medal Award; and Capacity Building for the Environment programs.
More from World Environment Center