Published 02-18-15
Submitted by Cognizant
 Cognizant (NASDAQ: CTSH) today announced it is awarding 34 grants to after-school, in-school, and summer programs at 54 sites across the U.S. through its 'Making the Future' education initiative. Designed to inspire interest in STEM (science, technology, engineering and math) education among students from grade school through high school, the initiative supports hands-on learning opportunities that promote creativity, problem-solving, collaboration and self-expression. The 2015 grants will provide more than 5,000 young learners with access to over 250,000 hours of making activities focused on STEM topics, including electronics, robotics, computer programming, digital fabrication, 3D printing and wearable technology.
"As a technology leader, we know that closing the talent gap in the STEM fields is critical to keeping America's innovation economy vibrant. The innovative programs that we have  developed and support help inspire and prepare our youth to capitalize on the growing number of STEM career opportunities," said Steven Schwartz, Executive Vice President and Chief Corporate Affairs Officer of Cognizant. "Making is an excellent way to ignite interest in STEM.  By providing access to interactive learning opportunities in a wide range of communities, we are  helping children across a broad range of socio-economic backgrounds bring their discoveries and dreams to life."
Cognizant's 'Making the Future' education initiative was created to unleash the passion of young learners—particularly girls and underrepresented minorities—in STEM disciplines by providing fun, hands-on learning opportunities. In 2014, Cognizant announced its commitment to provide 1.5 million hours of making experiences to 25,000 youth in over 200 communities by the end of 2017. To reach this goal, Cognizant is partnering with leading non-profits and maker-focused organizations to expand the maker footprint nationwide, including DonorsChoose.org in supporting grants to schools servicing military families; Maker Corps in hosting sites to train making facilitators; the New York Hall of Science in sponsoring its Maker Space; and Maker Faires in New York and California in hosting the Young Makers Pavilion. In addition, Cognizant annually awards U.S. college scholarships to students pursuing STEM careers.
"Cognizant's 'Making the Future' grant is helping students discover new pathways to future success," said Linda Cagley, Education Vice President of McPIE (McClintock Partners in Education), a grant recipient in Charlotte, N.C. "As they experience 3D CAD design, learn to use a 3D printer, and build mini quad-copters, they discover that math, science and engineering concepts are relevant.  The power of making is helping them envision a future in a STEM field.  We are truly thankful to Cognizant for providing this opportunity—you are indeed touching and changing lives!"
"The 'Making the Future' grant from Cognizant has provided The Boys & Girls Club of Paterson and Passaic with the opportunity to double the number of participants in our STEM program by opening a second site at our Passaic Club," said Peter J. Thornton, Executive Director, Boys & Girls Club of Paterson and Passaic, N.J. "This program will introduce 60 children in grades 3–8 to STEM concepts through hands-on and experiential learning opportunities. The grant from Cognizant will expand the minds of our young learners and give them the opportunity to make STEM part of their life-long learning journey.
The recipients of the 2015 'Making the Future' grants are:
1. Piscataway Public Library, Piscataway, N.J.
2. Newark Museum, Newark, N.J.  
3. Boys & Girls Club of Paterson & Passaic, N.J.
4. Washington Maker Workshop, San Jose, Calif.
5. Techbridge Girls, Oakland, Calif.
6. Exploratorium, San Francisco, Calif.
7. Prairie View A&M University Cooperative Extension Program, 4-H Youth Development, Houston, Texas 
8. The Thinkery (Austin Children's Museum), Austin, Texas
9. Workshop 88, Glen Ellyn, Ill.
10.  CPEP (Connecticut Pre-Engineering Program), Hartford, Conn.
11.  Discovery Place, Charlotte, N.C.
12.  Granville County Schools, Oxford, N.C.
13.  McPIE (McClintock Partners in Education), Charlotte, N.C.
14.  University Science Center, Philadelphia, Penn.
15.  The Possible Project, Cambridge, Mass.
16.  Tech Corps, Cleveland & Columbus, Ohio
17.  Leonardo's Basement, Minneapolis, Minn.
18.  Learning Through Making, Atlanta, Ga. 
19.  Science Museum of Virginia, Richmond, Va.
20.  Equal Footing Foundation, Fairfax Computer Clubhouses, Falls Church, Fairfax, Alexandria & Reston, Va.
21.  YWCA of Greater Green Bay, Green Bay, Wis. 
22.  Center for Technology Access and Training, Clinton, Md. 
23.  NY Academy of Sciences, New York City, N.Y.
24.  Friends of Hudson River Park, New York City, N.Y.
25.  Jewels Academy, Des Moines, Iowa
26.  Gold Crown Enrichment Computer Clubhouse, Lakewood, Colo. 
27.  Little Stars Foundation, Camden, Mich. 
28.  Girls Inc. of NW Oregon, Portland, Ore.
29.  Children's Museum of the Upstate, Greenville, S.C.
30.  Louisville Collegiate School, Louisville, K.Y.
31.  Utah State University Extension 4-H, St. George & Delta, Utah 
32.  Rogers Public Library Foundation, Bentonville, Ark.
33.  Inspiration Labs, Tampa, Fla.
34.  Girlstart, Bryan, Texas; Elgin, Ill. and Chandler, Ariz.
About Cognizant
Cognizant (NASDAQ: CTSH) is a leading provider of information technology, consulting, and business process outsourcing services, dedicated to helping the world's leading companies build stronger businesses. Headquartered in Teaneck, New Jersey (U.S.), Cognizant combines a passion for client satisfaction, technology innovation, deep industry and business process expertise, and a global, collaborative workforce that embodies the future of work. With over 75 development and delivery centers worldwide and approximately 211,500 employees as of December 31, 2014, Cognizant is a member of the NASDAQ-100, the S&P 500, the Forbes Global 2000, and the Fortune 500 and is ranked among the top performing and fastest growing companies in the world. Visit us online at www.cognizant.com or follow us on Twitter: Cognizant.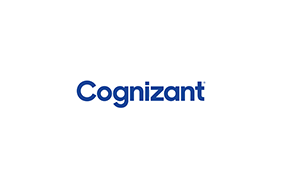 Cognizant
Cognizant
Cognizant (Nasdaq-100: CTSH) is one of the world's leading professional services companies, transforming clients' business, operating and technology models for the digital era. Our unique industry-based, consultative approach helps clients envision, build and run more innovative and efficient businesses. Headquartered in the US, Cognizant is ranked 185 on the Fortune 500 and is consistently listed among the most admired companies in the world. Learn how Cognizant helps clients lead with digital at www.cognizant.com or follow us @Cognizant.
More from Cognizant