Published 02-04-15
Submitted by Spence-Chapin Services to Families and Children
Spence-Chapin's Modern Family Ball
 Spence-Chapin Services to Families and Children will host its second annual benefit – the Modern Family Ball (www.modernfamilyball.org) - on March 5th at Tribeca Rooftop in New York City. Celebrating families formed through adoption, the event is a time to toast the contributions of extraordinary individuals in the adoption community. Hosted for a second time by Cat Greenleaf, adoptive parent and two time Emmy Award-winning host of "Talk Stoop With Cat Greenleaf", the Modern Family Ball will honor actor and adoptive parent Willie Garson, actor (Sex and The City, White Collar, NYPD BLUE). Spence-Chapin's volunteer Interim Care Providers will receive the first ever Flicka Van Praagh Award and welcome special guest actress, filmmaker and Spence-Chapin adoptee Samantha Futerman, who will share her reunion experience and a clip from her new documentary Twinsters.
The Modern Family Ball is Spence-Chapin's main fundraiser and all proceeds will benefit the organization's mission to find loving homes for the world's most vulnerable children – older children, sibling groups, and children with special needs.  "The barriers to adoption can be overwhelming to potential parents. These include financial obstacles, as well as emotional and legal challenges," says Maud Welles, Board Chair of Spence-Chapin. "Adoptive parents want to offer a loving family to children of all ages, nationalities, and special needs but struggle to envision where help will come from.  We rely on events like the benefit to raise critical funds needed to help the thousands of children that need families and to sustain our work," says Ms. Welles. 
With philanthropists, members of the adoption community, as well as celebrities in attendance, Spence-Chapin has attracted a diverse and adoption-knowledgeable crowd. A silent and live auction rounds out the event, featuring fabulous trips, jewelry, and rounds of golf at National Links, Meadow Brook Club, and Winged Foot.
For tickets to Spence-Chapin's Modern Family Ball benefit, visit www.modernfamilyball.org or contact Kristen Lyndaker at (212) 360-0237.
—###—
Spence-Chapin is an adoption and family service agency bringing over 100 years of experience in finding families for children.  Spence-Chapin's fundamental belief is that every child deserves a family. To underscore this commitment, Spence-Chapin has eliminated many financial barriers for families who consider embarking on the adoption journey. Through their Modern Family Center, Spence-Chapin has broadened their impact and provides support, workshops, and counseling services for: birth parents, adoptive parents, families formed through adoption, teens, children with special needs, and adoptees at every life stage.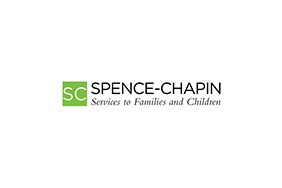 Spence-Chapin Services to Families and Children
Spence-Chapin Services to Families and Children
SPENCE-CHAPIN IS AN ACCREDITED NONPROFIT ORGANIZATION THAT HAS BEEN OFFERING QUALITY ADOPTION SERVICES FOR MORE THAN 100 YEARS. Our mission is to help find loving families for children whatever their needs or circumstances, and provide counseling and support for all children and the families to whom they have been born or entrusted. Our mission is driven by the simple belief that every child deserves a family.
Spence-Chapin focuses on finding adoptive homes for children who need families; promoting the understanding of adoption through counseling and public education; and improving adoption's image and practice. Through our Modern Family Center we are helping each family member navigate their individual adoption stories with clarity and confidence. Spence-Chapin's roots can be traced to the early 1900s and the pioneering work of Clara Spence, and Dr. and Mrs. Henry Chapin, who independently established nurseries out of concern for homeless infants abandoned in hospitals and shelters.
Today, Spence-Chapin is proud of our role as a prominent voice and leading advocate for adoption, and of our commitment to the wellbeing of all members of the adoption triad: birth parents, adoptive parents, and their children.