Published 01-16-15
Submitted by Mars, Incorporated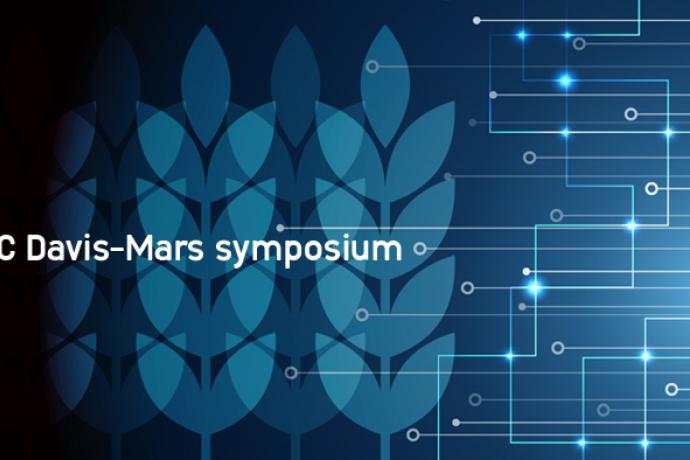 Mars, Incorporated, in partnership with UC Davis, is launching the Innovation Institute for Food and Health, part of the World Food Center at UC Davis, with a day-long symposium on January 14. Laureates and other leading scientists are set to discuss major challenges relating to improving global food security, sustainable agriculture and health for a growing world population.
The Innovation Institute is being supported over the next 10 years with a pledge of $40 million from Mars and $20 million from UC Davis and aims to advance new discoveries in sustainable food, agriculture and health.
"During the past four decades, UC Davis and Mars have partnered on research programs related to nutrition, health, sustainable agriculture, engineering, economics and food safety," said Harold H. Schmitz, chief science officer at Mars. "We hope that this symposium builds on this collaboration and triggers a renewed cross-sector focus on engaging the world's best talent to explore new areas of science and innovation that address the global food, agriculture and health challenges we face."
Panel discussions at the symposium will include "solving agriculture's greatest challenges," scientific discovery and innovation in food, agriculture and health, and the role of venture capital in meeting these challenges.
"In the spirit of global partnerships committed to solving societal grand challenges, I am very pleased to host this symposium at UC Davis," said UC Davis Chancellor Linda P.B. Katehi. "To make progress on global challenges in food, agriculture and health, we need to collaborate across sectors. My hope is that this event, marking the launch of our new Innovation Institute and celebrating the collaboration between UC Davis and Mars, will advance those partnerships."
For 40 years, the partnership between UC Davis and Mars has allowed the two organizations to work together on several scientific research projects related to agriculture, food, nutrition, biology and veterinary health. This has included sequencing the cacao genome in 2010 and founding the African Orphan Crops Consortium, both international programs aimed at improving yield, productivity and climatic adaptability of key crops.
The free to attend symposium will run from 9am to 5:30pm Pacific Time (PT) at the Mondavi Center with the keynote lecture given by Professor Elizabeth Blackburn of UC San Francisco, winner of the Nobel Prize for Physiology or Medicine, 2009. Visitors will also be able to attend a unique exhibit of photographs of Nobel prizewinning scientists, "Sketches of Science," produced by the Nobel Museum in collaboration with the Lindau Nobel Laureate Meetings. This is the only U.S. showing of the exhibit, which runs through Jan. 26 in the Mondavi Center lobby.
To read Howard-Yana Shapiro's LinkedIn post on how the Institute plans to tackle nutrition challenges across the globe, click here: https://www.linkedin.com/pulse/food-agriculture-health-time-connect-howard-yana-shapiro
Howard-Yana Shapiro also took part in a Reddit Science AMA, answering all questions submitted relating to the Innovation Institute – https://www.reddit.com/r/science/comments/2s9vhk/science_ama_series_im_howardyana_shapiro_chief
All sessions from the meeting will also be streamed live online (http://new.livestream.com/accounts/11451219/events/3680232) and live tweeted via @marsglobal and @ucdavis with the hashtags #ucdavismars, #globalfood.   
About the World Food Center at UC Davis
The World Food Center at UC Davis was established in 2013 to increase the economic benefit from campus research; influence national and international policy; and convene teams of scientists and innovators from industry, academia, government and nongovernmental organizations to tackle food-related challenges in California and around the world.
UC Davis is participating in UC's Global Food Initiative launched by UC President Janet Napolitano, harnessing the collective power of UC to help feed the world and steer it on the path to sustainability.
About UC Davis
UC Davis is a global community of individuals united to better humanity and our natural world while seeking solutions to some of our most pressing challenges. Located near the California state capital, UC Davis has more than 34,000 students, and the full-time equivalent of 4,100 faculty and other academics and 17,400 staff. The campus has an annual research budget of approximately $700 million, a comprehensive health system and about two dozen specialized research centers. The university offers interdisciplinary graduate study and 99 undergraduate majors in four colleges and six professional schools.
About Mars, Incorporated
In 1911, Frank C. Mars made the first Mars candies in his Tacoma, Washington kitchen and established Mars' first roots as a confectionery company. In the 1920s, Forrest E. Mars, Sr. joined his father in business and together they launched the MILKY WAY® bar. In 1932, Forrest, Sr. moved to the United Kingdom with a dream of building a business based on the objective of creating a "mutuality of benefits for all stakeholders" – this objective serves as the foundation of Mars, Incorporated today. Based in McLean, Virginia, Mars has net sales of more than $33 billion, six business segments including Petcare, Chocolate, Wrigley, Food, Drinks, Symbioscience, and more than 75,000 Associates worldwide that are putting its Principles into action to make a difference for people and the planet through its performance.
Mars brands include: Petcare – PEDIGREE®, ROYAL CANIN®, WHISKAS®, KITEKAT®, BANFIELD® Pet Hospital and NUTRO®; Chocolate – M&M'S®, SNICKERS®, DOVE®, GALAXY®, MARS®, MILKY WAY® and TWIX®; Wrigley – DOUBLEMINT®, EXTRA®, ORBIT® and 5™ chewing gums, SKITTLES® and STARBURST® candies, and ALTOIDS® AND LIFESAVERS® mints. Food – UNCLE BEN'S®, DOLMIO®, EBLY®, MASTERFOODS®, SEEDS OF CHANGE® and ROYCO®; Drinks – ALTERRA COFFEE ROASTERS™, THE BRIGHT TEA COMPANY™, KLIX® and FLAVIA®; Symbioscience – COCOAVIA™ and WISDOM PANEL™.
For more information, please visit www.mars.com. Follow us: facebook.com/mars, twitter.com/marsglobal, youtube.com/mars, linkedin.com/company/mars

Mars, Incorporated