Published 12-17-14
Submitted by Spence-Chapin Services to Families and Children

Spence-Chapin Adoption Services
Spence-Chapin, a non-profit adoption and family services agency, announced today a change in leadership. Executive Director Emily Forhman has decided to seek new opportunities after a successful three-year tenure.  Forhman will be succeeded by current COO/CFO, Adam Cotumaccio.
Maud Welles, President of the Spence-Chapin Board, commented, "Emily has brought Spence-Chapin to the next level broadening relationships and increasing our connectivity within the adoption community. She has made important changes to appropriately scale and bring efficiency to the organization. Spence-Chapin has a strong team in place and will benefit from her leadership for years to come."
Having led Spence-Chapin through what has been a difficult transition time for many nonprofit organizations, Forhman's many contributions to Spence-Chapin include: developing new relationships; trimming over $2 million from the annual budget; and successfully launching Spence-Chapin's Annual Benefit Gala in 2014.
Drawn to Spence-Chapin's mission of finding homes for children and helping families, Cotumaccio joined the agency in September 2014.
Cotumaccio brings over 20 years of diverse corporate executive management and start-up experience to Spence-Chapin. He has served on several non-profit and for-profit boards and has extensive cause marketing experience. Adam was formerly the Global COO for Kinetic Worldwide, the largest Out-Of-Home media agency in the world and previously served as COO, Americas GroupM ESP, the Entertainment, Sports and Cause Marketing division within GroupM, the world's leading media investment/content management group. Adam has also worked within Deloitte Consulting's prestigious Retail and Consumer Business Practice.
According to Welles, "Adam is prepared to take on the day-to-day management of the agency and lead it into the future. As Spence-Chapin enters its 106th year, we are committed to exploring new and innovative ways to serve the adoption community."
About Spence-Chapin Services to Families & Children
Spence-Chapin is an adoption and family service agency bringing over 100 years of experience in finding families for children.  Spence-Chapin's fundamental belief is that Every Child Deserves A Family. To underscore this commitment, Spence-Chapin has eliminated many financial barriers for families who consider embarking on the adoption journey. Through their Modern Family Center, Spence-Chapin has broadened their impact and provides support, workshops, and counseling services for: birth parents, adoptive parents, families formed through adoption, teens, children with special needs, and adoptees at every life stage.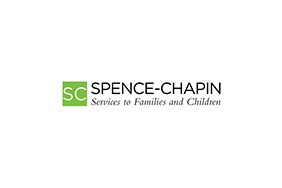 Spence-Chapin Services to Families and Children
Spence-Chapin Services to Families and Children
SPENCE-CHAPIN IS AN ACCREDITED NONPROFIT ORGANIZATION THAT HAS BEEN OFFERING QUALITY ADOPTION SERVICES FOR MORE THAN 100 YEARS. Our mission is to help find loving families for children whatever their needs or circumstances, and provide counseling and support for all children and the families to whom they have been born or entrusted. Our mission is driven by the simple belief that every child deserves a family.
Spence-Chapin focuses on finding adoptive homes for children who need families; promoting the understanding of adoption through counseling and public education; and improving adoption's image and practice. Through our Modern Family Center we are helping each family member navigate their individual adoption stories with clarity and confidence. Spence-Chapin's roots can be traced to the early 1900s and the pioneering work of Clara Spence, and Dr. and Mrs. Henry Chapin, who independently established nurseries out of concern for homeless infants abandoned in hospitals and shelters.
Today, Spence-Chapin is proud of our role as a prominent voice and leading advocate for adoption, and of our commitment to the wellbeing of all members of the adoption triad: birth parents, adoptive parents, and their children.