Published 10-10-14
Submitted by Carnival Corporation, Inc.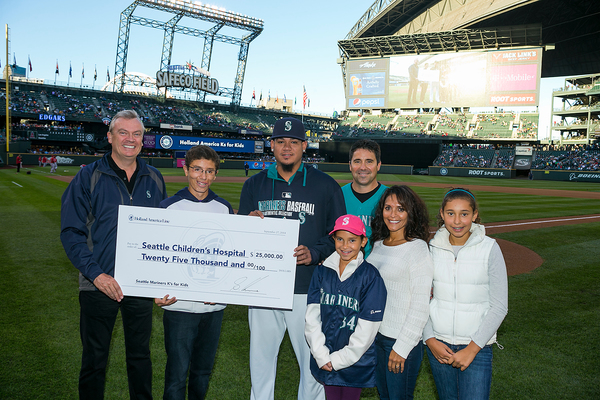 Holland America Line Donates to the Seattle Children's Hospital
Holland America Group CEO Stein Kruse presented a check for $25,000 to Seattle Children's Hospital's Uncompensated Care Fund Saturday, Sept. 27, 2014, at the Seattle Mariner's home game at Safeco Field. The company made the donation as part of its partnership with the Seattle Mariners Major League Baseball team and their "K's for Kids" program that debuted during the 2014 baseball season.
With "K's for Kids," each strikeout (represented as a "K" on the score card) recorded by a Mariners pitcher at Safeco Field throughout the season earned a cash donation from the cruise line to Seattle Children's. Kruse was joined on the field during the check presentation by 14-year-old Seattle Children's patient Jake Finkbonner and his family and the Seattle Mariner's Major League Baseball All Star and Cy Young award-winning pitcher Félix Hernández.
"It is rewarding to partner with the Seattle Mariners, who prioritize giving back to the community as we do, and we've eagerly been following the season in anticipation of today's presentation," said Kruse. "The Seattle Mariners earned this donation for Seattle Children's with 667 strikeouts at home this season, and it was an honor share the field with a young man as courageous and inspirational as Jake."
For the past three years, Holland America Line and the Mariners have maintained a partnership that, in addition to a corporate sponsorship, includes community-based programs. The cruise line sponsors "Get Well Tours" to area hospitals and donated two cruises for raffle at the annual Fan Appreciation Night, on Friday, Sept. 26.
"Holland America Line has been a tremendous supporter over the past three years, and their "K's for Kids" donation is a very special and meaningful piece of the partnership," said Bob Aylward, executive vice president of corporate business for the Seattle Mariners. "We know that Seattle Children's will greatly benefit from the generous donation made during Saturday's game."
Holland America Line Get Well Tours
Holland America Line is the presenting sponsor of the Seattle Mariners Get Well Tours, visits to area hospitals by Mariners players and the Mariner Moose where children receive photos and autographs. They also get a Holland America Line–branded sports bag filled with Mariners and baseball-related items such as replica baseballs and a Mariners Moose toy.
Holland America Line Fan Appreciation Night
Holland America Line is the presenting sponsor of the annual Fan Appreciation Night celebration at Safeco Field. This year the event was held at the Sept. 26 home game. Fan Appreciation Night is a celebration of the loyalty and support of Mariners fans with random drawings for prizes throughout the game. As part of its sponsorship, Holland America Line provided two cruises which were given away to lucky fans.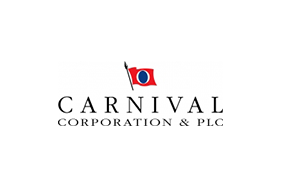 Carnival Corporation, Inc.
Carnival Corporation, Inc.
We at Carnival Corporation & plc believe that sustainability is about preserving our environment, respecting our employees and communities, and returning value to our shareholders. Sustainability is not a cost of doing business; it is a way of doing business. As one of the largest vacation companies in the world, Carnival has been committed since our inception to operating responsibly. 
We recognize that our success is tied to protecting the environment, safeguarding and developing our workforce, strengthening stakeholder relationships, enhancing the port communities that we visit and maintaining our fiscal strength. We also recognize that, in today's business climate, the viability of our business as well as our reputation depends on being more sustainable and transparent. 
For more information on what Carnival has done and is doing to protect the environment, please see Carnival Corporation's Sustainability Website.
More from Carnival Corporation, Inc.