Published 10-08-14
Submitted by Arcadia Power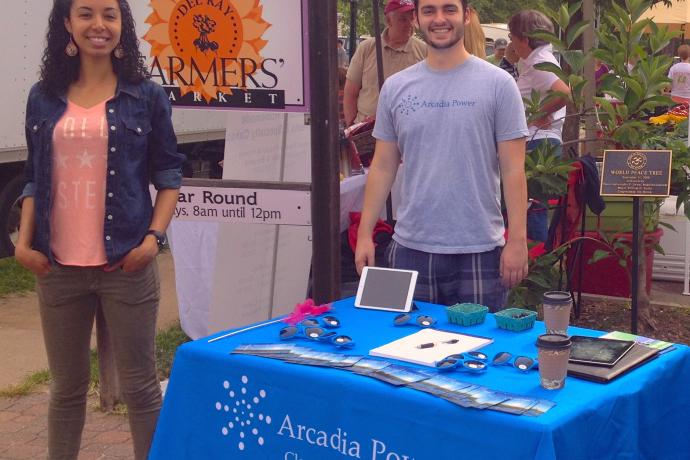 B Lab is recognizing Arcadia Power's rigorous social and environmental standards by awarding the company its prestigious B Corp Certification. The DC-based company partners with wind and solar projects around the country to give every American an easy and affordable choice of 100% pollution-free energy for their home or business.
"We're thrilled to join so many great companies who share our values of social responsibility and sustainability," said Arcadia Power CEO and co-founder, Kiran Bhatraju. "We all have to step up to combat climate change and build a better future, and B Corporations are helping lead the way."
Driven by a mission to make clean energy available and attainable for everyone who wants to do their part to help the environment, Arcadia Power allows individuals to upgrade their homes (even apartments) to 100% clean energy without any additional equipment, for just a 1.5 cents per kWh premium. The company's proprietary software connects online utility accounts with a clean energy purchasing platform, imports all the energy data, and displays it in a beautiful web dashboard with information on rewards, savings, and impact.
For small and medium-sized businesses, this is a welcome opportunity to uphold their values by taking responsibility for their energy use. Recently, twelve Northern Virginia businesses began running on clean energy through Arcadia Power, and the company is partnering with businesses of all sizes (including a growing number of B Corps) to promote and expand the use of renewable power.
"They aren't just living their strong values, Arcadia Power is helping other businesses live by those values as well," said Cyndi Sladics, founder of Simply Straws. "At Simply Straws, we have always been committed to battling climate change through our product and partnerships with NPO's like Protect our Winters, but we were only able to do so much. Arcadia Power has helped us shrink our carbon footprint to almost nothing, and we are celebrating."
Launched in 2014, Arcadia Power has grown quickly with clean energy customers in 25 states. In addition to offering renewable energy nationwide, Arcadia Power also helps innovative, new clean energy projects get off the ground. More information can be found at www.arcadiapower.com. 
About Arcadia Power
Arcadia Power is the first nationwide Clean Energy utility option for individuals and businesses. Their technology platform makes purchasing 100% clean energy from wind and solar projects nationwide simple, without equipment or the need to change local utilities. Members of the Arcadia Power community support their values through their monthly electricity bills, decreasing demand for fossil fuels, and helping to grow American jobs. The company works with mission-driven companies and organizations to expand clean energy production, combat climate change, and secure a better future for the planet. 
About B Corp
Certified B Corporations 1) meet rigorous standards of social and environmental performance; 2) legally expand their corporate responsibilities to include consideration of stakeholder interests; and 3) build collective voice through the power of the unifying B Corporation brand. As of January 2012, there are over 515 Certified B Corporations from over 60 industries, representing a diverse multi-billion marketplace.
Arcadia Power
Arcadia Power
Arcadia Power is the first nationwide Clean Energy utility option for individuals and businesses. Their technology platform makes purchasing 100% clean energy from wind and solar projects nationwide simple, without equipment or the need to change local utilities. Members of the Arcadia Power community support their values through their monthly electricity bills, decreasing demand for fossil fuels, and helping to grow American jobs. The company works with mission-driven companies and organizations to expand clean energy production, combat climate change, and secure a better future for the planet. 
More from Arcadia Power