Published 10-01-14
Submitted by Johnson & Johnson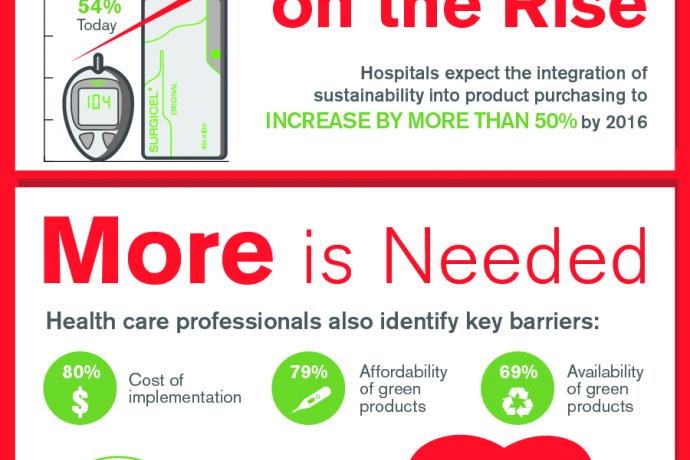 A new study, commissioned by Johnson & Johnson, reveals opportunities for investing in more sustainable hospital products
Sustainability is increasingly driving global hospital purchasing decisions, according to a new Harris Poll study of health care professionals. More than half (54 percent) say their hospitals currently incorporate sustainability into purchasing decisions, and 80 percent expect that to be the case within two years, according to the survey, which was commissioned by Johnson & Johnson. These global findings mirror the actions and intents of U.S. health care professionals, as 52 percent say their hospitals currently incorporate sustainability into purchasing decisions, with an increase to 81 percent expected in two years. This trend includes interest in sustainable purchasing in medical devices both globally and in the U.S. 
According to respondents, their hospitals have plans currently in place for minimizing environmental impact when using or disposing of medical products.  Globally, respondents report that their hospitals prioritize sustainability when purchasing the following products: multi-use surgical devices at 58 percent globally and 74 percent in the U.S.; single-use surgical devices at 55 percent globally and 64 percent - U.S.; decontaminators/washers/sterilizers/autoclaves at 52 percent globally and 51 percent - U.S.; and wound care products/sutures at 48 percent globally and 53 percent - U.S.
The study aimed to measure the importance of sustainability issues among leading global health care institutions, and findings will be explored at The Wharton Initiative for Global Environmental Leadership conference on October 8, 2014, at Wharton San Francisco. The one-day event will feature keynote speaker Skip Skivington, vice president of Supply Chain, Procurement & Supply at Kaiser Permanente, and panel presentations by several sustainability leaders.
Study Reveals Sustainability Priorities
According to the study, there is a strong belief among U.S respondents that sustainability drives direct benefits to people. About eight in 10 respondents (81percent) say sustainable products help protect hospital staff; more than half (59 percent) say 'green initiatives' help improve health outcomes and are an important factor for patients when choosing a hospital (64 percent).
Health care professionals also agree it makes good financial sense for hospitals to 'go green,' both in the U.S. (79 percent) and globally (69 percent). In fact, respondents report a strong commitment to sustainability from top hospital management, at 67 percent in the U.S. and 60 percent globally.
U.S. respondents also identify the key priorities motivating their hospitals' investments in sustainable product purchases. In terms of product attributes, U.S. respondents report the most important sustainability considerations are energy efficient devices (83 percent) followed by recyclable packaging (81percent); latex free devices (80 percent); products designed for multi-use (79 percent), and a three-way tie between devices free of heavy metals, reduced packaging size, and products including recycling content in packaging (78 percent).
Opportunities to Make Sustainability Purchasing Initiatives Stronger
The survey identified several areas where sustainability efforts could be strengthened. For example, despite the widespread belief that sustainable purchasing initiatives make financial sense, only 38 percent of U.S. respondents say their hospitals actually track return-on-investment from purchasing sustainable products. In addition, financial factors are a top barrier impeding adoption of green products in U.S. hospitals. Eight in 10 respondents (80 percent) name both cost of implementation and lack of affordable environmentally sustainable products as the greatest perceived barriers among those tested, followed by two-thirds (67 percent) citing lack of available products with sustainable features.  
U.S. hospital professionals also seek help from manufacturers to prove the business case for sustainable purchases: nearly all (92 percent) of U.S. respondents want manufacturers of medical products to provide more information about the benefits of those products.
"We're at a tipping point with sustainability issues impacting the health care industry. Professionals today understand that investments in more sustainable operations are critical to the success of hospitals, but as suppliers, we need to help them prove greater return on investment so they can deliver improved options to patients while decreasing the impact on the environment," said Keith Sutter, director, medical device and diagnostics sustainability, at Johnson & Johnson. 
Global survey respondents echoed the financial concerns heard in the U.S. Global respondents say cost of implementation (80 percent), lack of affordable products that are environmentally sustainable (79 percent) and availability (69 percent) are major barriers among those tested to purchasing more sustainable products. Further, more than two-thirds (67 percent) of respondents at hospitals with Environmental Purchasing Policies (EPP) say they are important in driving purchasing decisions of sustainable products. Yet, only 22 percent of global respondents report that their hospitals have an EPP in place to drive sustainable buying decisions. 
"There's an opportunity to educate more health care professionals about the availability of sustainable products and programs that are already making an impact. Our Earthwards program, for example, which represents more than 55 products and $8 billion across the Johnson & Johnson Family of Companies portfolio, is a key way we are working to meet the health care industry's growing demand for more sustainable products," said Al Iannuzzi, senior director environment, health, safety & sustainability at Johnson & Johnson. "Earthwards recognized products go through a four-step process that identifies each product's lifecycle impacts along with demonstrating at least three significant improvements across our seven impact areas: materials, packaging, energy, waste, water, social and innovation."
The Earthwards program will be discussed at the Wharton IGEL conference, as well as best practices in getting CFOs to champion sustainability and how sustainability is a differentiator in the health care marketplace. For more information about the study, visit http://www.jnj.com/caring/citizenship-sustainability/strategic-framework/advancing-sustainability-in-health-care.
SURVEY METHODOLOGY
Johnson & Johnson commissioned Harris Poll to conduct a quantitative survey of health care providers (surgeons and OR nurses); procurement/materials managers; and hospital executives in six countries (United States, United Kingdom, France, Germany, Brazil and Japan) with line-of-sight and decision-making responsibilities with respect to sustainability. More than 300 health care professionals participated in the survey, either online (289) or by phone (40), between April and July 2014. 
ABOUT JOHNSON & JOHNSON
Caring for the world, one person at a time…inspires and unites the people of Johnson & Johnson. We embrace research and science "' bringing innovative ideas, products and services to advance the health and well-being of people. Our approximately 128,000 employees at more than 275 Johnson & Johnson operating companies work with partners in health care to touch the lives of over a billion people every day, throughout the world.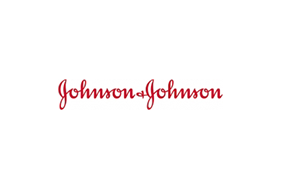 Johnson & Johnson
Johnson & Johnson
Caring for the world, one person at a time... inspires and unites the people of Johnson & Johnson. This year, we celebrate 126 years of embracing research and science – bringing innovative ideas, products and services to advance the health and well-being of people. Employees of the Johnson & Johnson Family of Companies work in more than 250 operating companies in 60 countries throughout the world. The passion and commitment of our people yield innovations that further minimize our impact on the planet, drive new alliances to address major health challenges in developing and developed countries, and help to create economic opportunity for people. Improving human health and well-being is our crucial mission and the ultimate measure of upholding our responsibility now and for generations to come.
At Johnson & Johnson, our top priority is health-health of people and the planet. That's why we set aggressive corporate wide goals to reduce our environmental impact, outlined in our Healthy Future 2015 goals. To this end, we established the proprietary Earthwards® process for developing and marketing greener products through lifecycle analysis. Every Earthwards® recognized product must achieve a greater than 10 percent improvement in at least three of the seven goal areas:
Materials used
Packaging reduction
Energy reduction
Waste reduction
Water reduction
Positive social impact or benefit
Product innovation
More from Johnson & Johnson