Published 09-16-14
Submitted by Emerald Brand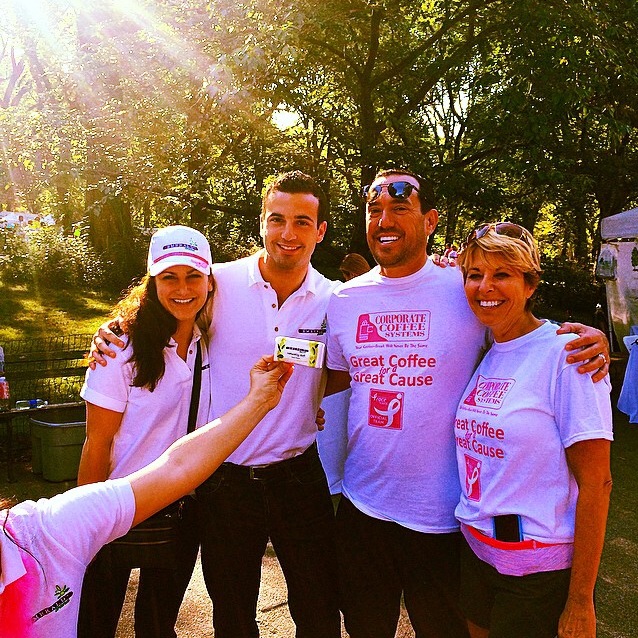 Emerald Brand and Corporate Coffee Systems
On Sunday, September 7, in the wee hours of the morning, representatives from both Corporate Coffee Systems and Emerald Brand met at Central Park to serve fresh coffee to breast cancer survivors and co-survivors at the Susan G. Komen Greater NYC Race for the Cure. Over 12,000 runners, walkers, and survivors attended this year's Race for the Cure and helped raise millions of dollars to fund local breast health screening, treatment, education and support programs and breast cancer research.
The Komen Greater NYC Race for the Cure is a non-competitive 5K run/walk to raise money for breast cancer research and "run breast cancer out of town". Corporate Coffee Systems, a major New York-based office coffee and refreshment supplier, has been supplying pre-race coffee, tea and condiments in Survivor Village since 2011. This past Sunday, Emerald Brand, a leading manufacturer of sustainable disposable products for the home and office, joined Corporate Coffee Systems for the first time, supplying FSC® certified cups, 100% recycled coffee sleeves, and Tree-Free facial tissue pocket packs, all of which are free of chlorine, Bisphenol A (BPA), and any known toxins or carcinogens.
This was the first of many joint initiatives that Corporate Coffee Systems and Emerald Brand have in the pipeline. The two companies will join forces again in October for MillionTreesNYC Fall Stewardship Day, when employees from Corporate Coffee Systems and Emerald Brand will care for young forests that have already been planted at Alley Pond Park in Queens.
Corporate Coffee Systems
Corporate Coffee Systems (CCS) is a leading New York metro coffee and refreshment programs supplier. CCS's mission is to be your office refreshment company of choice by consistently providing service excellence and "value-added" products. Their world-class coffees and innovative refreshment solutions can help improve morale, efficiency and productivity of your work force. CCS offers Organic, Fair Trade and Rainforest Alliance Certified coffees through their Sustainable Coffee Adventures initiative. Their Committed to Caring program offers various consumable and cleaning products that are biodegradable, compostable, made from recycled materials and free of harmful chemicals and toxins.
At CCS, they are committed to not just simply provide products, but offer solutions and deliver a level of performance that exceeds your companies' expectations. For more information about Corporate Coffee Systems, call 1-800-284-CORP or visit www.CorporateCoffeeSystems.com.
Emerald Brand
Emerald Brand is the leading manufacturer of environmentally responsible jan/san and break-room products for the home and office, providing cost-neutral conversion initiatives for businesses such as hotels, restaurants, corporate offices, universities, and more. Emerald Brand Tree-Free products are made from Bagasse, or sugarcane pulp, which is a rapidly renewable and cost-effective alternative to traditional materials. Emerald Brand products are available for consumer purchase at www.emeraldbrand.com. For more information on Paradigm Group and the Emerald Brand, call 1-866-We-Source or visit www.paradigm-grp.com.
About Susan G. Komen® Greater New York City
Since 1990, Susan G. Komen Greater NYC has raised over $60 million and awarded $45 million in grants.  In the last five years alone, they have helped more than 875,000 women, men and families in New York City, on Long Island, and in Westchester and Rockland Counties. Twenty-five percent of every dollar raised funds national breast cancer research while seventy-five percent of the net monies raised goes right back into the communities to help the women, men and families in their service area. This year, Komen Greater NYC has awarded $2.1 million to 28 local breast health programs as well as $735,000 for national breast cancer research programs to find the cures.  Visit their website, www.komennyc.org, or call 212-293-CURE for further information.  Follow them on Facebook, Twitter, YouTube and Instagram.

Emerald Brand
Emerald Brand
Emerald Brand's mission is to combat climate change by providing cost-effective sustainable disposable products to businesses and homes. With a line of over 225 products, Emerald can convert entire business facilities such as corporate offices, hotels, universities, and more to a full measureable sustainability platform in the cafeteria, breakroom, facilities, packaging, and cleaning categories.
Emerald specializes in producing Tree-Free and Petroleum-Free products made with agricultural fibers. This process supports local farmers, prevents deforestation, and prevents the burning of this formerly-wasted agricultural material.
You can learn more about Emerald Brand and the sustainable solutions they offer at EmeraldBrand.com.
More from Emerald Brand