Published 06-17-14
Submitted by Points of Light
Thousands of leaders from the nonprofit, corporate and civic sectors convened to kick off the 2014 Points of Light Conference on Volunteering and Service today, coming together to celebrate and shape the future of volunteerism. The Conference runs through June 18 at the Georgia World Congress Center.
Headline speakers include filmmaker, actor and philanthropist, Tyler Perry; Chelsea Clinton, Vice Chair of the Clinton Foundation; Mira Sorvino, Academy Award-winning actress and activist; Emmy award-winning actress Lynn Whitfield; Congressman John Lewis; Neil Bush, Chairman of Points of Light; Wendy Spencer, CEO of The Corporation for National and Community Service; filmmaker Nirvan Mullick; Ambassador Andrew Young; Dr. Bernice King, CEO of The King Center; the Rev. Dr. C.T. Vivian, Presidential Medal of Freedom recipient; Grammy Award winner and one-half of the platinum-selling country duo Sugarland, Kristian Bush; actor and activist Lamman Rucker; the Rev. Dr. Raphael Gamaliel Warnock; and Atlanta Mayor Kasim Reed, along with an array of other dynamic voices.
"We're here to adopt a design-lab mentality, sharing good ideas and models and imagining together how to accelerate change," said Points of Light President Tracy Hoover. "We're looking to unleash the incredible capacity of individuals to spark change in the world."
At a wide range of workshops, forums and special events, attendees will explore key topics of the day – education, economic opportunity, faith, the environment and more – and participants will collect concrete strategies for how to help their communities.
Conference activities also include hands-on service opportunities. Today attendees joined HandsOn Atlanta and Unsheltered No More in projects with local organizations that serve the city's homeless. And 500 attendees volunteered during a teacher appreciation service event at the Atlanta Braves' Turner Field, sponsored by Target.
UPS is the title sponsor of this year's Conference. JPMorgan Chase & Co. and Target are impact sponsors. JPMorgan Chase is hosting the Innovation and Social Impact Forum, focusing on the new, innovative program models that nonprofits are adopting to address critical community needs. Four nonprofits will compete during this panel for a share of $100,000 in grants to expand innovative volunteer programs. Target is sponsoring a forum on education that will focus on how caring adults can support a child's success.
"Despite the economic downturn, corporate giving is on the rise, fueled by a big jump in pro bono service," said Hoover. "We applaud the work of the companies here today to strategically align their core business assets, their philanthropy and their employee volunteerism to accelerate change."
And service is spreading across the globe – the 2014 Conference boasts attendees from 35 countries. For more on this event, visit www.pointsoflight.org or www.volunteeringandservice.org.
About Points of Light
Points of Light – the world's largest organization dedicated to volunteer service – mobilizes millions of people to take action that is changing the world. Through affiliates in 250 cities and partnerships with thousands of nonprofits and corporations, Points of Light engages more than 4 million volunteers in 30 million hours of service each year. We put people at the center of change. For more information, go to www.pointsoflight.org.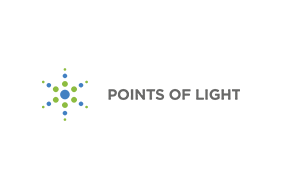 Points of Light
Points of Light
Points of Light is a nonpartisan, global nonprofit organization that inspires, equips and mobilizes millions of people to take action that changes the world. We envision a world in which every individual discovers the power to make a difference, creating healthy communities in vibrant, participatory societies. Through 177 affiliates across 38 countries, and in partnership with thousands of nonprofits and corporations, Points of Light engages 5 million volunteers in 16 million hours of service each year. We bring the power of people to bear where it's needed most.
More from Points of Light