Published 06-02-14
Submitted by The Mosaic Company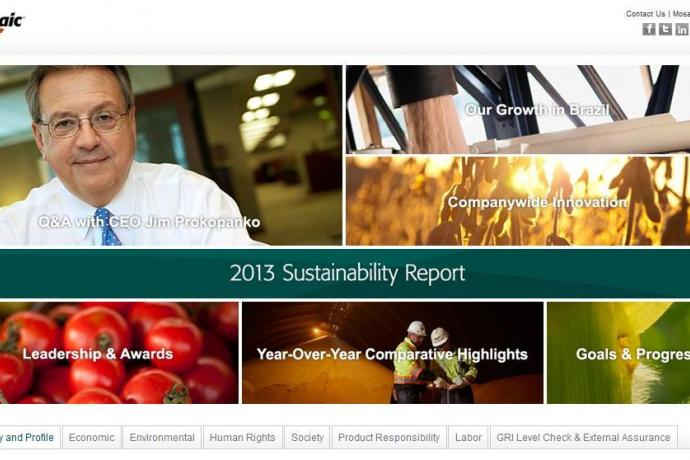 The Mosaic Company 2013 Sustainability Report
Two years ago, The Mosaic Company (NYSE: MOS) committed to reducing absolute greenhouse gas emissions by 10 percent and greenhouse gas intensity by 5 percent from 2005 levels in the company's North American phosphate operations. The goal was to achieve these targets by 2015.
Today, Mosaic—the world's largest combined producer of phosphate and potash crop nutrients—announced it is on track to outperform that greenhouse gas reduction target. According to the company's fifth annual Sustainability Report, Mosaic's phosphate business unit reduced annual absolute Scope 1 and 2 greenhouse gas emissions by 21 percent (excluding ammonia), and decreased emissions intensity by more than 15 percent since 2005. The report also discloses information on more than 95 Global Reporting Initiative (GRI) G3.1 indicators and the Mining and Metals sector supplement to an externally verified "A+" standard.
"Despite the extremely challenging business conditions in the crop nutrition industry last year, we upheld our commitment to sustainability and continued investing in initiatives that help us work safer, conserve energy and water, and support the communities where we live and work," said Mosaic President and CEO, Jim Prokopanko. "We're encouraged by our results thus far, and look forward to achieving even greater performance."
In 2013, Mosaic scored 97 out of 100 and a grade of "A" for climate performance in its annual disclosure to investors through CDP, formerly known as the Carbon Disclosure Project. This earned the company a place on two S&P 500 sustainability indices: the 2013 CDP S&P 500 Climate Disclosure Leadership Index, which highlights companies displaying a strong approach to disclosing climate change-related information; and the CDP S&P 500 Climate Performance Leadership Index, which recognizes companies demonstrating a commitment to improving their environmental impact.
"We have demonstrated that Mosaic's sustainability efforts lead to greater shareholder value, and help us draw closer to achieving our mission of helping the world grow the food it needs," said Prokopanko. "The quest for global food security is complex; rapid world population growth, the expanding middle class and energy constraints all contribute to that complexity. It's clear that agricultural production must increase—but it must do so sustainably."
To assist the company in defining the issues most material to stakeholders, Mosaic worked with a third-party auditor to conduct a study of more than 50 material issues in 2013. The impartial information will also help the company prioritize future sustainability goals and actions.
2013 Sustainability Report results contributing value to Mosaic shareholders:
Safety: Mosaic is committed to the relentless pursuit of an injury-free workplace. The company's overall 2013 safety performance was statistically its best ever, with a 6 percent improvement in key safety performance measures.
Energy: Mosaic produced approximately 6.24 million gigajoules of electricity through cogeneration, the process of converting waste heat to energy—resulting in enough energy to satisfy 44 percent of companywide electrical demand. By producing and using its own clean energy, Mosaic avoided approximately 1 million tonnes of carbon equivalent emissions, which is comparable to taking an estimated 205,000 average U.S. cars off the road.
Water: In 2013, Mosaic reused or recycled approximately 90 percent of the water used at its Florida phosphate manufacturing operations, contributing to the business unit's 50 percent decrease in groundwater use over the last 20 years. Mosaic's Canadian potash shaft facilities satisfied approximately 80 percent of water needs through recycling and reuse.
Land: Mosaic's mining operations represent a temporary use of the land. The company is leading the industry in developing effective, acre-for-acre methods of returning mined lands to productive uses for both wildlife and people. As part of this process, Mosaic planted approximately 1.3 million trees in 2013. Mosaic's phosphate business unit mined 2,255 acres and reclaimed 6,474 acres in Central Florida in 2011; the Florida Department of Environmental Protection Mining and Mitigation Program is reviewing 2012 figures.
Community: Mosaic continued supporting its communities through targeted corporate giving, employee donations and volunteer work. In 2013, The Mosaic Company, The Mosaic Company Foundation and The Mosaic Institute in Brazil invested a combined $27.1 million in food, water and local community programs. Funding also supports The Mosaic Villages Project, a smallholder farmer initiative started in 2008. The project helps families break the cycle of hunger and poverty by increasing yields an average of three to five times over traditional farming practices.
Recognition: Mosaic has been recognized on Corporate Responsibility Magazine's 2013 and 2014 100 Best Corporate Citizens list, known as the world's top corporate responsibility ranking based on publicly available information. 2014 marks the fifth consecutive year Mosaic has been named to the list, ranking No. 1 among mining and crop nutrition companies and No. 53 overall.
Read The Mosaic Company's 2013 Sustainability Report, which includes a Q&A with CEO Jim Prokopanko, year-over-year comparative highlights and GRI tables. For additional information, view Mosaic's 2013 Annual Review & Business Outlook released in April 2014 and reference archived sustainability reports and GRI tables.
About The Mosaic Company
The Mosaic Company is the world's leading producer and marketer of concentrated phosphate and potash crop nutrients. Mosaic is a single-source provider of phosphate and potash fertilizers and feed ingredients for the global agriculture industry. Learn more at www.mosaicco.com.
About the Global Reporting Initiative
The Global Reporting Initiative (GRI) is an independent, network-based organization that has pioneered the development of a widely used sustainability reporting framework and is committed to its continuous improvement and application worldwide. Learn more at www.globalreporting.org.
This press release contains forward-looking statements within the meaning of the Private Securities Litigation Reform Act of 1995. Such statements include, but are not limited to, statements about the acquisition and assumption of certain related liabilities of the Florida phosphate assets of CF Industries, Inc. ("CF") and the ammonia supply agreements with CF; the benefits of the transactions with CF; repurchases of stock; other proposed or pending future transactions or strategic plans and other statements about future financial and operating results. Such statements are based upon the current beliefs and expectations of The Mosaic Company's management and are subject to significant risks and uncertainties. These risks and uncertainties include but are not limited to risks and uncertainties arising from difficulties with realization of the benefits of the transactions with CF, including the risks that the acquired assets may not be integrated successfully or that the cost or capital savings from the transactions may not be fully realized or may take longer to realize than expected, or the price of natural gas or ammonia changes to a level at which the natural gas based pricing under one of the long term ammonia supply agreements with CF becomes disadvantageous to Mosaic; customer defaults; the effects of Mosaic's decisions to exit business operations or locations; the predictability and volatility of, and customer expectations about, agriculture, fertilizer, raw material, energy and transportation markets that are subject to competitive and other pressures and economic and credit market conditions; the level of inventories in the distribution channels for crop nutrients; changes in foreign currency and exchange rates; international trade risks and other risks associated with Mosaic's international operations and those of joint ventures in which Mosaic participates, including the risk that protests against natural resource companies in Peru extend to or impact the Miski Mayo mine; changes in government policy; changes in environmental and other governmental regulation, including greenhouse gas regulation, implementation of numeric water quality standards for the discharge of nutrients into Florida waterways or possible efforts to reduce the flow of excess nutrients into the Mississippi River basin or the Gulf of Mexico; further developments in judicial or administrative proceedings, or complaints that Mosaic's operations are adversely impacting nearby farms, business operations or properties; difficulties or delays in receiving, increased costs of or challenges to necessary governmental permits or approvals or increased financial assurance requirements; resolution of global tax audit activity; the effectiveness of the Company's processes for managing its strategic priorities; the ability of the Northern Promise joint venture among Mosaic, Ma'aden and SABIC to obtain project financing in acceptable amounts and upon acceptable terms, the future success of current plans for the joint venture and any future changes in those plans; adverse weather conditions affecting operations in Central Florida, the Mississippi River basin, the Gulf Coast of the United States or Canada, and including potential hurricanes, excess heat, cold, snow, rainfall or drought; actual costs of various items differing from management's current estimates, including, among others, asset retirement, environmental remediation, reclamation or other environmental regulation, Canadian resources taxes and royalties, the liabilities Mosaic assumed in the Florida phosphate assets acquisition or the cost of Mosaic's commitments to repurchase its stock; reduction of Mosaic's available cash and liquidity, and increased leverage, due to its use of cash and/or available debt capacity to fund share repurchases, financial assurance requirements and strategic investments; brine inflows at Mosaic's Esterhazy, Saskatchewan, potash mine or other potash shaft mines; other accidents and disruptions involving Mosaic's operations, including potential mine fires, floods, explosions, seismic events or releases of hazardous or volatile chemicals, as well as other risks and uncertainties reported from time to time in The Mosaic Company's reports filed with the Securities and Exchange Commission. Actual results may differ from those set forth in the forward-looking statements.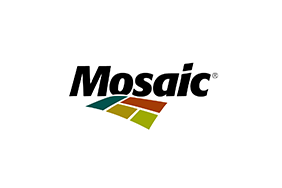 The Mosaic Company
The Mosaic Company
The Mosaic Company is the world's leading combined producer and marketer of concentrated phosphate and potash, two of the primary nutrients required to help the world grow the food it needs. Mosaic engages in every phase of crop nutrition, from the mining of resources to the production of crop nutrients, feed and industrial products for customers around the globe. Our customer base includes wholesalers, retail dealers and individual growers in more than 40 countries.
Headquartered in Plymouth, Minn., Mosaic employs approximately 8,000 people in eight countries. Our shares trade on the New York Stock Exchange under the ticker symbol MOS.
More from The Mosaic Company