Published 05-21-14
Submitted by ImpactAssets
Nonprofit financial services firm ImpactAssets has expanded its leadership team as impact investing gains traction.
Chief Growth Officer Elizabeth (Beth) Stelluto brings more than 25 years of
experience leading marketing, strategy and product distribution for financial organizations including NestWise LPL Financial, Charles Schwab and Goldman Sachs. Managing Director of Distribution Jeff Sheridan has spent a decade working with professional advisors and their clients to optimize investment and charitable giving strategies, including as vice president at MainStay Investments and vice president at Fidelity Charitable Services.
Ms. Stelluto and Mr. Sheridan will be instrumental to the next phase of ImpactAssets' growth – increasing the focus on meeting growing interest in impact investing among financial advisors. ImpactAssets' donor-advised fund topped more than $100 million under management in 2013 and is poised to double that in the next 12 months; additional impact investment products are in development.
"Beth understands how to take financial innovations mainstream," said Ron D. Cordes, impact investing pioneer and ImpactAssets board member. "We met through a mutual interest in microfinance when Beth was volunteering to raise working capital commitments to launch Grameen America's branch in Oakland; she brings an ideal combination of proven expertise, exceptional leadership skills and a personal passion for making a difference in the world."
In a 2010 study, Hope Consulting suggested that 50 percent of high-net-worth households are interested in impact investing. ImpactAssets aims to close the gap between impact investing interest and action, by making it easy for people to participate in leading impact
investing opportunities.
"As people look to align investments with their values, they turn to their wealth advisors; Jeff's success working with these experts and their clients is a strong fit as we make ImpactAssets' donor advised fund and other products more broadly available," said Tim Freundlich, President of ImpactAssets. "We are making a commitment to growth that reflects demand in the marketplace, as impact investing moves beyond early adopters."
Ms. Stelluto, based in San Francisco, will lead marketing, distribution and client experience and reports to Mr. Freundlich. Mr. Sheridan, based in Chicago, reports to Ms. Stelluto.
About ImpactAssets
ImpactAssets is a nonprofit financial services firm that increases the flow of capital into investments that deliver financial, social, and environmental returns. ImpactAssets' donor advised fund ("The Giving Fund"), impact investment notes, and field building initiatives enable philanthropists, other asset owners, and their wealth advisors to advance social or environmental change through investment.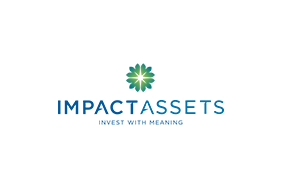 ImpactAssets
ImpactAssets
ImpactAssets is an impact investing trailblazer, dedicated to changing the trajectory of our planet's future and improving the lives of all people. As a leading impact investing firm, we offer deep strategic expertise to help our clients define and execute on their impact goals.  
Founded in 2010, ImpactAssets increases flows of money to impact investing in partnership with our clients through our impact investment platform and field-building initiatives, including the IA 50 database of private debt and equity impact fund managers.  
ImpactAssets has more than $2 billion in assets in 1,700 donor advised fund accounts, working with purpose-driven individuals and their wealth managers, family offices, foundations and corporations. ImpactAssets is an independent 501(c)(3) organization. 
More from ImpactAssets