Published 05-11-14
Submitted by Emerald Brand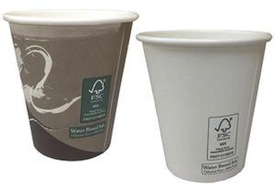 Emerald Brand FSC Certified Hot Cups in Select Design and White
Emerald Brand has added Forest Stewardship Council (FSC®) certified paper hot cups to their line of 170 environmental disposable products, demonstrating the company's ongoing commitment to responsible forest management and environmental protection.
Emerald Brand is a leading manufacturer of environmentally responsible disposable and consumable products for the break-room, facilities, and washroom. For over 17 years, Emerald Brand has been producing Tree-Free towel and tissue items, Earth Essence cleaning solutions, compostable and biodegradable tableware, and recycled garbage liners. Emerald Brand is proud to announce the addition of FSC certified hot cups to their full-service sustainability solution currently utilized at corporate offices, micro markets, hotels, universities, and retail stores across the country. The new FSC certified paper cups are available in white and Emerald Select design, and in five sizes, all of which take the same universal lid.
The Forest Stewardship Council is the global leader in forest certification, representing the gold standard for responsible management. In the US and Canada, more than 175 million acres of forest are managed to FSC's high standards. Companies, like Emerald Brand, that utilize FSC certified wood pulp create demand for products from responsibly managed forests, which in turn helps protect those forests for future generations.
Forest Stewardship Council
The Forest Stewardship Council is an independent nonprofit organization that promotes environmentally sound, socially beneficial, and economically prosperous management of the world's forests. FSC was created in 1993 to help consumers and businesses identify products from well-managed forests. FSC sets standards by which forests are certified, offering credible verification to people who are buying wood and wood products. Because FSC is the gold standard for forest stewardship, it is the only certification system supported by the greater environmental community. 5,400 companies and 175 million acres of forestland are certified under FSC standards in the United States and Canada. For more information visit www.fsc.org.
Emerald Brand
Emerald Brand is the leading manufacturer of environmentally responsible jan/san and break-room products for the home and office, providing cost-neutral conversion initiatives for businesses such as hotels, restaurants, corporate offices, universities, and more. Emerald Brand Tree-Free products are made from Bagasse, or sugarcane pulp, which is a rapidly renewable and cost-effective alternative to traditional materials. Emerald Brand products are also available for consumer purchase at www.emeraldbrand.com. For more information on Paradigm Group and the Emerald Brand, call 1-866-We-Source or visit www.paradigm-grp.com.

Emerald Brand
Emerald Brand
Emerald Brand's mission is to combat climate change by providing cost-effective sustainable disposable products to businesses and homes. With a line of over 225 products, Emerald can convert entire business facilities such as corporate offices, hotels, universities, and more to a full measureable sustainability platform in the cafeteria, breakroom, facilities, packaging, and cleaning categories.
Emerald specializes in producing Tree-Free and Petroleum-Free products made with agricultural fibers. This process supports local farmers, prevents deforestation, and prevents the burning of this formerly-wasted agricultural material.
You can learn more about Emerald Brand and the sustainable solutions they offer at EmeraldBrand.com.
More from Emerald Brand