Published 05-01-14
Submitted by SASB
 The Sustainability Accounting Standards Board™ (SASB)™, a 501c3 non-profit organization that develops sustainability accounting standards for publicly-listed U.S. corporations, today announced that Michael R. Bloomberg, philanthropist, founder of Bloomberg LP and the 108th mayor of New York City, and Mary Schapiro, former SEC chairman, will serve as chair and vice chair (respectively) of SASB's Board of Directors. Dr. Robert Eccles, Harvard Business School professor and SASB's first board chairman, will continue to serve on the SASB board with a special focus on harmonization with other sustainability and integrated reporting organizations.
SASB is working with industry and financial leaders to develop industry-specific standards to help companies disclose material sustainability issues. Doing so will dramatically increase the availability and utility of this information for companies, investors, regulators, and the public.
"More than 30 years ago I started a company on the idea that greater market transparency leads to better investment decisions, and that idea is at the heart of SASB's mission," said Mr. Bloomberg. "The more complete and reliable the information that investors have, the better markets work—and that benefits not only individual investors but all of society."
"Markets work best when they offer investors access to material information that supports informed decisions," says Ms. Schapiro. "I am thrilled to help SASB achieve their mission of developing standards that will provide the information our investors and markets need and deserve."
"The new appointees represent growing market demand and support for SASB standards," says Dr. Jean Rogers, SASB founder and CEO. "I am deeply appreciative for Bob Eccles' leadership in growing SASB from an idea formulated at Harvard into a robust standards setting organization. I am deeply confident in Mr. Bloomberg and Ms. Schapiro's ability to further SASB's transformation into the leading standards setter for material sustainability information."
"As SASB's first board chair, I oversaw the creation of a dispassionate, evidence-based standards development process," says Dr. Eccles. "Now that we've begun publicly issuing standards, the next challenge is encouraging adoption and use of the standards by corporations and investors. Mr. Bloomberg and Ms. Schapiro, given their influence over and trust from the capital markets, are the perfect leaders for this charge. "
Today SASB also announced the appointment of new board member Shawn Lytle, Head of Americas at UBS Global Asset Management. Returning board members include Bob Eccles, PhD, Professor of Management Practice, Harvard Business School; Jack Ehnes, CEO, CalSTRs; Steve Gunders, Partner, Deloitte & Touche LLP (retired); Dan Hanson, Portfolio.
Manager, Jarislowsky Fraser USA; Erika Karp, CEO, Cornerstone Capital Inc.; Peter Knight, Co-Founder of Generation Investment Management; Suz Mac Cormac, Partner, Morrison & Foerster LLP; Clara Miller, President, The F.B. Heron Foundation; Catherine Odelbo, Executive Vice President, Corporate Strategy and Partnerships, Morningstar; Aulana L. Peters, Partner, Dunn & Crutcher LLP (retired); Jean Rogers, PhD, Founder and CEO, SASB; Elisse Walter, Former SEC Chairman; Ted White, Managing Partner, Fahr LLC.
For more information about SASB, please visit www.sasb.org.
About SASB
The Sustainability Accounting Standards Board™ (SASB)™ is an independent 501(c)3 organization that establishes and maintains industry-specific standards for use in disclosing material sustainability issues in annual filings to the Securities and Exchange Commission. SASB is accredited to set standards by the American National Standards Institute (ANSI). More than 1,350 individuals from individuals representing $15T assets under management and $6.5T market capital have participated in multi-stakeholder industry working groups informing standards development to date. SASB has issued standards for 19 industries in three sectors, and will issue standards for 80+ industries in ten sectors by 2016. For more information about SASB, visit www.sasb.org, or follow us on YouTube, Twitter or LinkedIn.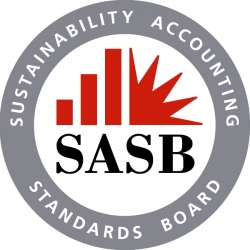 SASB
SASB
The Sustainability Accounting Standards Board™ (SASB™) is a 501(c)3 non-profit that provides standards for use by publicly-listed corporations in the U.S. in disclosing material sustainability issues for the benefit of investors and the public. SASB standards are designed for disclosure in mandatory filings to the Securities and Exchange Commission (SEC), such as the Form 10-K and 20-F. SASB standards will result in the improved performance of 13,000+ corporations, representing over $16 trillion in funds, on the highest-priority environmental, social and governance issues.
SASB is accredited to establish sustainability accounting standards by the American National Standards Institute (ANSI). SASB is not affiliated with FASB, GASB, IASB or any other accounting standards boards.
More from SASB