Published 04-30-14
Submitted by 3BL CSRwire
When a company like McDonald's with worldwide presence and a complex network of employees, suppliers, activists and consumers, creates a CSR strategy, you expect flavor, complexity, challenges.
And lots of discussion about the "right" approach.
For the fast food giant, which restructured its CSR and sustainability team in 2012 to focus on developing
a strategic CSR framework, the process was, shall we say, meaty. Two all beef patties, special sauce, lettuce, cheese, pickles – and more – are among the ingredients for the famous Big Mac. Two years, special considerations, changes and patience are among the key ingredients for the recently adopted CSR Framework.
Like a well-balanced meal, McDonald's has put five portions on its CSR plate: Food, Sourcing, Planet, People and Community.
2020 aspirational goals include:
Supporting sustainable beef production by collaborating to develop global principles and criteria, and to begin purchasing a portion of beef from verified sustainable sources in 2016
Increasing the amount of in-restaurant recycling by 50% at company-owned restaurants in nine of its top markets; and
Developing goals by 2015 to reduce salt/sodium, sugar, saturated fat or calories across the menu in nine of its top markets.
McDonald's goals are no small potatoes.
"Our new CSR Framework demonstrates our intent to grow the business while having a positive impact on society," said Bob Langert, VP of Sustainability at McDonald's. "Now, more than ever, customers care about their food and where it comes from. They want to know what companies like McDonald's are doing to improve the world in which they live. Because of our size and scale, we can influence change for the better."
There's lots to talk about – and using the 2012-2013 CSR and Sustainability Report as a foundation, CSRwire's Aman Singh and TriplePundit's Nick Aster will host a live conversation on May 7, 2014, with Bob Langert, a 30-year McDonald's veteran and passionate proponent of context and materiality. Among the topics we hope to cover:
How does McDonald's plan on fulfilling its sustainability goals when a majority of its stores are independent franchises?
How is it leveraging its brand presence to shift consumer behavior and educate them on all-things sustainability?
McDonald's is nearly 60 years old. What do the next 50 years hold for its impact on waste, recycling, sourcing and animal welfare?
What is the company doing to reduce sodium, sugar and/or saturated fat across its menu?
What are some of the challenges it's facing in aligning taste preferences with nutrition?
Here's what you need to know:
Date: May 7, 2014
Time: 1pm ET
Hashtag: #McDSustainability
Speaker: Bob Langert, McDonald's VP of Sustainability @mcdonaldscorp
Moderators: @AmanSinghCSR @CSRwire | @nickaster @triplepundit
To register, send out the following tweet:
I'll join @CSRwire & @triplepundit to discuss how @mcdonaldscorp is addressing #McDSustainability challenges http://bit.ly/McDSusty
Got a question for the McDonald's team? Send it to aman@csrwire.com.
About CSRwire's Stakeholder Engagement Campaigns
CSRwire regularly conducts webinars and Twitter chats with its member organizations and partner TriplePundit. These chats, developed as facilitated conversations, are aimed at taking a pulse of our community, sharing knowledge and inspiring action. Whether the topic is sustainable living, shared value or responsible careers, these interactive sessions not only help our clients push their communication boundaries but also gain valuable feedback, criticism and the attention of an active and engaged community. Learn more by emailing engagement@csrwire.com.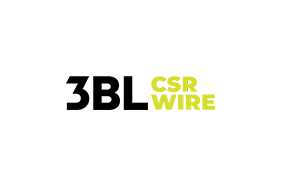 3BL CSRwire
3BL CSRwire
Respected and relied on by journalists, bloggers, business leaders and academics around the world, 3BL CSRwire is a dedicated, real-time source for major news and updates from within the worlds of ESG, corporate social responsibility and sustainability.
3BL CSRwire offers a-la-carte press release distribution to a global network of influential stakeholders and mainstream audiences—perfect for organizations just getting started in CSR or for those looking to get the most out of their corporate communications.
More from 3BL CSRwire