Published 04-29-14
Submitted by BetterWorld Wireless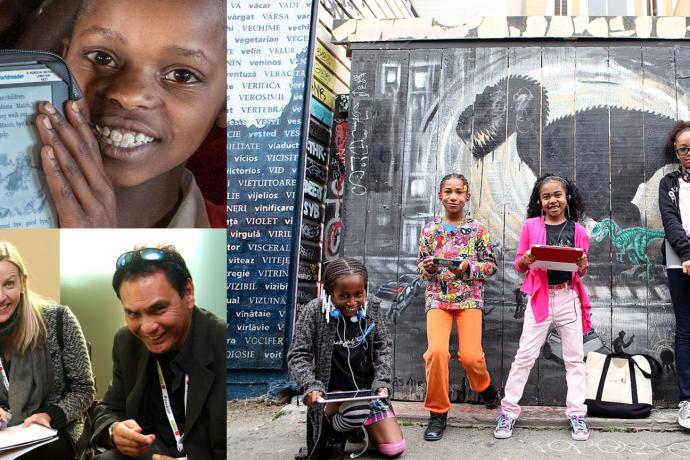 BetterWorld Wireless creates impact through Giving Partners like Worldreader and Black Girls Code
BetterWorld Wireless (www.BetterWorldWireless.com) today launched its innovative Phone for Phone™ mobile service, which provides digital access to people in need by donating a mobile device for every qualified new U.S. mobile customer.
Mobile devices allow people around the world to access information and opportunities that can empower them to create pathways out of poverty. BetterWorld Wireless, in collaboration with Sprint, is the first to apply the thriving buy-one-give-one business model popularized by brands like TOMS Shoes and Warby Parker to the U.S. mobile market. BetterWorld Wireless is a full-service national voice and data mobile provider, focused on meeting the needs of nonprofits and of socially conscious consumers who want to use their purchasing power for good.
For every new customer who joins BetterWorld Wireless, after three billing cycles, the company donates a free mobile device via its giving partners, which are nonprofits and programs that demonstrate exponential social impact through the use of mobile technology. The Phone for Phone mobile device donations can help generate economic and educational opportunities for women, girls, and others in underserved communities in the U.S. and around the world. Two initial giving partners that will receive donated devices are Black Girls Code, empowering girls of color to become builders of technological innovation, and Worldreader, eradicating illiteracy by delivering a library of e-books to youth in low-income countries.
"We want people to love their mobile company," said Matthew Bauer, CEO and Co-Founder, BetterWorld Wireless. "To us, this means providing more than a fair price and high quality service—it's about offering a service that connects with our customers' personal values. BetterWorld Wireless helps people put their mobile where their heart is."
Another way that BetterWorld Wireless breaks the mold is by introducing consumer-friendly, fair and transparent usage-based pricing alongside traditional plans. With BetterWorld's Just Plan, customers just pay for the minutes, messages and megabytes they use, saving an average of 20 percent.
In addition to a wide array of affordable mobile plan options for individuals, families and organizations, BetterWorld Wireless offers new and certified pre-owned smartphones, tablets and hotspot devices. BetterWorld Wireless and Sprint will also help customers recycle their old phones.
"Sprint believes that doing good does work. Our support of BetterWorld Wireless and the social impact of Phone for Phone is the perfect example of these values at play," explained Reggie Marable, Sprint Director of International Wholesale. "They are providing a valuable mobile experience for customers and for those in need. Sprint is proud to support BetterWorld as its network service provider, through the contribution of certified pre-owned smartphones, and by assisting with device recycling."
Individuals, Families and Even Nonprofits Can Buy One to Give One
Eligible U.S. nonprofit organizations can buy a phone to give a phone, while reducing their monthly mobile costs, leading to savings that can be used to advance their missions. For a one-time administrative fee of $10, eligible organizations receive an extra five percent discount on a plan of their choice. After the organization has been qualified on TechSoup.org, the nonprofit's employees, volunteers, and even employees' family members can access these substantial benefits, available exclusively through TechSoup.org. Thanks to a contribution from Sprint, BetterWorld has further sweetened the deal: the first 500 nonprofits to sign up with BetterWorld Wireless through TechSoup.org will receive a free certified pre-owned phone. For details, visit www.techsoup.org/betterworld-wireless.
To help nonprofits and causes thrive on mobile, BetterWorld Wireless and TechSoup Global are also offering content and training on how organizations can effectively use mobile to advance their missions, engage their communities, and advocate and fundraise for change.
"BetterWorld Wireless deeply understands the operational constraints of nonprofits and recognizes the value TechSoup Global can bring to improve access to affordable technology," said Gayle Samuelson Carpentier, Chief Business Development Officer, TechSoup Global. "Half a million nonprofits around the world rely on TechSoup Global as a trusted resource for technology that supports their missions. Mobile is revolutionizing how nonprofits work. TechSoup Global wants to make it easy for these best practices and resources to spread, so that nonprofits can have a greater impact."
BetterWorld Wireless Coverage and Plans
Whether customers buy a new or certified pre-owned device or bring theirs to the network, BetterWorld Wireless offers innovative plans right-sized to deliver value and fit consumer needs. Powered by the Nationwide Sprint Network[1], BetterWorld Wireless customers have access to broadband service reaching more than 278.5 million people in more than 14,000 cities across the U.S. Special pricing and offers for nonprofit organizations are available only at www.techsoup.org/betterworld-wireless and consumers can sign up at www.BetterWorldWireless.com.
About BetterWorld Wireless
BetterWorld Wireless is a mobile company that believes in the transformative power of people and technology. Offering the latest wireless services to U.S. customers, BetterWorld Wireless is on a mission to make positive impact around the world. Through Phone for Phone™, BetterWorld Wireless donates a mobile device for every qualified customer, with the goal of breaking the cycle of poverty and creating pathways to prosperity for women, girls and others in need. Learn more at www.BetterWorldWireless.com, www.facebook.com/betterworldwireless and www.twitter.com/phone4phone, and learn about mobile savings for nonprofits at www.techsoup.org/betterworld-wireless.
About Sprint
Sprint (NYSE: S) offers a comprehensive range of wireless and wireline communications services bringing the freedom of mobility to consumers, businesses and government users. Sprint served more than 55 million customers at the end of 2013 and is widely recognized for developing, engineering and deploying innovative technologies, including the first wireless 4G service from a national carrier in the United States; leading prepaid brands including Virgin Mobile USA, Boost Mobile, and Assurance Wireless; instant national and international push-to-talk capabilities; and a global Tier 1 Internet backbone. The American Customer Satisfaction Index rated Sprint as the most improved company in customer satisfaction, across all 47 industries, during the last five years. Sprint has been named to the Dow Jones Sustainability Index (DJSI) North America in 2011, 2012 and 2013. Learn more at www.sprint.com, www.facebook.com/sprint and www.twitter.com/sprint.
About TechSoup Global
TechSoup Global is an international network of 53 partner NGOs in Africa, the Americas, Asia Pacific, Europe, and the Middle East. For over 25 years, it has leveraged technology to build NGO capacity towards solving problems in local communities and fostering global social change. TechSoup Global's core competencies include running one of the biggest technology philanthropy programs in the world; providing NGO validation services to funders and corporations; gathering, analyzing and distributing global social-sector data; and catalyzing community-oriented technology innovations. Learn more at www.techsoupglobal.org.
---
[1] Although Sprint provides BetterWorld Wireless subscribers access to its wireless network and to its wireless services, BetterWorld Wireless is responsible to the BetterWorld Wireless subscribers for the service. Please contact BetterWorld Wireless with any questions or comments about services.

BetterWorld Wireless
BetterWorld Wireless
BetterWorld Wireless is a mobile company that believes in the transformative power of people and technology. Offering the latest mobile services to customers throughout the U.S., and on a mission to make positive impact with mobile around the world, we donate a mobile device for every new customer, with the goal of breaking cycles of poverty by creating pathways to prosperity.
More from BetterWorld Wireless