Published 04-17-14
Submitted by Points of Light
 Points of Light announced recently its 2014 Leadership Partners, companies whose investments in social responsibility advance Points of Light's mission to mobilize millions of people to take action that is changing the world.
"The support of these Leadership Partners in 2013 enabled us to launch major skills-based volunteering initiatives, develop programs that empower people to create solutions to community issues, open dialogue with community leaders, empower tens of thousands of children to participate in service projects and more," said Points of Light President Tracy Hoover.
"New ways of volunteering are expanding rapidly," said Hoover. Companies and individuals are increasingly finding ways to contribute their skills and talent. Youth and young adult volunteering is growing, as online mobilization, fundraising and petitions combine with more traditional volunteer opportunities to get people engaged. "These 2014 Leadership Partners give Points of Light the capacity to develop and advance the next generation of volunteerism, and are establishing a high standard for corporate service to communities," continued Hoover.
The Leadership Partners program for 2014 includes the following companies at the $1 million-plus tier:
Bank of America – Bank of America is a significant contributor to Points of Light, supporting a number of program areas including: the development and launch of the Financial Opportunity Corps, which supports AmeriCorps VISTA members in equipping community residents and Bank of America employee volunteers to serve as financial coaches for individuals in low- to moderate- income communities; leadership of Points of Light's Corporate Service Council, the premier global platform for advancing corporate employee volunteerism; and volunteer leadership and pro bono service to drive growth in the service sector in the Asia Pacific region. The Bank of America Charitable Foundation supports the company's purpose to improve the financial lives of the customers, clients and communities it serves through a range of national and local philanthropic partnerships. As part of its 10-year, $2 billion giving goal, the Foundation focuses on needs related to workforce development and education, community development, and basic human services. Extending the company's impact on these issues, in 2013 Bank of America employees volunteered 2 million hours of service to strengthen communities in the U.S. and across the globe.


Hasbro – Hasbro aims to bring the "sparkle of play and the power of service" to youth. As the founding partner of generationOn (Points of Light's youth enterprise) and a $5 million-plus investor in its success, Hasbro has helped hundreds of thousands of young people access tools, resources, project ideas, mini grants and inspiration needed to make their mark on the world through service. For example, through the Joy Maker campaign, over 90,000 kids and teens from around the world gave joy by volunteering, making cards, creating scarves for the homeless, singing carols to seniors and more, with their actions generating a $1 million donation in toys and games for Toys for Tots. Hasbro and generationOn celebrate extraordinary youth through the Hasbro Community Action Heroes, awarding education scholarships and providing youth leadership training – helping our young recipients continue to advance their work in communities across the globe. The 2013 awardees included Yash Gupta, a high school junior who formed his own nonprofit and has collected and distributed $350,000 worth of eyeglasses to 15,000 people in Mexico, Honduras and Haiti, and Zachary Morgan, a second grader from Louisiana who created Zach's Lidz for Kidz and has given more than 1,000 baseball caps to children in hospitals. Through the generous support of Hasbro generationOn has been able to reach millions of kids – inspiring them to service – and engaged over 750,000 directly in volunteer service to others.
Exelis – The Community Blueprint, a national initiative to support the reintegration of returning military service members, veterans and their families, has received a five-year, $5 million investment from Exelis. The Community Blueprint is now introducing new tools and resources and deploying AmeriCorps members across the country to enable local communities and leaders to foster greater coordination and collaboration of veterans services. Exelis is also engaging its employees through the Exelis Action Corps – a robust employee volunteer program designed to create large-scale, team and individual volunteer projects to support and engage returning military service members, veterans and their families across the U.S.
JPMorgan Chase – In 2013, JPMorgan Chase joined Points of Light as the founding partner of the "One America" campaign, a call for people to come together in service to make a difference. The initiative is focused on inspiring and enabling people-powered solutions to tough community issues and has reached 133 million Americans to date. One America kicked off at the opening plenary of the Conference on Volunteering and Service, of which JPMorgan Chase was the title sponsor, with Donna Brazile and Karl Rove dancing on stage to highlight the power of unity. The campaign has included powerful voices promoting volunteerism in cities across the country, including First Lady Barbara Bush, the New York Giants' Victor Cruz, renowned chef José Andrés and "Extra" TV host Maria Menounos. The firm's partnership with Points of Light builds on its commitment to service. More than 47,000 JPMorgan Chase employees provided 540,000 hours of volunteer service in local communities around the globe through company-sponsored service opportunities in 2013, working with organizations like HandsOn Network, a network affiliated with Points of Light.
Target – Building on its strong support of education and literacy, and its commitment to give $1 billion to education by the end of 2015, Target has worked closely with Points of Light to combine education with volunteering. In 2013, Target was the Official Excellence in Education Sponsor of the Conference on Volunteering and Service and hosted a series of education-focused America's Sunday Suppers across the country, engaging community leaders in a dialogue and a meal to outline service solutions to the education crisis and how education is a pathway to economic opportunity for our youth. Sunday Suppers kicked off during Martin Luther King, Jr. Day with 8,000 people coming together at the DC Armory for a service project followed by a brunch with Gen. Colin and Mrs. Alma Powell. Other distinguished Sunday Supper speakers included singer John Legend, Wolfgang Puck, President Jimmy Carter and Bernice King, daughter of Dr. King, who reflected on the 50th Anniversary of the March on Washington. Target also served as the Founding Sponsor of Points of Light's Good & Ready disaster preparedness campaign, helping youth and families learn more about preparedness as part of their educational experience.
The UPS Foundation – For more than a decade, The UPS Foundation has been a significant contributor to Points of Light, helping build capacity to mobilize volunteers and engage individuals, communities, businesses and nonprofits in volunteer leadership. UPS and Points of Light are also developing innovative new technologies and training to better mobilize volunteers in times of disaster. UPS serves as a leading sponsor of the Conference on Volunteering and Service and supports Points of Light's veterans programming, global expansion and engagement in local markets. UPS and its employees, active and retired, invest more than $100 million in charitable giving and 1.8 million volunteer hours around the world. The company's investments in community involvement nationally and globally have significantly shaped the service movement and continue to pave the way for innovation, action and impact.


The Walt Disney Company – Disney has worked closely with Points of Light for more than 20 years to help mobilize the nation into action through volunteerism and service. Disney's ongoing commitment includes principal supporter of Family Volunteer Day and founding sponsor of the Daily Points of Light Trust that recognizes individuals and organizations who promote volunteering for kids and families. Continuing a legacy of support that began in 1991, when Disney hosted and celebrated the first 575 Daily Point of Light honorees, the company's connection to Points of Light – and its youth division generationOn – has engaged tens of thousands of young people and their families in service projects in communities across the country. Volunteer projects are a meaningful way to share an experience that shows kids firsthand how their own actions can make a real difference in a life or in the world. Disney is proud to sponsor Points of Light initiatives to inspire kids and families to develop a lifelong love of service. Together, we are committed to creating a brighter tomorrow by inspiring kids and families everywhere to join us in taking action and caring for the world we share.
Additional Leadership Partners committing more than $500,000 in funding include Altria, which invests in volunteerism that aligns with its core focus areas of education, positive youth development and the environment; Allstate, which educates and equips people to be better prepared for times of disaster through kit building events around the country and as lead sponsor of Good & Ready; Belk, which completed 125 Days of Service as part of its 125th Anniversary benefitting 250 title 1 schools in 16 states; Google, which brings the power of technology to nonprofits through HandsOn Tech Corps; Hilton Worldwide, which strengthens communities and engages Team Members where they live, work and travel through the service culture and expertise in the travel and hospitality industry; and PwC Charitable Foundation, which supports civic innovation and entrepreneurship as a founding sponsor of the Civic Accelerator. Our 2013 strategic in-kind partners include McKenna, Long & Aldridge and IBM.
About Points of Light
Points of Light – the world's largest organization dedicated to volunteer service – mobilizes millions of people to take action that is changing the world. Through affiliates in 250 cities and partnerships with thousands of nonprofits and corporations, Points of Light engages 4 million volunteers in 30 million hours of service each year. We put people at the center of change. For more information, go to www.pointsoflight.org, Facebook or Twitter to learn more.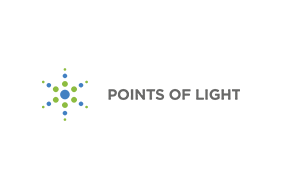 Points of Light
Points of Light
Points of Light is a nonpartisan, global nonprofit organization that inspires, equips and mobilizes millions of people to take action that changes the world. We envision a world in which every individual discovers the power to make a difference, creating healthy communities in vibrant, participatory societies. Through 177 affiliates across 38 countries, and in partnership with thousands of nonprofits and corporations, Points of Light engages 5 million volunteers in 16 million hours of service each year. We bring the power of people to bear where it's needed most.
More from Points of Light