Published 04-17-14
Submitted by 3BL CSRwire
What does corporate social responsibility mean for a leading entertainment and hospitality brand?
The diversity of its stakeholders – from customers, investors, community activists to local governments and shareholders – and the prickly pieces of its business model aren't lost on MGM Resorts International, which has a widespread portfolio of resorts across the U.S. and China.
For a company that promotes lifestyle choices and has expansive scale, CSR becomes a carefully woven strategy that binds responsibility with accountability and transparency to forge a sustainable enterprise through a mosaic of networks including its employees, philanthropic initiatives and community groups, inclusiveness, environmental and economic empowerment causes.
Having won numerous awards for its diversity initiative, community work and sustainability programs, what does MGM Resorts' CSR strategy look like from the inside? What is a company in the hospitality, entertainment and gaming industry doing to turn the tides on how its business is perceived through a genuine commitment to CSR?
In the company's first-ever Twitter chat, join us for an open conversation with MGM Resorts International Chairman and CEO Jim Murren, along with Chief Diversity Officer Phyllis A. James and Chief Sustainability Officer Cindy Ortega.
Moderated by CSRwire's Editorial Director Aman Singh, the conversation will explore the motivations and ambitions behind the company's CSR strategy and how its commitment to corporate citizenship is being carried out.
Details:
When: April 28, 2014 at 2pm EST (11am PST)
Where: #MGMImpact
Twitter handles: @MGMResortsIntl | @CSRwire | @AmanSinghCSR
To register, send out the following tweet:
I'll join @MGMResortsIntl's CEO & @CSRwire 2discuss how the co. is changing the face of gaming 04/28 2pmET #MGMImpact http://bit.ly/MGMImpact
Or email aman@csrwire.com.
Got questions? Send them in before the chat and we'll make sure they're asked.
About MGM Resorts International
MGM Resorts International (NYSE: MGM) is one of the world's leading global hospitality companies, operating destination resort brands including Bellagio, MGM Grand, Mandalay Bay and The Mirage. The Company also owns 51% of MGM China Holdings Limited, which owns the MGM Macau resort and casino and is in the process of developing a gaming resort in Cotai, and 50% of CityCenter in Las Vegas, which features ARIA Resort and Casino.
About CSRwire's Stakeholder Engagement Campaigns
CSRwire regularly conducts webinars and Twitter chats with its member organizations. These interactive sessions provide valuable feedback in real time without the burden of expensive and time-consuming surveys. Whether the topic is sustainable living, shared value, responsible careers or the top trends for 2014, these sessions act as live panels - an hour to demonstrate your authenticity, transparency and efforts to engage on issues that matter.
Learn more by emailing engagement@csrwire.com.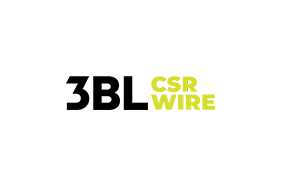 3BL CSRwire
3BL CSRwire
Respected and relied on by journalists, bloggers, business leaders and academics around the world, 3BL CSRwire is a dedicated, real-time source for major news and updates from within the worlds of ESG, corporate social responsibility and sustainability.
3BL CSRwire offers a-la-carte press release distribution to a global network of influential stakeholders and mainstream audiences—perfect for organizations just getting started in CSR or for those looking to get the most out of their corporate communications.
More from 3BL CSRwire