Published 04-17-14
Submitted by Bread Financial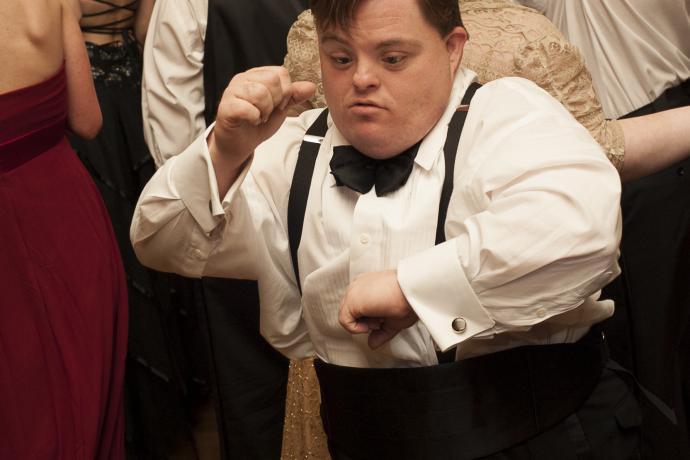 A HIPster busts some moves at the 2014
My Possibilities Community Ball
With a growing number of adults in North Texas living with disabilities – 650,000 as of 2013* – the need for care and job training and employment opportunities is also growing. Two Dallas/Ft. Worth-area nonprofit organizations, LaunchAbility and My Possibilities, are leading the effort with some incredible programs for children and adults with special needs, and Alliance Data has made a commitment to support both organizations, most recently as the presenting sponsor for both annual fundraising events.
My Possibilities, a Plano-based nonprofit center dedicated to empowering adults with special needs, provides vocational instruction, independent living skills training, and a variety of enriching programs for adults with disabilities. LaunchAbility provides the next phase of opportunity for these individuals, as the mission of the Dallas-based nonprofit is to help children and adults with developmental disabilities achieve their maximum potential, gain and keep steady employment and lead fulfilling lives within our community.
"Alliance Data is committed to helping adults with developmental disabilities achieve independence," said Karen Wald, Alliance Data senior vice president of corporate affairs. "We foster a culture of inclusiveness and giving back in the communities in which our associates live and work, and believe in providing financial and volunteer assistance where measurable impacts are happening. Alliance Data is an ardent supporter of these organizations because they help maximize the independence and self-determination of highly capable individuals. Both LaunchAbility and My Possibilities provide critical – and complementary – services that are often an overlooked need for many families in our community."
As the presenting sponsor of the 2014 A Special Evening with Smokey Robinson benefit concert held March 31 for LaunchAbility, Alliance Data helped raise funds necessary for the organization's programs, which provide a measurable impact. For each person placed in a full-time job through programs such as LaunchAbility's, approximately $47,000 in social services costs are saved annually that otherwise would have to be paid by tax payers. The employment of three LaunchAbility clients, ongoing financial contributions, commitment to active board participation, as well as employee volunteer support has enabled Alliance Data to develop a multifaceted—and mutually beneficial—relationship with LaunchAbility over the last 12 years.
"LaunchAbility's work – and My Possibilities' – is that of changing lives of adults with disabilities. Our service would not be possible without the support of companies like Alliance Data, but they are more than a donor. This company is a model for corporate citizenship," said Kathryn Parsons, LaunchAbilitiy chief executive officer. "Real impact happens at the individual level, and Alliance Data is engaged to make a difference. Having trained our clients in their corporate offices, we can promise this is more than a motto; the culture of commitment is evident throughout all levels of the organization."
Alliance Data was the presenting sponsor of the inaugural My Possibilities Community Ball held April 4, an event that helped bring awareness to the organization's mission to make every day count for the variety of adults with special needs they serve, affectionately named HIPsters (Hugely Important People). In addition to this support, employees have several volunteer opportunities and are represented through board membership service.
Approaching its six-year anniversary, My Possibilities has quickly gained local and statewide support from elected officials and is considered a special needs leader in the local Plano community and throughout North Texas. Alliance Data is proud to be one of the first leading Dallas corporations to partner with the organization to help increase their capacity to make a long-term impact on the lives of their clients and their families.
"My Possibilities is very proud to partner with Alliance Data because they share the same dedication, passion and commitment to fundamentally impact and change the lives of adults with cognitive challenges," said Charmaine Solomon, founder and chairman of the board. "Through strategic partnerships with Alliance Data and LaunchAbility, we have the potential to impact more lives, expand our reach, and to significantly impact our local community."
Each organization has their own unique approach to serving children and adults with special needs, and they are just beginning to work together to enable greater support for these individuals across Dallas-Ft. Worth.
You can learn more about LaunchAbility by visiting launchability.org. To learn more about My Possibilities, visit www.mypossibilities.org.
*http://governor.state.tx.us/files/twic/Disabilities_Profile.pdf (DARS and the Governor's Committee on People with Disabilities are credited in the report as providing guidance that was critical in determining both the data to include in the report and the types of analyses that would be useful to stakeholders. Additionally, DARS provided the county-level data in the report and feedback on a prepublication draft.)
About Alliance Data
Alliance Data® (NYSE: ADS) and its combined businesses is a leading global provider of data-driven marketing and loyalty solutions serving large, consumer-based industries. The Company creates and deploys customized solutions, enhancing the critical customer marketing experience; the result is measurably changing consumer behavior while driving business growth and profitability for some of today's most recognizable brands. Alliance Data helps its clients create and increase customer loyalty through solutions that engage millions of customers each day across multiple touch points using traditional, digital, mobile and emerging technologies. An S&P 500 company headquartered in Dallas, Alliance Data and its three businesses employ approximately 12,000 associates at more than 80 locations worldwide. Alliance Data was named to FORTUNE Magazine's 2014 list of World's Most Admired Companies.
Alliance Data consists of three businesses: Alliance Data Retail Services, a leading provider of marketing-driven credit solutions; Epsilon®, a leading provider of multichannel, data-driven technologies and marketing services; and LoyaltyOne®, which owns and operates the AIR MILES® Reward Program, Canada's premier coalition loyalty program. For more information about the company, visit our website, www.alliancedata.com, or follow us on Twitter via @AllianceData.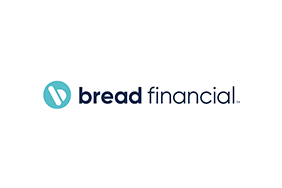 Bread Financial
Bread Financial
Bread FinancialTM(NYSE: ADS) is a tech-forward financial services company providing simple, personalized payment, lending and saving solutions. The company creates opportunities for its customers and partners through digitally enabled choices that offer ease, empowerment, financial flexibility and exceptional customer experiences. Driven by a digital-first approach, data insights and white-label technology, Bread Financial delivers growth for its partners through a comprehensive product suite, including private label and co-brand credit cards, installment lending and buy now, pay later (BNPL). Bread Financial also offers direct-to-consumer solutions that give customers more access, choice and freedom through its branded payment, lending and saving products.
Formerly Alliance Data, Bread Financial is an S&P MidCap 400 company headquartered in Columbus, Ohio, and committed to sustainable business practices powered by its 6,000+ global associates. To learn more about Bread Financial, visit BreadFinancial.com or follow us on Facebook, LinkedIn, Twitter and Instagram.
More from Bread Financial