Published 11-14-13
Submitted by Smithfield Foods
When it comes to the rate of work-related injuries and illnesses, along with days missed from work, Smithfield Foods, Inc., beat the national averages for all industries, not just the meat industry and animal production segment, according to the U.S. Occupational Safety & Health Administration's (OSHA) final statistics for calendar year 2012.
"These numbers are very good, but most important of all is that they reflect the great importance we place on protecting the health and safety of our employees. Prior to 2010, our target had been to meet or beat safety averages for our own industry. When we began surpassing those, we established new targets to meet or beat general manufacturing industry national average for injuries. This shift is significant because injury rates are much lower averaged across all industries than they are for the meat industry alone," said C. Larry Pope, Smithfield Foods' president and chief executive officer.
"Our extensive safety systems and programs, along with our ongoing employee training, have helped us achieve the best overall safety records in our company's history in recent years and realize our target to beat general industry averages," Pope said. "This says a lot about who we are, and I couldn't be prouder of our people and organization."
As an organization, Smithfield Foods finished 2012 with a work-related injury and illness frequency rate of 3.42 per 100 employees, approximately 8% lower than the 3.7 national average for all industries. Smithfield's 2012 injury/illness rate was also well below the 6.3 national average for both the meat industry and the animal production segment, according to OSHA's Bureau of Labor Statistics.
In addition, each Smithfield Foods independent operating company outperformed the injury and illness national averages for the meat and animal production segments.
In the days-missed-from-work category, the entire Smithfield Foods organization had a frequency rate of 0.65 per 100 employees in 2012, or 41% better than the 1.1 national average for all industries. For 2012, the national average for the meat industry was 1.0 and for the animal production segment the average rate was 2.5, according to OSHA's numbers.
Smithfield Foods' organizational structure includes a corporate-level director of health and safety, as well as senior-level safety managers at each independent-operation company. At the supervisory level, all managers—from line supervisors to plant and farm managers—are trained in health and safety issues. Across the company, more than 60 professionals are tasked with providing technical information and resources to support health and safety management and employee welfare.
About Smithfield Foods
Smithfield Foods is a $13 billion global food company and the world's largest pork processor and hog producer. In the United States, the company is also the leader in numerous packaged meats categories with popular brands including Smithfield®, Eckrich®, Farmland®, Armour®, Cook's®, Gwaltney®, John Morrell®, Kretschmar®, Curly's®, Carando®, Margherita®, and Healthy Ones®. Smithfield Foods is committed to providing good food in a responsible way and maintains robust animal care, community involvement, employee safety, environmental, and food safety and quality programs. For more information, visit www.smithfieldfoods.com and www.smithfieldcommitments.com.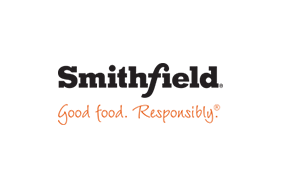 Smithfield Foods
Smithfield Foods
Smithfield Foods is a $15 billion global food company and the world's largest pork processor and hog producer. In the United States, the company is also the leader in numerous packaged meats categories with popular brands including Smithfield®, Eckrich®, Nathan's Famous®, Farmland®, Armour®, John Morrell®, Cook's®, Kretschmar®, Gwaltney®, Curly's®, Margherita®, Carando®, Healthy Ones®, Krakus®, Morliny® and Berlinki®. Smithfield Foods is committed to providing good food in a responsible way and maintains robust animal care, community involvement, employee safety, environmental and food safety and quality programs. For more information, visit www.smithfieldfoods.com
More from Smithfield Foods