Published 01-07-14
Submitted by Smithfield Foods
Smithfield Foods, Inc. and its hog production subsidiary, Murphy-Brown LLC, announced today that it is recommending all of its contract sow growers join with the company in converting their facilities to group housing systems for pregnant sows. The company said that it is asking contract sow growers to convert by 2022 with a sliding scale of incentives to accelerate that timetable. Growers who commit to convert to group housing will receive contract extensions upon completion of the conversion.
At the same time, Smithfield Foods reported that Murphy-Brown had, through the end of 2013, transitioned 54% of pregnant sows on its company-owned farms in the United States to group housing systems.
The announcement supports the company's industry-leading effort that began in 2007 when it was the first major pork supplier to commit to transitioning to group housing systems on company-owned farms. "More and more food companies are looking to suppliers to move toward group housing systems for pregnant sows," said Dennis H. Treacy, executive vice president and chief sustainability officer of Smithfield Foods. "To date, more than 50 companies—many of them Smithfield customers—have announced that they will source pork in the future from suppliers utilizing group housing."
Treacy added, "In line with our animal care initiatives and sustainability goals, and in order to meet the needs of our customers, we believe that it is now time to encourage conversion of pregnant sow housing systems at contract sow grower facilities. In fact, several growers have already converted or have made plans for the change." Smithfield notified their contract sow growers nationwide of this recommendation last month.
Treacy emphasized that although the conversion of contract sow growers' facilities to group housing systems is being encouraged, it is not mandatory. If growers choose not to participate, their current contracts with Murphy-Brown will remain unchanged, although extensions are less likely.
C. Larry Pope, president and chief executive officer of Smithfield Foods, understands fully what the company is asking of its contract sow growers.
"We recognize that these projects require a significant investment on the part of our growers," Pope said. "But a well-planned renovation to a group housing system will help maintain the farms' value for years to come, while at the same time supporting our companywide commitment to animal care."
In 2007, Smithfield made a business decision based on input from its customers to convert to group housing for pregnant sows on all company-owned U.S. farms. Smithfield remains on track to finish its conversion to group housing systems on all company-owned U.S. farms by 2017. Smithfield's international hog production operations will complete their conversions from gestation stalls to group housing systems on company-owned farms by 2022. Smithfield's hog production operations in Poland (AgriPlus) and Romania (Smithfield Ferme) completed their conversions to group housing facilities a number of years ago.
For more information on sow gestation at Smithfield's farms, click here.
About Smithfield Foods
Smithfield Foods is a $13 billion global food company and the world's largest pork processor and hog producer. In the United States, the company is also the leader in numerous packaged meats categories with popular brands including Smithfield®, Eckrich®, Farmland®, Armour®, Cook's®, Gwaltney®, John Morrell®, Kretschmar®, Curly's®, Carando®, Margherita®, and Healthy Ones®. Smithfield Foods is committed to providing good food in a responsible way and maintains robust animal care, community involvement, employee safety, environmental, and food safety and quality programs. For more information, visit www.smithfieldfoods.com and www.smithfieldcommitments.com.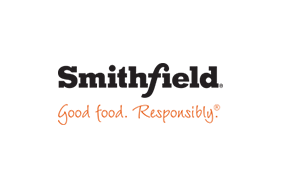 Smithfield Foods
Smithfield Foods
Smithfield Foods is a $15 billion global food company and the world's largest pork processor and hog producer. In the United States, the company is also the leader in numerous packaged meats categories with popular brands including Smithfield®, Eckrich®, Nathan's Famous®, Farmland®, Armour®, John Morrell®, Cook's®, Kretschmar®, Gwaltney®, Curly's®, Margherita®, Carando®, Healthy Ones®, Krakus®, Morliny® and Berlinki®. Smithfield Foods is committed to providing good food in a responsible way and maintains robust animal care, community involvement, employee safety, environmental and food safety and quality programs. For more information, visit www.smithfieldfoods.com
More from Smithfield Foods