Published 03-25-14
Submitted by Aramark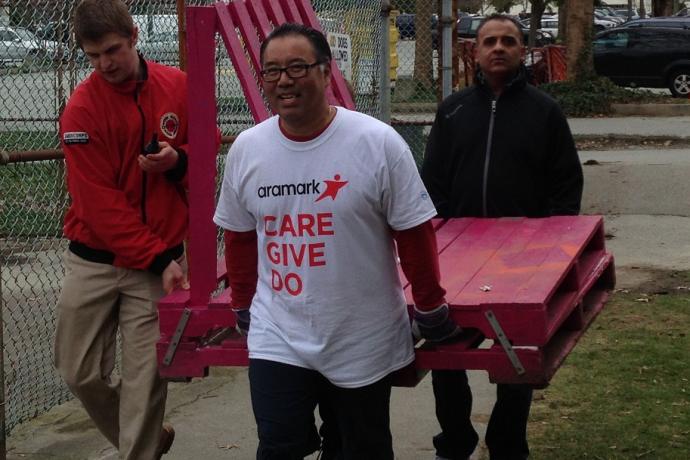 City Year and global professional services company Aramark (Aramark (NYSE:ARMK) today announced they will extend their partnership for an additional two years, with a focus on encouraging civic service and volunteerism. As part of the partnership, City Year worked with Aramark to launch its inaugural Global Volunteer Day on March 19, an expansion of the company's volunteer and philanthropic commitment to building communities.
"Aramark and City Year share a long-standing commitment to service and civic-engagement," said City Year CEO and Co-Founder Michael Brown. "At City Year, young adults dedicate a year of full-time service in low-performing schools to help close the educational achievement gap. Aramark's expertise and ongoing support enables us to build City Year's capacity to develop young leaders and to contribute to the well-being of children and communities through wide-reaching initiatives like Global Volunteer Day."
City Year corps members, young adults ages 17 to 24, who are specially trained to serve in high-need urban schools and to implement high-impact community service projects, worked alongside Aramark employees during the Global Volunteer Day. Global Volunteer Day projects focused on inspiring kids to lead healthier lives through nutrition education and awareness, and enhancements to play spaces.
Throughout the year Aramark will provide its unique expertise to help City Year evolve its civic engagement function nationally to better provide high-quality volunteer opportunities and innovative solutions for corporate volunteerism and community impact.
In addition, Aramark will continue as the official uniform supplier, providing all uniforms and City Year's signature red jackets to the 2,700 corps members plus staff. City Year red jackets have come to represent corps members as tutors, mentors and role models to thousands of children. Aramark also supports City Year sites in its headquarter cities Philadelphia and London.
"Delivering experiences that enrich and nourish lives is who we are and what we do. For Aramark, it's about making life better for those who matter to us most – our employees, our customers, clients and communities," said Bev Dribin, Vice President, Community Relations. "We're in the people business and we bring our unique skills and culture of service to our work and to our communities. Our continued partnership with City Year is a terrific demonstration of that commitment."
Aramark and City Year launched their partnership in 2007, with a mutual dedication to enriching communities through service. Since then, City Year has worked with Aramark to support impactful employee volunteerism as part of Aramark Building Community (ABC). ABC is the company's volunteer and philanthropic program, which helps improve family health, prepares youth and adults for work and supports individuals and families as they work their way out of poverty.
About City Year
City Year is an education-focused, nonprofit organization founded in 1988 which partners with public schools and teachers to help keep students in school and on track to succeed. In 25 communities across the United States and through two international affiliates, this innovative public-private partnership brings together teams of young AmeriCorps members who commit to a year of full-time service in schools. Corps members provide individual support to students who need extra care and attention, focusing on attendance, behavior and course performance through in-class tutoring, mentoring and after school programs.
About Aramark
Aramark (NYSE: ARMK) is in the customer service business across food, facilities and uniforms, wherever people work, learn, recover and play. United by a passion to serve, our more than 270,000 employees deliver experiences that enrich and nourish the lives of millions of people in 22 countries around the world every day. Aramark is recognized among the Most Admired Companies by FORTUNE and the World's Most Ethical Companies by the Ethisphere Institute. Learn more at www.aramark.com or connect with us on Facebook and Twitter.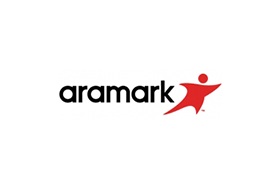 Aramark
Aramark
ARAMARK is a leader in professional services, providing award-winning food services, facilities management, and uniform and career apparel to health care institutions, universities and school districts, stadiums and arenas, parks and destinations and businesses around the world.
The company is recognized as one of the "World's Most Ethical Companies" by the Ethisphere Institute, one of the "World's Most Admired Companies" by FORTUNE magazine and one of America's Largest Private Companies by both FORTUNE and Forbes magazines.
ARAMARK seeks to responsibly address issues that matter to its clients, customers, employees and communities by focusing on employee advocacy, environmental stewardship, health and wellness, and community involvement. Headquartered in Philadelphia, ARAMARK has approximately 250,000 employees serving clients in 22 countries. Learn more at www.twitter.com/aramarknews.
More from Aramark