Published 03-19-14
Submitted by Aramark

Focused on improving the health and wellness of children around the world, thousands of Aramark (NYSE: ARMK) employees will rally together on March 19 for the first-annual Global Volunteer Day, an extension of the company's ongoing commitment to empower people to live healthier lives.
"We are activating the power of our employees in a global effort to improve health and wellness and strengthen the communities we serve every day," said Eric Foss, Aramark President and CEO. "Our employees have a passion for service, and we're committed to enriching and nourishing lives. Today and throughout the year, we offer our expertise to help children and families to make the right nutrition choices and lead healthier lives."
Aramark will also expand its Healthy For Life™ program, its comprehensive and integrated health and wellness approach, into local communities. Employees will create community gardens, refurbish play facilities, and teach families healthy eating choices. Over 100 volunteer projects will take place in cities across North America, Chile, Argentina, Peru, Spain, Germany, China, Korea, Belgium, Ireland, the Czech Republic and India.
In Miami, for example, volunteers will partner with Branches, a community center focused on healthy living, to create a new children's produce garden and outdoor classroom for families. Children will join the day's events and will receive healthy snack packs created by the volunteers to take home. In the U.K., volunteers will host health and wellness fairs in London, Aberdeen, Birmingham and Alton, impacting nearly 1,000 children. And, in Chicago, Aramark dietitians and culinary professionals will teach preschoolers about healthy food choices at Casa Central, a local community center partner.

In addition, as part of this effort, the company will launch the Aramark Healthy For Life Virtual Food Drive where employees and the public can make donations to purchase healthy food for children on behalf of three global food organizations.
"In our local neighborhoods obesity and diabetes are prevalent," said Susan Dreyfus, President and CEO of the Alliance for Children and Families, a national network of nonprofit, independent community centers and longtime Aramark partner.
"According to the World Health Organization, over 40 million children under the age of five are overweight, and obesity has nearly doubled since 1980, worldwide. These problems demand continued attention, particularly in underserved communities where children are at greater risk," Dreyfus said. "Aramark's skilled experts have positively impacted health and wellness in these communities for years, and their focus and commitment during the Global Volunteer Day will continue to enhance this critical work."
Global Volunteer Day is an extension of Aramark Building Community, the company's philanthropic and volunteer program focused on community health and wellness and helping people succeed through education and employment in partnership with local community centers. Since 2008, Aramark has invested nearly $10 million in volunteer expertise, cash, and in-kind resources to strengthen local communities alongside The Alliance for Children and Families and City Year, both prominent nonprofit community and civic leaders. Over 20,000 Aramark volunteers have impacted nearly 4 million individuals and families served by local community centers.
About Aramark
Aramark (NYSE: ARMK) is in the customer service business across food, facilities and uniforms, wherever people work, learn, recover, and play. United by a passion to serve, our more than 270,000 employees deliver experiences that enrich and nourish the lives of millions of people in 22 countries around the world every day. Aramark is recognized among the Most Admired Companies by FORTUNE and the World's Most Ethical Companies by the Ethisphere Institute. Learn more at www.aramark.com or connect with us on Facebook and Twitter.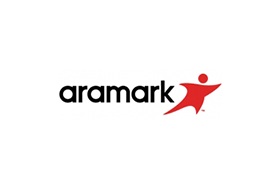 Aramark
Aramark
ARAMARK is a leader in professional services, providing award-winning food services, facilities management, and uniform and career apparel to health care institutions, universities and school districts, stadiums and arenas, parks and destinations and businesses around the world.
The company is recognized as one of the "World's Most Ethical Companies" by the Ethisphere Institute, one of the "World's Most Admired Companies" by FORTUNE magazine and one of America's Largest Private Companies by both FORTUNE and Forbes magazines.
ARAMARK seeks to responsibly address issues that matter to its clients, customers, employees and communities by focusing on employee advocacy, environmental stewardship, health and wellness, and community involvement. Headquartered in Philadelphia, ARAMARK has approximately 250,000 employees serving clients in 22 countries. Learn more at www.twitter.com/aramarknews.
More from Aramark