Published 03-13-14
Submitted by Circle of Blue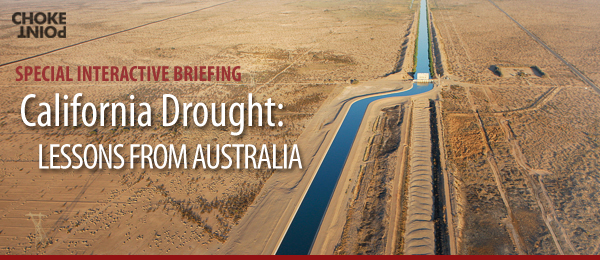 Circle of Blue presents a Maestro Conference event March 18: What California can learn from Australia's drought.
 Circle of Blue, the team of award-winning journalists and researchers reporting on water and worldwide resource issues, today announced a special participatory online event Tuesday, March 18 that will bring together a diverse audience – from water experts to the public – to help California understand and respond to its urgent and long-term water challenges.
The question that experts, researchers, students and business leaders will attempt to answer: What can California learn from Australia's persistent drought?
The event begins Tuesday at 1 p.m. EDT / 10 a.m. PDT; there is no charge to participate.
Background and invitation: http://bit.ly/CPx-AUSCA

Direct link to register: http://bit.ly/CPxCAAUS
The California drought, now in its third year, promises to be a significant test of the capacity of residents, farmers, businesses and governments to ensure the state's water security.
Participants in the event will consider the case of Australia, where a decade-long drought in the 2000s forced water-stressed cities and thirsty farming regions to fundamentally change their relationship to water. Those who dial in will take part and help sort out the seminal trends that are shaping water's future, from Los Angeles to Melbourne. Circle of Blue will use convening technology from MaestroConference to create an interactive, radio show-like experience.
The event follows launch of Circle of Blue's series, Choke Point: Index. The just-published installment explores three critical, water-challenged agricultural regions in the United States.
Water a global risk
The World Economic Forum Global Risks Report 2014 ranks "water crises" among the planet's top three most urgent issues. Water scarcity and supply are emerging as serious threats to people, business, the environment and political stability across the world, including the United States.
"We face converging choke points at the intersection of water, food and energy that are causing billions of dollars of disruptions and testing human and ecological resilience," said J. Carl Ganter, managing director of Circle of Blue and member of the World Economic Forum Global Agenda Council on Water Security. "Our capacity to respond is in doubt unless we dig deep into the connections and combine the best of reporting, data gathering, and participation to understand the scope of the challenges and responses. We need to activate the best, most creative thinking to understand and respond."
Australia's test
By 2009, southeast Australia had already endured 8 years of drought, the longest and deepest in that country's history. The largest rice industry in the southern hemisphere collapsed. A bushfire north of Melbourne killed 173 people. The River Murray stopped flowing to the sea. Dredges were used to keep the mouth of the river system open."¨Australia, however, was policy-ready for this drought. It had revised its entire water entitlement and allocation system. In the drought's worst year, when the total volume of water available to farmers was cut to one third, the value of irrigated agriculture remained at 70 percent of normal.
"Australia tore up its old outdated water entitlement system and replaced it with one designed for this century," said Mike Young, chair in Australian Studies at Harvard University, chair in water and environmental policy at the University of Adelaide, and a discussion leader for the March 18 event. "As a result, the economic and social impacts of Australia's drought where much less than any expected. What would happen if California did the same?"
This is the second in a series of conference events on the California drought and part of Circle of Blue's ongoing coverage of the competition between water, food and energy worldwide. In 2013, Circle of Blue reported from Mongolia, China, the Middle East, South America, the United States and Europe, covering issues that range from water pricing to groundwater stress.
Choke Point: Index is produced with support from the Rockefeller Foundation, Wege Foundation, Alpern Family Foundation, Brookby Foundation and individual donors. Circle of Blue is a nonprofit affiliate of the Pacific Institute. Collaborators include the Columbia University Water Center, Earth System Science at the University of California Center for Hydrologic Modeling, MaestroConference, Qlikview, and others.
The full Choke Point: Index report, and ongoing global coverage, is online at Circle of Blue http://www.circleofblue.org/waternews/.
When
Tuesday, March 18, 2014
10:00am PT - 2:00pm PT / 1:00pm ET - 3:00pm ET
Where
Background and invitation
http://bit.ly/CPx-AUSCA
Direct link to register
http://bit.ly/CPxCAAUS
Discussion Leaders
Heather Cooley
Water Program Director
Pacific Institute
Brian Richter
Chief Scientist of Water Markets
Nature Conservancy
Dr. Robert Wilkinson
Director, Water Policy Program
University of California, Santa Barbara
Professor Michael Young
Gough Whitlam and Malcolm Fraser Chair in Australian Studies, Harvard University
Chair in Water and Environmental Policy, University of Adelaide
Honorary Professor, University College London
Member, World Economic Forum Global Agenda Council on Water Security
J. Carl Ganter
Managing Director
Circle of Blue
Member, World Economic Forum Global Agenda Council on Water Security
Keith Schneider
Senior Editor
Circle of Blue
Brett Walton
Reporter
Circle of Blue
About Circle of Blue
Circle of Blue uses its teams of leading journalists, photographers, data experts, field researchers, and designers to report from the front lines of the world's resource crises, with a core focus on water. In 2012, Circle of Blue received the Rockefeller Foundation Centennial Innovation Award for its breakthrough, feedback-loop model that combines on-the-ground reporting, data collection, analysis, design, and convening. Circle of Blue's reportage is referenced widely.
Twitter: @circleofblue | Facebook | www.circleofblue.org

Circle of Blue
Circle of Blue
Founded by leading journalists and scholars, Circle of Blue covers the global freshwater crisis with original front-line reporting, dynamic data spaces and engaging social media, using pioneering communications and information technologies to inform decision-making. Circle of Blue is a nonprofit independent journalism project of the Pacific Institute. It was featured recently at the Aspen Ideas Festival and the Clinton Global Initiative, and received initial development funding from the Ford Foundation.

CSRwire did their first Member Spotlight on Circle of Blue. Click here to read the story!
More from Circle of Blue