Published 03-12-14
Submitted by First Access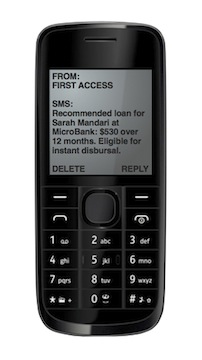 Vodacom Tanzania has placed itself at the forefront of financial inclusion innovators by signing a groundbreaking commercial partnership with First Access, a for-profit social business headquartered in New York City with an office in Dar es Salaam, Tanzania. First Access is a data analytics company that can predict risk for consumers who have never had a bank account or a credit score, using their prepaid mobile data.
First Access offers the first instant risk-scoring tool for financial institutions serving low-income customers. The partnership allows Vodacom subscribers to get instant risk scores for microfinance loans and an array of other financial services from local providers. Scores are authorized by subscribers in real time via text message through an approval system that First Access has pioneered, based on insights from its consumer protection research on big data in informal markets, conducted in partnership with the World Bank's Consultative Group to Assist the Poor. Scores are customized to First Access client institutions, ten of which span retail commercial banking, microfinance, agricultural inputs, energy and housing finance in Tanzania alone. Financial institutions serving informal markets can now reliably determine how much to lend at the touch of a phone.
The scores are based on demographic, geographic, financial and social network data from subscriber mobile records. Delivered in real time to any participating financial institution, they include a recommended loan size in the local currency and eligibility for instant disbursal. Vodacom earns revenue and increases subscriber loyalty through First Access, while demonstrating a firm commitment to inclusive development and corporate social responsibility.
Vodacom Tanzania Limited is Tanzania's leading cellular network offering state-of-the-art GSM communication services across the country. It was launched in 2000 and is a subsidiary of Vodacom Group (Pty) Limited, South Africa, which is also a subsidiary of Vodafone Group UK. Vodacom Group (Pty) Limited owns a majority share portion of 65 percent; the remaining 35 percent is owned by Mirambo Ltd.
Vodacom is the market leader in Tanzania and has introduced many firsts in the Tanzanian market. Perhaps the one service that really stands out is its M-PESA money transfer service, which has over 5 million active users and 55,000 M-PESA agents spread across the country. Over 200 organizations accept bill payment via M-PESA today.
This is a total payment solution, which does not require users to have bank accounts - an important consideration in Tanzania, where millions of people do not operate bank accounts and can barely meet the minimum qualifications to open account. With M-PESA, Vodacom customers can deposit up to Tsh 5m/- for free, send and receive money and withdraw cash from any agent in the country. They can also access their bank accounts from the comfort of their homes.
First Access Tanzania was founded in July 2012 and conducted a year and a half of successful research and development with Vodacom Tanzania and other local partners. Co-founded by Nicole Stubbs and Duncan Goldie-Scot, First Access is dedicated to reducing the cost of lending and borrowing in the global informal sector. The company has analyzed over 225,000 applications for business, agriculture, energy and housing improvement loans. In validating its scores against 2013 loan performance, First Access has proven that its scoring can make profit margins five to ten times higher for portfolios of individual borrowers.
Financial institutions worldwide can use First Access scores based on their own portfolio data, and now, through Vodacom's leadership, those in Tanzania can also purchase premium scores that include mobile data.
The Vodacom-First Access partnership transforms mobile phone records into an asset, allowing millions of subscribers to track and build a personal financial history for the first time.
To learn more about First Access, visit www.first-access.org, or follow the company on LinkedIn or Twitter.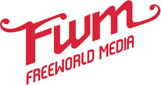 First Access
First Access
First Access is an award-winning social business dedicated to the financial inclusion of billions of people who lack formal personal records. Our mission is to reduce the cost of offering and accessing financial services in these 'informal' markets. ​ Founded in 2011 in New York City, First Access is a revolutionary international collaboration of experts in microfinance, mobile technology, risk analytics, banking, investment, poverty reduction policy, and entrepreneurship. We work with businesses, non-profits, and governments.  We have offices in Brooklyn and Dar es Salaam, Tanzania, and are currently expanding our footprint in East Africa.
More from First Access