Published 03-11-14
Submitted by Ideagen Global
On March 3, 2014, Ideagen − a cross sector, collective impact network where the world's leading organizations convene to innovate and collaborate hosted a summit focused on 'Empowering Women', with a focus dedicated to the advancement of women via collective impact.
The Ideagen Empowering Women Summit was held at the Harvard Club of New York on March 3, 2014.  European Union Ambassador Ioannis Vrailas, Deputy Head of Delegation to the United Nations in New York, gave the keynote address, highlighting issues of women in education, leadership, workforce, philanthropy and other areas. Additional Ideagen topics included 'Increasing Post-Secondary Educational Attainment via Collective Impact' presented by Lumina Foundation and 'The Business Case for Racial Equity' presented by the W.K. Kellogg Foundation.
Kyle Zimmer, the president and CEO of First Book, was awarded the Lifetime Collective Impact Award for her dedication to child literacy and collective impact.
"The Ideagen Summit underscored the importance of intentional actions and the value of partnerships and collaborations for improving the conditions for women worldwide," said Kyle Zimmer, President and CEO of First Book. "It was inspiring to connect with leaders from across sectors who are committed to empowering women. And First Book was honored to be recognized with the Ideagen Lifetime Collective Impact award. We are committed to bringing a world of knowledge to all children growing up in poverty around the world."
Several member organizations were recognized with awards at the Ideagen summit including, The Ideagen U.S. Collective Impact Award to America's Charities, and the Founding Member & Collective Impact Award to the following organizations: American Fuel and Petrochemical Manufacturers', American Red Cross, EdVenture Partners, U.S. Chamber of Commerce Foundation, W.K. Kellogg Foundation, and the YWCA.
"Our mission is to change the world via zero degree cross-sector collaboration," said George Sifakis, Ideagen Founder and CEO of Axela.  "When organizations and leaders from across sectors commit to solving a specific problem through a collective approach, they can make a collective impact that far exceeds the potential of their individual agendas."
"We call it zero degree cross-sector collaboration, a necessity for collective impact." said Adriana Sifakis, Author and Co-Founder of Ideagen.
One Ideagen member summed it up by stating, "Ideagen is like the best of Davos".
About Ideagen
Ideagen is a social good organization serving as the backbone support platform to create and manage collective impact. Our mission is to foster an environment for the world's leading organizations to collectively innovate and collaborate.
Ideagen membership is by invitation-only with quarterly summits to address large-scale change to meet the unprecedented social, resource, business, political and organizational challenges of today.  For more information, visit our website at www.Idea-gen.com or follow our most recent news on Twitter.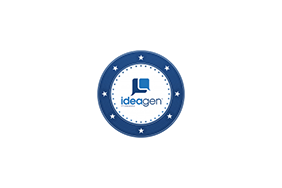 Ideagen Global
Ideagen Global
Ideagen was formed by Axela with a simple goal in mind: to change the world. Ideagen serves as the platform for high-level cross-sector collaboration. Its member base draws broadly from influentials in the non-profit, corporate and governmental sectors and is designed to harness the models and best practices each member brings to the table to catalyze collaborative solutions. A famous theory states that there are no more than six degrees of separation between individuals. Ideagen is a zero degree platform for cross-sector collaboration by serving as the catalyst for influentials across sector lines to come together and discuss key issues affecting our nation and the world. Axela Government Relations LLC, a leader among Washington, DC consulting firms for nearly a decade, is sponsoring Ideagen. The Axela Team brings an unparalleled level of experience and leadership, having built countless cross-sector collaborative alliances by working closely with fortune 500 companies, Capitol Hill, leading non-profits and the public sector. Mission The Ideagen mission is to create a zero degree platform to foster an environment for cross-sector collaboration. Our objective is to nurture and strengthen connections and communication between organizations, which, together, have the ability to create innovative solutions to some of the most vexing issues of our time.
More from Ideagen Global