Published 02-26-14
Submitted by Berrett-Koehler Publishers
Berrett-Koehler Publishers, Inc., is excited to announce that it has once again qualified as a "Certified B Corporation," joining nearly 1,000 other Certified B Corporations in 32 countries. B Corporations meet rigorous standards of social and environmental performance, accountability, and transparency. They also expand their corporate legal responsibilities to include consideration of stakeholder interests, and they build a collective voice for corporate social and environmental responsibility through the power of the unifying B Corp brand.
When Berrett-Koehler was first certified two years ago, it was the first book publishing company in the world to be certified as a B Corp. Berrett-Koehler has just completed the rigorous once-every-two-years recertification process, and it is now one of only two book publishing companies to have received B Corp certification.
"We are thrilled that Berrett-Koehler has continued to qualify for this certification," states BK president Steve Piersanti. "This is in keeping with our mission of 'Creating a World That Works for All' and our commitment to manage BK for the benefit of all of our stakeholder groups, including readers, authors, employees, suppliers, service providers, sales partners, and the societal and environmental communities in which we live and work."
The B Corporation certification process is administered by B Lab, which is a nonprofit organization dedicated to using the power of business to solve social and environmental problems. Over the past several years, B Lab has certified corporations in 60 different industries as B Corporations, with billions of dollars of combined revenues.
"The certification process continues to be very rigorous, which I am very happy about," says Piersanti. "The first step was our completing an 'Impact Assessment' of more than 200 questions that examined BK's performance on measures of corporate accountability, transparency, compensation, benefits, employee training, worker environment, worker ownership, social benefit, community service, local involvement, diversity, job creation, and environmental practices." The next step was a question-by-question review by B Lab staff of BK's assessment responses and correction of some responses to comply with B Lab's standards. "Then we submitted required documentation in many areas to support and further detail our answers, and B Lab scored our assessment," explains Piersanti.
"We were pleased to pass the assessment with a score of 104 out of a possible 200, which is well above the score of 80 that is needed to receive B Corp certification," says Piersanti. According to the B Lab website, across the more than 1,750 companies that have already completed the assessment, the median score is 80 points. Adds Piersanti, "most of these 1,750 companies were already very socially and environmentally conscious when they completed the assessment, so it is not easy to score over 100."
"In a spirit of transparency toward Berrett-Koehler's stakeholders, we are sharing our assessment scorecard and our full impact assessment," says Piersanti. Here are links:
Piersanti admits, "Despite our overall good score, there are many areas where we fell short and have room for improvement. As we have been doing, we will use the assessment as a guide to help us improve our social and environmental performance."
Other qualifications for B Corporation certification, in addition to passing the comprehensive impact assessment, include committing to manage the corporation for the benefit of all stakeholders (not just shareholders), committing to corporate social and environmental responsibility and agreeing to incorporate these commitments into the governing documents of the corporation. "These requirements are consistent with what Berrett-Koehler has long stood for, so we are happy to make them," says Piersanti.
Berrett-Koehler has enthusiastically embraced its role as a leader in the B Corp movement and has agreed to co-publish with B Lab the first-ever guide to B Corporation membership: THE B CORP HANDBOOK: HOW TO USE BUSINESS AS A FORCE FOR GOOD, written by Ryan Honeyman, winner of the B Corp Champion award. The book will be published in October of 2014 and will help launch a series of B Corp workshops at bookstores and other public venues throughout the US and Canada.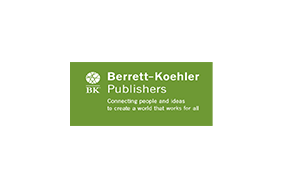 Berrett-Koehler Publishers
Berrett-Koehler Publishers
Berrett-Koehler Publishers is a mission-based, independent publishing company located in Oakland, CA. Berrett-Koehler's (BK) mission is - Connecting People and Ideas to Create a World that Works for All. BK publishes books in the areas of sustainable business, corporate social responsbility, leadership, social justice, politics, economics, and personal development. BK is both a B-Corp and a Benefit Corporation.
More from Berrett-Koehler Publishers