Published 02-06-14
Submitted by 3BL CSRwire
Last year was an eventful year in CSR and sustainability: from severe climate events to the continued growth of benefit corporations, multi-sector standard setting organizations and the rise of social entrepreneurship. What lies ahead for CSR and sustainability in 2014?
Join CSRwire for a Twitter chat on February 12, 2014, at 12pm to discuss the trends driving CSR and sustainability efforts.
Some of the trends we'll discuss:
Citizenship Redefined: Is corporate citizenship being redefined by collaboration with stakeholders who expect to engage around purpose in new ways?
Risk Disclosure: As companies prepare to meet new requirements to disclose whether minerals mined in certain regions of Africa are used in the manufacturing process of their products, will this requirement, along with an increase in the number of companies disclosing the financial risks of climate change, drive growing interest in the economics and politics of sustainability from CFOs?
Local and Global: While some global issues capture the imagination of consumers, most are more concerned about issues affecting their families and communities. How can brands respond?
Greenwashing or Greenblushing:  Are some companies in their effort to balance the risks of greenwashing, overreacting to the point of "greenblushing" – limiting valuable opportunities to engage with stakeholders?
Social Enterprise: Will social enterprise continue to grow as a way for multiple sectors and inspired entrepreneurs to join forces in solving today's pressing issues?
Joining CSRwire's Editorial Director Aman Singh will be special guests including:
Sheila McLean, Director, MSLGROUP ECO Network
Carol Sanford, Coach, Educator, Author, The Responsible Business: Reimagining Sustainability and Success
Susan Nickbarg, Principal, SVN Marketing and CSR consultancy
Ron Schultz, Social Entrepreneur and Author, Creating Good Work: How to Build a Healthy Economy
Joe Sibilia, CEO, CSRwire
Let us know if you'd like to participate by sending out the following tweet:
I will join @CSRwire @svnickbarg @lead4change @carolsanford @sgmclean8 @joe_sibilia on 02/12 12pmET 2discuss #CSR2014 http://bit.ly/csr2014
Accounts to follow: @CSRwire   @svnickbarg   @lead4change   @carolsanford   @sgmclean8   @joe_sibilia
About our special guests:
Sheila co-leads MSLGROUP's NA Brand & Corporate Citizenship Practice. She has extensive experience in CSR, corporate reputation, public affairs and sustainability. She has worked on environmental initiatives throughout her career, from her days as a reporter covering the issues to helping clients win legislative support for fuel efficient technologies, promote new green products, launch CSR initiatives and navigate the complexities of stakeholder engagement.  Her work has repeatedly earned industry awards and recognition, including the Holmes Report, PR Week, the PRSA, PR News and IABC.
Carol Sanford is a business coach and the author of The Responsible Business. She has been leading major consulting change efforts in both Fortune 500 and new-economy businesses for more than 30 years. Her client list includes long-term relationships with Colgate Europe and Africa and DuPont Canada, US, Asia and Europe. She also works with new-economy companies like Intel, Agilent and leaders of corporate responsibility such as Seventh Generation.
Susan Nickbarg, MBA is Principal of SVN Marketing, a marketing and corporate social responsibility consultancy. She is also a regular university lecturer at Georgetown University and recently spoke and trained in CSR for the Ministry of Industry and IT for the People's Republic of China held at and by George Mason University. Her CSR-related columns have appeared in PR NEWS, Triple Pundit/3BL Media, the U.S. Chamber of Commerce Business Civic Leadership Center, and others.
She is recognized as the first person to have lead a CSR session at a PRSA International conference. Prior, Susan held progressive managerial roles in Fortune 500 companies in a wide range of businesses and geographies where she addressed and integrated CSR issues into responsible business practices, programs, and teams and built and marketed strong brands. Susan is also chapter co-author of "Developing a Sustainability Strategy" in The Sustainable Enterprise Fieldbook.
Ron Schultz is the founder and president of Entrepreneurs4Change, working with green and social innovators, veterans, and marginalized communities providing entrepreneurial education, access to funding and capital, and ongoing nurturing and support for the businesses once they are operating. He has written or co-written and has published 22 previous books, including Creating Good Work – The World's Leading Social Entrepreneurs Show How to Build a Healthy Economy.
Joe Sibilia is the CEO of CSRwire. A visionary of the socially responsible business movement, Joe was the founder and former CEO of Meadowbrook Lane Capital (MBLC), described by the Wall Street Journal as a "socially responsible investment bank" specializing in turning values into valuation. Through MBLC, he worked with a number of socially responsible companies and has been widely recognized for his work in attempting to take Ben & Jerry's Homemade Ice Cream private, while creating a private stock exchange for responsible companies. Joe also founded the Gasoline Alley Foundation, a 501(c) 3, that has incubated over 50 small businesses since 1985 and teaches inner city and/or underprivileged persons to become successful entrepreneurs using socially responsible business practices while revitalizing inner city neighborhoods.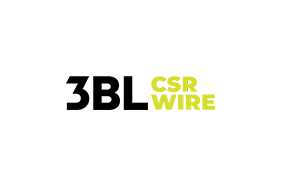 3BL CSRwire
3BL CSRwire
Respected and relied on by journalists, bloggers, business leaders and academics around the world, 3BL CSRwire is a dedicated, real-time source for major news and updates from within the worlds of ESG, corporate social responsibility and sustainability.
3BL CSRwire offers a-la-carte press release distribution to a global network of influential stakeholders and mainstream audiences—perfect for organizations just getting started in CSR or for those looking to get the most out of their corporate communications.
More from 3BL CSRwire