Published 01-31-14
Submitted by Unilever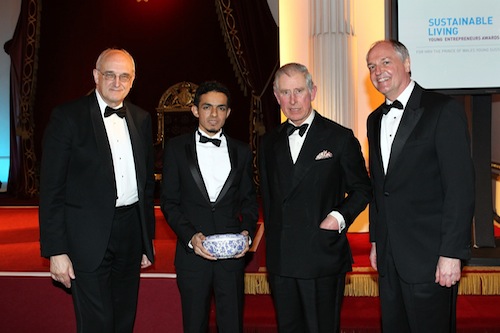 Left to right: Professor Sir Leszek Borysiewicz, Vice Chancellor of the University of Cambridge, Gamal Albinsaid, HRH The Prince of Wales, Paul Polman
HRH The Prince of Wales announced the recipient of the Young Sustainability Entrepreneur Prize at a ceremony at Buckingham Palace alongside Unilever CEO Paul Polman and Professor Sir Leszek Borysiewicz, Vice Chancellor of the University of Cambridge, in the presence of leaders and entrepreneurs in the sustainability arena.
Gamal Albinsaid from Indonesia received the award from HRH The Prince of Wales, with a prize of €50.000 in financial support and a package of individually tailored mentoring. The winner was selected from seven Unilever Sustainable Living Award finalists from across the world. Unilever and the Cambridge Programme for Sustainability Leadership (CPSL) launched the inaugural Unilever Sustainable Living Young Entrepreneurs Awards in September 2013.
The international awards programme is designed to inspire young people around the world to tackle environmental, social and health issues. The competition, ran on an Ashoka platform, invited entrepreneurs aged 30 years or under, to submit inspiring, practical, and tangible solutions to help make sustainable living commonplace. In its first year, the programme received over 500 entries from 90 countries.
HRH The Prince of Wales commented; "I would like to give my warmest congratulations to Gamal Albinsaid for his marvellous initiative. This young leader has developed an initiative with the potential to disrupt the way in which community services are provided for the benefit of the area's poorest people. Genuinely innovative, it tackles two problems at one time: the management and re-use of waste, and the provision of health insurance and health services to poor communities. All finalists are applying their imagination to move away from the "take, make and dispose" economic model and towards this much more circular, sustainable approach. And they deserve our support."
Unilever CEO Paul Polman said: "There is no group more important to involve than young people. They are half the world's population and will be the guardians of sustainable development long into the future. The time is now for young entrepreneurs to stand up and develop a business that can genuinely make a big difference. We all need to use our energy and resourcefulness to support young entrepreneurs to reach scale, accelerate the development, inspire others and help create a brighter future for all."
"We all know HRH The Prince of Wales is passionate about sustainable development and an enthusiastic champion of youth enterprise and young entrepreneurship. I would like to thank HRH The Prince of Wales for his leadership in supporting these Awards and for agreeing to the top prize being named in his honour."
Polly Courtice, CPSL Director, and co chair of the awards judging panel said: "The exceptional calibre and dynamism of the finalists encouraged and inspired our judges. We are delighted to bring the research insight and entrepreneurial dynamism of the Cambridge community to support these young leaders in refining their initiatives and taking them to scale."
Unilever Sustainable Living Young Entrepreneurs Awards 2014
The new programme will be launched early in the Summer of 2014 and young entrepreneurs willing to participate can register on the Ashoka Changemakers platform via www.changemakers.com/SustLiving.
Note to the editors:
Photos of HRH The Prince of Wales and the winner are available via the Press Association Picture Library.
More information on the winner: Garbage Clinical Insurance, Gamal Albinsaid, 24 (Indonesia) Waste recycling as a currency for primary health care
The runners up, who each received €10.000 in financial support and a mentoring package are:
NextDrop, Anu Sridharan, 26 (India)
Water use optimization and leakage tracking via a real time data and messaging system
Unfire, Blessing Mene, 26 (Nigeria)
Low-cost chicken-feed (using waste mango seed ) for smallholder farmers
Maya Universe Academy, Surya Karki, 23 (Nepal)
Sustainable collective farming for rural Nepalese communities, with farm profits use to fund free schools
X Runner, Isabel Medem, 28 (Peru)
Water-less toilets in slums; converted into saleable compost
Pigeonpea, Curt Bowen, 26 (Guatemala)
Smallholder farmer crop solution for natural, sustainable soil enrichment and greater income
Ilumexico, Manuel Wichers, 26 (Mexico)
Carbon-free renewable energy from solar lamp network plus micro-loans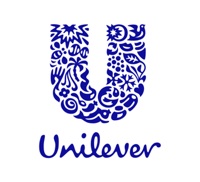 Unilever
Unilever
Unilever is one of the world's leading suppliers of fast moving consumer goods with operations in over 100 countries and sales in 190. Consumers buy 170 billion Unilever packs around the world every year, and our products are used over two billion times a day. We have more than 171,000 employees, and generated annual sales of €46.5 billion in 2011. More than half our sales are generated in emerging markets (56% in 2011). Working to create a better future every day, we help people feel good, look good and get more out of life with brands and services that are good for them and good for others. Our portfolio includes some of the world's best known brands including Knorr, Hellmann's, Lipton, Dove, Vaseline, Persil, Cif, Radox, Sure and Lifebuoy.
Our ambition is to double the size of our business, whilst reducing our overall environmental impact (including sourcing, consumer use and disposal). We are also committed to doing what we can to improve health, nutrition and hygiene, with a target to help more than a billion people take action to improve their health and well-being, as well as sourcing all our agricultural raw materials sustainably by 2020. All of these goals are itemised in around 50 time-based commitments in our Unilever Sustainable Living Plan.
Unilever has led the Food Producers sector in the Dow Jones Sustainability World Indexes for 14 consecutive years and has regained the leadership of the Food and Beverage supersector. We are included in the FTSE4Good Index Series and attained a top environmental score of 5, leading to inclusion in the FTSE4Good Environmental Leaders Europe 40 Index. In 2011 Unilever led the Climate Counts Company Scorecard and were named #1 in the list of Global Corporate Sustainability Leaders in GlobeScan Inc. and SustainAbility Ltd's latest annual survey (2012).
For more information about Unilever and its brands, please visit www.unilever.com
More from Unilever