Published 01-27-14
Submitted by Points of Light
The Points of Light Civic Accelerator today announced it will invest $50,000 each in Kindoma and IDignity, two startups – one for-profit, one nonprofit – recommended by a unique investment committee, their social enterprise peers.
The investment is a culmination of the 12-week Civic Accelerator, led by Points of Light with founding support from the PwC Charitable Foundation and Starbucks Foundation, with official hotel sponsor Hilton Worldwide and in partnership with Village Capital. The Civic Accelerator, which launched in 2012, is the first accelerator program and investment fund in the nation focused on "civic ventures" – for-profit and nonprofit startups that include people as part of the solution to critical social problems.
The three-month, boot camp-style program convenes 10 to 15 teams in person and online with the goal of equipping each startup to seek investments and scale their social innovations. At the end of each boot camp, the participating ventures themselves select the two enterprises that will receive $50,000 investments. Points of Light is now accepting applications here for the fourth round of the Civic Accelerator, during which teams will meet from April to June. (Go to www.pointsoflight.org/CivicX for more information).
Kindoma, a for-profit company based in Palo Alto, Calif., provides a novel mobile videochat platform that leverages familiar activities like book reading to make distant interactions longer, richer and more engaging for children. "Research shows that children learn by engaging in activities with their parents," explained Dr. Rafael Ballagas, co-founder and CEO. "But millions of kids, including those in military families, are missing out because their parents are away. We are honored to be recognized by our peers, and the support will go a long way towards furthering our mission of connecting families."
IDignity, a nonprofit company based in Orlando, Fla., helps the disadvantaged overcome the difficulties of obtaining the legal identification documents essential to participation in modern-day society, including birth certificates, photo IDs and Social Security cards. "Receiving this investment from my Civic Accelerator peers is an exceptional honor and will help us scale and grow our impact based on a new business and revenue model we were inspired to develop during the program," said Michael Dippy, IDiginity's founder and executive director.
The winners were announced in New York this month at a public event – Demo Night at the Civic Accelerator – at which all 15 startups pitched their ventures to potential partners and investors.
The participating ventures also included (by category):
Education
Environment
Community and Economic Development
Tech-for-Good
The audience at Demo Night made its favorites known, selecting OpportunitySpace as the startup with the biggest potential for impact, Riders Club of America as the startup with the best pitch and Kindoma as the startup that is the "most investable."
Tom Craren, PwC Partner and PwC Charitable Foundation Trustee, kicked off the evening and said, "We are pleased to congratulate the third class of Civic Accelerator startups. Supporting innovation in the design of sustainable, scalable programs that drive social good is an important part of our giving philosophy, and we look forward to the impact of these ventures in the areas of education and humanitarianism."
"Innovation is core to what we do at Starbucks, and we are inspired by the work of these entrepreneurs and innovators," said Adam Brotman, chief digital officer at Starbucks. "We are honored to support this valuable program and look forward to the continued success of the teams as they make a positive impact on their communities."
Ayesha Khanna, president of the Civic Incubator at Points of Light, added, "We are excited about the new thinking and innovative models we are seeing – and investing in – across the country. And with their growth and success, we are witnessing these high-impact ventures engage people to solve critical social problems and strengthen communities."
About Points of Light
Points of Light – the world's largest organization dedicated to volunteer service – mobilizes millions of people to take action that is changing the world. Through affiliates in 250 cities and partnerships with thousands of nonprofits and corporations, Points of Light engages more than 4 million volunteers in 30 million hours of service each year. For more information, go to www.pointsoflight.org.
About PwC Charitable Foundation, Inc.
The PwC Charitable Foundation, Inc., a section 501(c)(3) organization, makes charitable contributions to the people of PwC in times of financial hardship, and to nonprofit organizations that support and promote education and humanitarianism.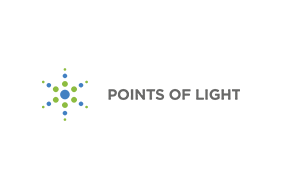 Points of Light
Points of Light
Points of Light is a nonpartisan, global nonprofit organization that inspires, equips and mobilizes millions of people to take action that changes the world. We envision a world in which every individual discovers the power to make a difference, creating healthy communities in vibrant, participatory societies. Through 177 affiliates across 38 countries, and in partnership with thousands of nonprofits and corporations, Points of Light engages 5 million volunteers in 16 million hours of service each year. We bring the power of people to bear where it's needed most.
More from Points of Light