Published 12-11-13
Submitted by Bread Financial
HSN Cares, the philanthropic arm of HSN, and leading credit card provider Alliance Data, announced today a donation of $500,000 to a variety of local charities that support women and children. At a press conference hosted at the HSN headquarters in St. Petersburg, FL, HSNi CEO Mindy Grossman and Deb Decker, Senior Vice President and Chief Client Officer for Alliance Data, unveiled the charities' plans for the donation. $400,000 of the funds will benefit the Tampa Bay community and the remaining $100,000 will benefit the communities surrounding HSN's fulfillment centers in Piney Flats, Tennessee; Fontana, California; and Roanoke, Virginia.
Alliance Data has provided credit card services for HSN since 2008. Proud to align with HSN to support its HSN Cares Foundation, Alliance Data is committed to supporting the communities in which their associates live and work.
"At HSNi, we strive to cultivate a culture of generosity.  Our people are not only creative and passionate about what they do, but also about giving back and we are honored to be partnering with Alliance Data to make a difference this holiday season," said Mindy Grossman, HSNi CEO.  "Our initiatives are proudly supported year-round. We offer each employee two fully compensated days of community service. Last year, our employees volunteered over 27,500 hours. We want people to not just give to charities – we want them to feel connected through our HSN Cares philanthropic program."
Tampa Bay organizations, Thurgood Marshall Fundamental Middle School, Community Action Stops Abuse (CASA), Habitat for Humanity of Pinellas County, and Big Brothers Big Sisters of Pinellas County, each received $100,000 to support their programs. 
"The mission of HSN Cares aligns with that of Alliance Data as we both recognize the obligation we have to 'do good' by helping others in need," said Deb Decker , Senior Vice President and Chief Client Officer for Retail Services at Alliance Data. "We are confident that the program will truly benefit those in need and reach organizations that will make long-lasting changes and improvements within the community."
Thurgood Marshall Fundamental Middle School will use the donation to fund a state-of-the-art technology lab for their students. HSN has been a corporate partner with Thurgood Marshall for eight years and sends volunteers on a monthly basis to help with various needs around the school. More than 30 HSN employees currently serve as mentors to students. 
CASA, Community Action Stops Abuse, will use the money to sponsor a room in CASA's new emergency domestic violence shelter. Casa has been a leading advocate for ending domestic violence. Their support of victims of abuse and efforts to educate and prevent domestic violence has been widely recognized. HSN is honored to be the first company to make a significant contribution to CASA's Sunshine and Hope Capital Campaign. 
HSN Cares has built three homes as part of its ongoing partnership with Habitat for Humanity of Pinellas County. The donation will sponsor the Habitat for Humanity Blitz Build for the next decade. In addition to today's contribution, HSN Cares has donated $200,000 over the past three years and more than 1500 employee community service hours to build three homes through Habitat.
Big Brothers Big Sisters will use the donation to fund a scholarship endowment for future Little Brothers and Sisters. Through the organization's school-based mentoring program, more than 30 HSN employees are matched with middle school "Littles" to serve as mentors through high school. HSN also provides in-kind human resources support to Big Brothers Big Sisters.
An additional $100,000 is being distributed evenly between local charities in Piney Flats, TN, Roanoke, VA and Fontana, CA  - home to three of  HSN's fulfillment centers. The Ronald McDonald House of Southern Appalachia in Piney Flats will use the funds for a family room at the Nisownger Children's Hospital. Funds donated to The Loma Linda Ronald McDonald House in Fontana will go towards the expansion of the house and Big Brothers Big Sisters of Southwest Virginia will purchase an 'HSN Cares Mentor Mobile' that will assist with the transportation of "Bigs" and "Littles."
HSN Cares is dedicated to empowering women and helping families in times of need. Together with trusted organizations and volunteers, the program is able to make a difference with hope, love and support. In addition to local giving, the program provides national support to the American Red Cross, St. Jude Children's Research Hospital, U.S. Fund for UNICEF, and The Heart Truth®. It also supports HSN partner initiatives such as Andrew Lessman's on-going donation of prenatal vitamins to women and children around the world, as well as employee giving through community service programs.
As part of HSN Cares national giving campaigns, HSN Cares joined Diet Coke for a month of multiplatform promotions to raise awareness for The Heart Truth®. Promotions included a special curated 'Red Store', donation points across all of the retailer's platforms, and an in-store partnership with Walgreens in more than 7,000 stores across the country.
For the first time ever, as part of this year's Halloween initiatives, HSN, along with its HSNi sister companies Grandin Road and Chasing Fireflies, partnered with the U.S. Fund for UNICEF to support their annual Trick-or-Treat for UNICEF campaign.
HSN Cares is also supporting St. Jude Children's Research Hospital's annual Thanks and Giving campaign, for the ninth year.  The campaign has turned the holiday shopping season into more than $387 million invested in research and treatment in the ongoing battle to end childhood diseases. The campaign incorporates the 4th Annual heART HSN 2013 Designer Ornament collection, designed in conjunction with HSN's partners. This year Alliance Data also partnered with the HSN Cares St. Jude's campaign and matched all St. Jude donations made by HSN credit card holders from November 15 through November 30. Alliance Data matched over $130,000.
For more information about HSN Cares visit www.hsn.com/hsncares.
About HSN, Inc.
HSN, Inc. (Nasdaq:HSNI) is a $3.3 billion interactive multichannel retailer with strong direct-to-consumer expertise among its two operating segments, HSN and Cornerstone. HSNi offers innovative, differentiated retail experiences on TV, online, via mobile devices, in catalogs, and in brick and mortar stores. HSN, a leading interactive multichannel retailer which offers a curated assortment of exclusive products combined with top brand names, now reaches 95 million homes (24 hours a day, seven days a week, live 364 days a year). HSN.com offers a differentiated digital experience by leveraging content, community and commerce. In addition to its existing media platforms, HSN is the industry leader in transactional innovation, including services such as HSN Shop by Remote®, the only service of its kind in the U.S., the HSN Shopping App for mobile handheld devices and HSN on Demand®. Cornerstone comprises leading home and apparel lifestyle brands including Ballard Designs®, Chasing Fireflies®, Frontgate®, Garnet Hill®, Grandin Road®, Improvements® and TravelSmith®. Cornerstone distributes more than 300 million catalogs annually, operates eight separate digital sales sites and operates 11 retail and outlet stores.
About Alliance Data Retail Services
Alliance Data Retail Services is one of the nation's leading providers of branded credit card programs, with over 100 marketing-driven private label, co-brand and commercial programs in partnership with many of North America's best-known brands. The business delivers upon its Know More. Sell More.® commitment by leveraging customer insight to drive sales for its client partners. Leveraging deep-rooted retail industry expertise, transaction-based customer data, and advanced analytics, Alliance Data Retail Services creates turnkey, multichannel credit programs designed to help its clients develop stronger, more profitable customer relationships. Alliance Data Retail Services is part of the Alliance Data family of companies. To learn more about Alliance Data Retail Services, visit www.alliancedata.com.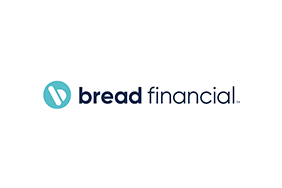 Bread Financial
Bread Financial
Bread FinancialTM(NYSE: ADS) is a tech-forward financial services company providing simple, personalized payment, lending and saving solutions. The company creates opportunities for its customers and partners through digitally enabled choices that offer ease, empowerment, financial flexibility and exceptional customer experiences. Driven by a digital-first approach, data insights and white-label technology, Bread Financial delivers growth for its partners through a comprehensive product suite, including private label and co-brand credit cards, installment lending and buy now, pay later (BNPL). Bread Financial also offers direct-to-consumer solutions that give customers more access, choice and freedom through its branded payment, lending and saving products.
Formerly Alliance Data, Bread Financial is an S&P MidCap 400 company headquartered in Columbus, Ohio, and committed to sustainable business practices powered by its 6,000+ global associates. To learn more about Bread Financial, visit BreadFinancial.com or follow us on Facebook, LinkedIn, Twitter and Instagram.
More from Bread Financial