Published 12-09-13
Submitted by Points of Light
Verified Volunteers, the first-of-its-kind platform for volunteer background screening, and Points of Light, the world's largest organization dedicated to volunteer service, today announced a groundbreaking new partnership to make vetting volunteers faster, easier and less costly for nonprofits and volunteers themselves.
Using Verified Volunteers' new online service, volunteers and volunteer managers at any nonprofit can quickly and easily obtain a single, standardized background check for civic service accepted by multiple nonprofit organizations, schools, youth sports teams and faith-based groups.
The platform has been rolled out in conjunction with Points of Light's HandsOn Network volunteer action centers in Jacksonville, Fla., Denver, Nashville, St. Louis and Portland, Ore., and will continue expanding to additional volunteer centers and other nonprofits throughout 2014.
Current background screening tools are costly and time-consuming for volunteers and nonprofit organizations alike. Since as many as half of all volunteers serve with more than one organization, the cost and inconvenience of repetitive screening deters many others from doing the same. Using a standardized volunteer service credential that satisfies screening requirements and is recognized by multiple organizations will translate into lower costs and a greater number of qualified, readily available and dedicated volunteers.
"For years, Points of Light has been looking for a way to make background screenings more efficient and less costly for both nonprofit organizations and volunteers," said Tracy Hoover, president of Points of Light and former president and CEO of the HandsOn Atlanta volunteer action center. "Verified Volunteers is the first screening tool custom-designed for the service sector. It's like a 'fast pass' for volunteering – streamlining the process so volunteers can spend less time waiting and more time serving."
Verified Volunteers aims to make the background screening process faster, less expensive and more user-friendly. Volunteers log in to the self-service, online platform and complete a four-step registration process. Their background check is available to share with organizations within the Verified Volunteers community in hours– not weeks, as is often the case with current screening processes.
"We are pleased to partner with Points of Light and we share this great organization's mission of putting people at the center of change," said Clare Hart, president of Sterling Infosystems, which owns Verified Volunteers. "By making it easier to volunteer, we seek to motivate people to share their time and their talents for the common good."
Features of the new platform include:
Automatic updates of all active background checks every 30 days for the first year at no additional cost to the organization or volunteer;
Compliance with FCRA and state laws;
The ability for volunteers to share their screening status with multiple organizations;
The ability for volunteer managers to receive real-time alerts on any changes in the background screening status of their volunteers;
The ability for volunteer managers to track, communicate with and manage volunteers
According to Judy Smith, president and CEO of HandsOn Jacksonville, "In the 18 years that I've been with HandsOn Jacksonville, one thing our volunteers and partners have consistently asked for help with was in the area of background checks. It was confusing, costly and time-consuming for them, and not something we could help them with. Now, because of our partnership with Verified Volunteers, we have a simple solution to recommend to them."
"The ultimate power of our solution comes as we build scale in local communities around the country," said Verified Volunteers Executive Director Tom Klein. "The more volunteers and organizations that join our platform in a given community, the more powerful the ability to reuse a background check, save time and money, and ultimately positively impact the service sector."
About Verified Volunteers
Verified Volunteers is the only background screening platform tailored to the specific needs of the service sector and the first online community to mobilize repeat, vetted volunteers. We propel nonprofit organizations by empowering volunteers to take greater ownership of costly, time-consuming screening and onboarding processes. Verified Volunteers is backed by Sterling Infosystems, one of the world's largest background screening companies, and partnered with Points of Light, the world's largest organization dedicated to volunteer service. Visit our website at verifiedvolunteers.com or Facebook, Twitter, LinkedIn or Google Plus to learn more.
About Points of Light
Points of Light – the world's largest organization dedicated to volunteer service – mobilizes millions of people to take action that is changing the world. Through HandsOn Network affiliates in 250 cities and partnerships with thousands of nonprofits and corporations, Points of Light engages 4 million volunteers in 30 million hours of service each year. We bring the power of people to bear where it's needed most. Visit our website at pointsoflight.org or Facebook or Twitter to learn more.
About Sterling Infosystems
Sterling Infosystems is one of the largest background screening companies in the world. Led by founder William Greenblatt since 1976, Sterling is chosen by over 25% of the Fortune 100 and over 20,000 organizations to help them hire and retain the right people. As a global background check leader, Sterling has 2,200 people in 12 offices in five countries. Sterling's people bring expertise in compliance, client experience and applicant experience. Connected by the world's most advanced background check technology platform, and backed by strong financials, Sterling continuously reinvests in its business to ensure it remains a global leader.
In December 2010, Calera Capital, a leading middle-market private equity firm, invested in Sterling in partnership with founder William Greenblatt and the company's management team. For additional information visit our website at sterlinginfosystems.com or Twitter, LinkedIn or Google Plus.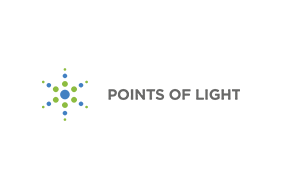 Points of Light
Points of Light
Points of Light is a nonpartisan, global nonprofit organization that inspires, equips and mobilizes millions of people to take action that changes the world. We envision a world in which every individual discovers the power to make a difference, creating healthy communities in vibrant, participatory societies. Through 177 affiliates across 38 countries, and in partnership with thousands of nonprofits and corporations, Points of Light engages 5 million volunteers in 16 million hours of service each year. We bring the power of people to bear where it's needed most.
More from Points of Light