Published 11-14-13
Submitted by The Mosaic Company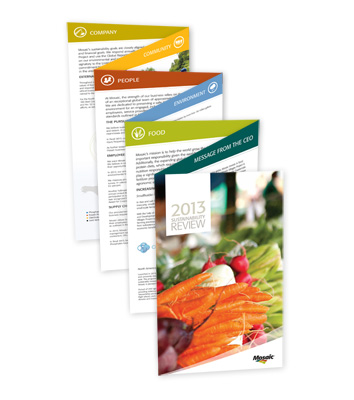 The Mosaic Company 2013 Sustainability Review
In Bartow, Fla., The Mosaic Company (NYSE: MOS) employees reduced their facility's annual water consumption by more than 116 million gallons from 2011 to 2012. The employees' proactive Water Matters initiative also helped the company avoid approximately $50 million in water-related costs. This is one of the highlights announced today in Mosaic's 2013 Annual Sustainability Review.
"Stories like this one demonstrate the good work our employees are doing. They also explain how companywide sustainability efforts are adding up to long-term growth and profitability for Mosaic's shareholders," said Mosaic President and CEO Jim Prokopanko. "The value added last year is remarkable; we worked safer, conserved energy and water, and continued supporting our communities where we live and work."
The company's 2013 Sustainability Review includes a brochure summary and website report on more than 90 Global Reporting Initiative indicators and the Mining and Metals sector supplement. The review follows Mosaic's 2013 Annual Review released in August, and highlights the company's sustainability progress in its focus areas of food, the environment, people, community and company.
2013 Sustainability Review results that contributed value to shareholders:
Safety: In fiscal 2013, Mosaic and its employees set a new safety record—achieving an industry-leading recordable injury frequency rate of 1.20 (5.5 percent improvement over fiscal 2012) and a lost time incident frequency rate of 0.10 (44 percent improvement over fiscal 2012). Mosaic's Canadian potash business unit also celebrated 8 million on-site hours without a lost-time incident in 2012.
Energy: In 2012, Mosaic's phosphates business avoided approximately $90 million in expenditures on electricity through cogeneration, the process of converting waste heat to energy. Additionally, cogeneration activities in both the phosphates and potash businesses produced enough electrical energy to satisfy 39 percent of companywide demand. By producing and using its own clean energy, Mosaic also avoided approximately 1 million tonnes of carbon emissions—the equivalent of taking an estimated 195,000 cars off the road.
Water: In 2013, Mosaic reused or recycled approximately 95 percent of water used at its Florida phosphates operations. The company's phosphate operations have decreased groundwater use by more than 50 percent over the last 20 years. In 2013, Mosaic also satisfied approximately 89 percent of water needs through recycling and reuse at Canadian potash shaft facilities.
Local: In fiscal 2013, The Mosaic Company, The Mosaic Company Foundation and The Mosaic Institute in Brazil invested a combined $22.9 million in food, water and local community enrichment programs. Funding also supports The Mosaic Villages Project, a smallholder farmer initiative started in 2008 to help families break the cycle of hunger and poverty. Last year, The Mosaic Villages Project helped farmers in India, Guatemala, Mali, Ghana, Nigeria, Malawi, Kenya, Uganda, Tanzania and Ethiopia increase yields an average of three to five times, over traditional farming practices.
External recognition for Mosaic's sustainability progress includes:
In 2013, ranked No. 1 among mining and crop nutrition companies and No. 52 overall on Corporate Responsibility Magazine's 100 Best Corporate Citizens List, a recognition the company has received since 2010.
Named to the 2013 list of the World's Most Ethical Companies by The Ethisphere Institute for the second consecutive year.
Scored 90 out of 100 for disclosure of information in the 2012 Carbon Disclosure Project report—a 12-point increase from last year—and received a grade of "B" for climate performance, an improvement of 16 points from 2011. In 2013, Mosaic improved by another 7 points, scoring a 97 in disclosure and a grade of "A" for climate performance—earning a place on two S&P 500 sustainability indices:

The 2013 CDP S&P 500 Climate Disclosure Leadership Index (CDLI), which highlights companies displaying a strong approach to disclosing climate change-related information
The CDP S&P 500 Climate Performance Leadership Index (CPLI), which recognizes companies demonstrating a commitment to improving their environmental impact

Received the 2013 Excellence Award in Corporate Philanthropy from CECP, the organization formerly known as the Committee Encouraging Corporate Philanthropy. The award recognized the company's success in helping smallholder farmers through The Mosaic Villages Project.
Read Mosaic's 2013 Sustainability Review, www.mosaicco.com/sustainability/report/sr_2013.pdf,
and review our Global Reporting Initiative indicators, www.mosaicco.com/sustainability/report/gri.
About The Mosaic Company
The Mosaic Company is the world's leading producer and marketer of concentrated phosphate and potash. Driven by its mission to help the world grow the food it needs, Mosaic is committed to strengthening global food security and protecting critical water resources. The Mosaic Company and The Mosaic Company Foundation make investments in and partner with best-of-class leaders in the focus areas of food, water and local community investments. For more information on The Mosaic Company, visit www.mosaicco.com.
About the Global Reporting Initiative
The Global Reporting Initiative (GRI) is an independent, network-based organization that has pioneered the development of a widely used sustainability reporting framework and is committed to its continuous improvement and application worldwide. Learn more at www.globalreporting.org.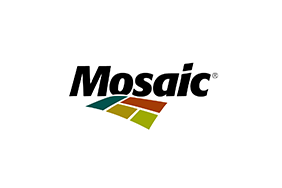 The Mosaic Company
The Mosaic Company
The Mosaic Company is the world's leading combined producer and marketer of concentrated phosphate and potash, two of the primary nutrients required to help the world grow the food it needs. Mosaic engages in every phase of crop nutrition, from the mining of resources to the production of crop nutrients, feed and industrial products for customers around the globe. Our customer base includes wholesalers, retail dealers and individual growers in more than 40 countries.
Headquartered in Plymouth, Minn., Mosaic employs approximately 8,000 people in eight countries. Our shares trade on the New York Stock Exchange under the ticker symbol MOS.
More from The Mosaic Company