Published 11-01-13
Submitted by KPMG
(GLOBE NEWSWIRE) - KPMG LLP, the U.S. audit, tax and advisory firm, kicked off a nationwide "Reading Relay" today on National Family Literacy Day to commemorate the fifth anniversary of KPMG's Family for Literacy (KFFL) program.
As part of the Reading Relay, KPMG's 90 offices across the country will conduct events at schools and organizations that serve children from low-income families at which KPMG people, spouses, other family members and alumni will volunteer their time to read to children and give each student five new books – called the "First Five" collection – to take home with them. The First Five collection, which represents the favorite children's books as voted on by KPMG's people, will be given on behalf of every one of KPMG's more than 22,000 employees. In total, 130,000 new books will be distributed.
Over the past five years, KPMG has distributed more than 2 million new books to children in need and refurbished the libraries of numerous schools. Going forward, KPMG is donating new books on behalf of every new hire that joins the firm.
"We're extremely proud of KPMG's people and their families who have worked together for five years to fight childhood illiteracy. They have enabled KFFL to put more than 2 million new books in the hands of children in need, helping to overcome the number one obstacle to literacy – a lack of access to books," said John Veihmeyer, Chairman and CEO of KPMG LLP. "Over the next five years and beyond, we hope to provide millions more new books to children from low-income families, so we can encourage their love of reading and put them on a path of lifelong learning."
Through KFFL, KPMG partners and professionals, spouses who help drive this effort, and "extended family" – such as retirees, alumni and interns – raise money, visit classrooms, read to children and personally put new books into their hands. For many children, the books they receive are the first they have ever owned.
"Family is at the heart of KFFL, and its success is a result of the caring commitment of our partners and professionals, spouses and the extended KPMG family in the community," said P. Scott Ozanus, Deputy Chairman and Chief Operating Officer of KPMG LLP. "When we give new books to the children, their excitement is palpable. They can't wait to take their books home and start reading."
Kiffle the Kangaroo, the KFFL mascot, will be attending several Reading Relay events across the country to entertain and engage students.
KPMG collaborates with First Book, a recognized leader in social enterprise dedicated to providing children in need with access to new, high-quality books, as part of the KFFL program.
"KPMG is a model corporate citizen," said Kyle Zimmer, president and CEO of First Book. "The passion and engagement of KPMG's employees is unmatched and they have demonstrated a real desire to transform the lives of children across the country. They have been incredible collaborators, helping us provide new books to children who need them most. They've also gone above and beyond by assisting us as we develop our growth strategy."
About KPMG LLP
KPMG LLP, the audit, tax and advisory firm (www.kpmg.com/us), is the U.S. member firm of KPMG International Cooperative ("KPMG International"). KPMG International's member firms have 152,000 professionals, including more than 8,600 partners, in 156 countries.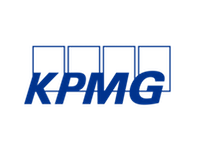 KPMG
KPMG
KPMG LLP, the audit, tax and advisory firm, is the U.S. member firm of KPMG International. KPMG International's member firms have 113,000 professionals, including 6,800 partners, in 148 countries.
More from KPMG