Published 10-28-13
Submitted by ImpactAssets
 ImpactAssets launches the "IA 50," a free online resource for impact investors and their advisors. The annual compilation includes experienced fund managers representing a broad range of investment opportunities that deliver social and/or environmental benefits along with financial returns. Fund managers included in the IA 50 2013 manage a combined $10.8 billion in assets within the impact investing market.
"For several years, interest in impact investing outpaced opportunities for mainstream investors to participate," said Jed Emerson, Chief Impact Strategist of ImpactAssets. "The IA 50 was designed to help convert interest into action by showcasing funds with expert management and solid track records."
The IA 50, now in its third year, is the first publically available database of private debt and equity impact investment fund managers. It includes a purposefully broad range of organizations including traditional investment firms as well as emerging specialists, and can be filtered based on criteria including asset class, focus area and impact metrics. The selection committee was chaired by Jed Emerson and included experts from The CAPROCK Group, Eirene, Haas Business School, Labrador Ventures, Toniic, and UBS.
"The desire to invest in ways that deliver social benefit as well as financial return is widespread and well-documented," said Liesel Pritzker Simmons, Co-Founder and Principal of Blue Haven Initiative and member of the IA 50 selection committee. "The modern marketplace for facilitating these investments is in an exciting phase of growth; impact investing is taking its place as a standard financial portfolio option."
The IA 50 is not an index or investable platform and does not constitute an offering or recommend specific products. It is a not a replacement for due diligence. In order to be considered for the IA 50 2013, fund managers needed to have at least $5 million in assets under management, more than 3 years of experience with impact investing and demonstrated commitment to impact. Additional details on the selection process are here: www.impactassets.org/impactassets-50/review-and-criteria.
About ImpactAssets
ImpactAssets is a nonprofit financial services firm that increases the flow of capital into investments that deliver financial, social, and environmental returns. ImpactAssets' donor advised fund ("The Giving Fund"), impact investment notes, and field building initiatives enable philanthropists, other asset owners, and their wealth advisors to advance social or environmental change through investment.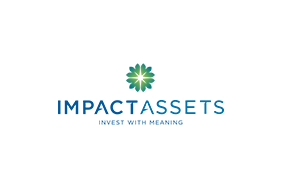 ImpactAssets
ImpactAssets
ImpactAssets is an impact investing trailblazer, dedicated to changing the trajectory of our planet's future and improving the lives of all people. As a leading impact investing firm, we offer deep strategic expertise to help our clients define and execute on their impact goals.  
Founded in 2010, ImpactAssets increases flows of money to impact investing in partnership with our clients through our impact investment platform and field-building initiatives, including the IA 50 database of private debt and equity impact fund managers.  
ImpactAssets has more than $2 billion in assets in 1,700 donor advised fund accounts, working with purpose-driven individuals and their wealth managers, family offices, foundations and corporations. ImpactAssets is an independent 501(c)(3) organization. 
More from ImpactAssets