Published 10-23-13
Submitted by Toronto Sustainability Speaker Series (TSSS)
With great excitement Earthshine Solutions and the Toronto Sustainability Speaker Series (TSSS) release the much anticipated paper titled, "A Journey in Search of Capitalism 2.0."
We started with the simple question.
"How could we make Capitalism work better? Could there be a better way to drive change more quickly towards a sustainable economy?"
Our research took us in many directions.
First we began by reviewing the key problems inherent within our current economic system, but we quickly moved on.  We delved into the work of experts and developed a range of design principles that would set the foundation for a truly sustainable economy.  The paper concludes with a range of solutions for how we might all work together to bring about a better, more sustainable future.
Some general principles for what we believe to be the basis of a sustainable economy:
Less focus on growth and more on wellbeing
Elimination of speculative bubbles
Creating longer-term real wealth
Holistic systems thinking; aligned with the circular economy
Reduced wealth concentration
Shared ownership (co-op model)
Based on collaboration and co-operation
Founded on new institutions and greater systemic resilience
This paper is step one – a starting point.
Our aim is to share our journey with people around the world, to help generate greater awareness of the issues and possibilities, to promote debate, to provide a sense of hope for what might be and how we could all make the transition towards a more sustainable economy.
We found something unexpected – what will you find?
Although we started out on a journey in search of Capitalism 2.0, we actually found something more. Join us, and see what pathway you find…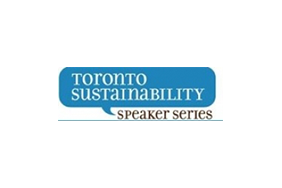 Toronto Sustainability Speaker Series (TSSS)
Toronto Sustainability Speaker Series (TSSS)
Toronto Sustainability Speaker Series (TSSS) is a live and online community that promoting dialogue and problem solving among sustainability thought leaders. Our events occur 8-9 times each year and act not only as a learning opportunity but also as a networking forum for individuals to come together as allies and partners in efforts to promote sustainable business practices.