Published 10-16-13
Submitted by Points of Light
The Points of Light Civic Accelerator announced today the 15 startups selected to participate in its third round. The innovative program and investment fund, with founding support from PwC Charitable Foundation and Starbucks Foundation, and in partnership with Village Capital, includes 50 percent more participants and double the number of mentors than the accelerator's first round a year ago.
The 15 for-profit and nonprofit civic ventures, selected from a national pool, will gather in Atlanta on Oct. 21 for the start of an intensive, 12-week startup boot camp that includes mentoring, entrepreneur education, peer support and networking. Additionally, Points of Light will offer two of the most promising ventures – as selected by the entrepreneurs themselves – a $50,000 investment following the conclusion of the program at a January pitch event in New York City.
The startups are:
"Supporting the design of sustainable, scalable programs that drive both innovation and social good is an important part of our giving philosophy," said Chris Simmons, president, PwC Charitable Foundation. "We are pleased to congratulate the third class of 15 startups selected for the accelerator and look forward to seeing their impact in the areas of education and humanitarianism."
"At Starbucks, we believe strongly in the positive impact entrepreneurs can have on their communities," said Adam Brotman, chief digital officer at Starbucks. "We are honored to support this program, as we enter our second year, and look forward to the success of this next round of ventures." 
"The Civic Accelerator is really coming into its own," said Ayesha Khanna, president of the Points of Light Civic Incubator. "We refined and validated our curriculum and investment model in our first year, graduating 19 ventures. Our portfolio companies have raised over $2.6 million and engaged more than 150,000 people around the world in solving social issues. The program itself is now poised to scale."
Khanna also announced this week that Hilton Worldwide has signed on as the official hotel sponsor of the Civic Accelerator.
The third Points of Light Civic Accelerator class brings ideas that help people create effective social and environmental change. These ventures come from across the United States – from hotbeds of entrepreneurship, such as Silicon Valley, Boulder and Seattle, to less-expected cities, including Cedar Rapids and Orlando – led by diverse and talented founders. 
About the Points of Light Civic Accelerator
The Points of Light Civic Accelerator is the first startup accelerator program and investment fund in the country focused on "civic ventures" – startups that inspire, equip and mobilize people to create positive change.  Launched in 2012 with founding support from the PwC Charitable Foundation and the Starbucks Foundation and in partnership with Village Capital, the Civic Accelerator supports and invests in for-profit and nonprofit early stage ventures that include people as part of the solution to solve the most complex environmental and social issues facing our communities. 
About PwC Charitable Foundation, Inc.
The PwC Charitable Foundation, Inc., a section 501(c)(3) organization, makes charitable contributions to the people of PwC in times of financial hardship, and to nonprofit organizations that support and promote education and humanitarianism.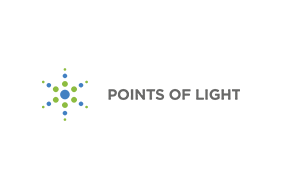 Points of Light
Points of Light
Points of Light is a nonpartisan, global nonprofit organization that inspires, equips and mobilizes millions of people to take action that changes the world. We envision a world in which every individual discovers the power to make a difference, creating healthy communities in vibrant, participatory societies. Through 177 affiliates across 38 countries, and in partnership with thousands of nonprofits and corporations, Points of Light engages 5 million volunteers in 16 million hours of service each year. We bring the power of people to bear where it's needed most.
More from Points of Light