Published 10-16-13
Submitted by Points of Light
Michigan teacher Karrie Marciniak's BIG idea has been awarded a $5,000 grant as the Grand Prize Winner of the 2013 "BE BIG in Your Community Contest," a signature program of the ongoing Clifford The Big Red Dog® BE BIG!™ campaign, sponsored by Scholastic Media, a division of Scholastic Inc., the global children's publishing, education and media company, and HandsOn Network, the volunteer activation division of Points of Light. Marciniak's idea "Paws for a Book: Readers Rock," is a program that will have K-5 students working with service dogs to read to and visit with elderly residents in the community.
The national contest invited participants to submit a "BIG" idea for making the world a better place that demonstrates Clifford's Big Ideas (Share, Help Others, Be Kind, Be Responsible, Play Fair, Be a Good Friend, Believe in Yourself, Have Respect, Work Together and Be Truthful). Winners receive a community grant to be used toward implementing the winning proposals. Since its inception in 2009, the contest has generated over 4,200 BIG ideas from more than 100,000 children, parents, teachers and community leaders, and has awarded over $200,000 in grants to bring these BIG ideas to life.
"You're never too young to learn how to use your time and talent to change the world," said Tracy Hoover, president Points of Light, the world's largest organization dedicated to volunteer service. "When that message comes from a character as beloved as Clifford the Big Red Dog, it goes a long way toward engaging the natural creativity and energy children bring to volunteerism. We're grateful to Scholastic for its commitment to kids, reading and service."
"Clifford the Big Red Dog has been delighting and inspiring young children for more than 50 years – so it's fitting that his 'Big Ideas' inspired Karrie to meet a unique need in her community to encourage a love of reading through service dogs," said Deborah Forte, President of Scholastic Media and Executive Vice President of Scholastic Inc. "Scholastic is proud that the BE BIG program continues to engage young people across the country to improve the lives of others – and we're proud of Karrie and her impact in the community."
Five additional contest entries were selected as first-place prize winners; each idea will be awarded a $1,000 community grant. The five first place prize winners are:
Liliana Grijalva, 30, of Phoenix, AZ and her team will implement her BIG idea of "Project Green Power," involving students in a multidisciplinary project aimed at developing a sense of responsibility for the planet, focusing on three phases – reduce, reuse and recycle.
Caroline Ill, 30, of Jacob, IL will create a community "Book Exchange" at her school to encourage children to read and socialize with their classmates. Her school is located in a small, rural area where there is no public library.
Gabrielle P., 16, of Encinitas, CA and her team, will expand their BIG idea of a 'Food Rescue' program, changing the paradigm of commercial food waste by putting a 'Donate Don't Dump' logo on excess food items, reducing waste and helping to feed hungry families.
Athena S., 15, of Brooklyn, NY will develop an idea called "PJ's for Patients," supplying new and gently used pajamas to hospital children.
Andy Yung, 26, of Flushing, NY will start a monthly 'Family Center Night' at his local school, aiming to bring the diverse community of families together to interact and become more involved in school activities.
Clifford's Big Ideas came out of the curriculum developed for the award-winning animated television series Clifford the Big Red Dog, based on the books by Norman Bridwell, which airs on on PBS KIDS®. Since the first Clifford book was published in 1963, the property has expanded to include 126 million books in print and remains a literary classic embraced by parents, teachers and kids.
The winning BIG Ideas were selected by a panel of judges based on four criteria: feasibility, creativity, sustainability and impact. A complete list of winners, and profiles about their BIG ideas, can be found at www.scholastic.com/cliffordbebig/contest.
For information about Clifford, please visit www.scholastic.com/clifford, www.facebook.com/officialclifford or Scholastic's media room at mediaroom.scholastic.com/clifford.
About Points of Light
Points of Light – the world's largest organization dedicated to volunteer service – mobilizes millions of people to take action that is changing the world. Through affiliates in 250 cities and partnerships with thousands of nonprofits and corporations, Points of Light engages more than 4 million volunteers in 30 million hours of service each year. We put people at the center of change. For more information, go to www.pointsoflight.org, and follow us on Facebook and @PointsofLight.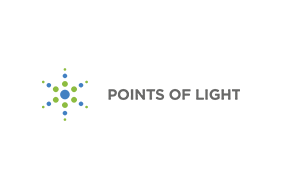 Points of Light
Points of Light
Points of Light is a nonpartisan, global nonprofit organization that inspires, equips and mobilizes millions of people to take action that changes the world. We envision a world in which every individual discovers the power to make a difference, creating healthy communities in vibrant, participatory societies. Through 177 affiliates across 38 countries, and in partnership with thousands of nonprofits and corporations, Points of Light engages 5 million volunteers in 16 million hours of service each year. We bring the power of people to bear where it's needed most.
More from Points of Light