Published 10-17-13
Submitted by 3BL CSRwire
Office Depot, in partnership with TriplePundit and CSRwire, will convene a Twitter Chat on Environmental Transparency. The chat will be hosted by Yalmaz Siddiqui, Senior Director, Environmental Strategy at Office Depot.
A drive towards greater transparency has dominated the sustainability reporting movement. In terms of environmental reporting, Office Depot has been a long-standing leader among U.S. Corporations. Not only has the company increased the quantity and quality of environmental metrics reported since 2003, but their data has been third party reviewed by PwC in almost every year since.
On 10/10/2013, Office Depot released their 10th annual Corporate Citizenship report, as a website available at officedepotcitizenship.com. This latest report has their most rigorous environmental disclosure to date, in the form of a 10-year environmental dashboard.
With this as context, Office Depot will convene a Twitter chat to discuss reporting, environmental transparency, and finding the right balance between breadth and depth of disclosure.
Topics we'll discuss include:
What is the purpose of sustainability report /website?
How can reporters maximize the value of their reports?
Is there such a thing as "too much transparency?"
How should materiality be defined, and by whom?
Who cares about which environmental metrics?
How should a company choose their environmental metrics?
What matters most, transparency or impact reduction?
How can a company measure and pursue positive impact?
How should companies spend resources: reporting or managing?
How should reporters manage the emerging landscape of GRI G4, IIRC, SASB etc.?
TriplePundit founder Nick Aster and CSRwire's Social Media Lead Gabe Chesman will facilitate the chat, providing an opportunity for journalists, bloggers, corporate sustainability practitioners, sustainability consultants and other interested parties to talk about the nature of transparency in the rapidly evolving world of sustainability reporting.
Details:
Date: Thursday October 24th
Time: 12-1 EST / 9-10 PST
Where: To register, send the following tweet:
Join me for the #transparency chat with @officedepot @yalmazsiddiqui
@triplepundit @csrwire on Oct 24th
Accounts to follow: @officedepot @yalmazsiddiqui @triplepundit @csrwire @nickaster @gchesman
About Office Depot
Office Depot provides core office supplies, the latest technology, school essentials, copy & print services, cleaning & breakroom products, and furniture to consumers, teachers and businesses of all sizes through 1,614 worldwide retail stores, global ecommerce operations, a dedicated sales force, an inside sales organization, and top-rated catalogs. The Company has annual sales of approximately $10.7 billion, employs about 38,000 associates, and serves customers in 60 countries around the world. The company is well known as an environmental leader, having been ranked America's #1 greenest larger retailer by Newsweek magazine in 2010, 2011 and 2012.
Office Depot's common stock is listed on the New York Stock Exchange under the symbol ODP. Additional press information can be found at: http://news.officedepot.com
About TriplePundit
Founded in 2005, TriplePundit (3p) is a new-media company for the business community that cultivates awareness and understanding of the triple bottom line – an expanded spectrum of values and criteria for measuring organizational success: economic, ecological and social.   With monthly readership exceeding 250K unique readers and tens of thousands more across social media, 3p is among the leading online destinations for conversations on sustainable business.
About CSRwire
CSRwire is the leading global source of corporate social responsibility and sustainability news. Founded in 1999 to advance the movement toward a more economically-just and environmentally-sustainable society and away from single bottom line capitalism, CSRwire has paved the way for new standards of corporate citizenship, earning the international respect of thought leaders, business leaders, academics, philanthropists, activists and the media community.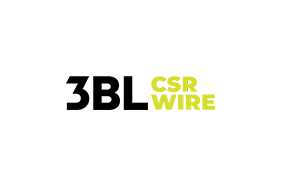 3BL CSRwire
3BL CSRwire
Respected and relied on by journalists, bloggers, business leaders and academics around the world, 3BL CSRwire is a dedicated, real-time source for major news and updates from within the worlds of ESG, corporate social responsibility and sustainability.
3BL CSRwire offers a-la-carte press release distribution to a global network of influential stakeholders and mainstream audiences—perfect for organizations just getting started in CSR or for those looking to get the most out of their corporate communications.
More from 3BL CSRwire