Published 10-15-13
Submitted by Bread Financial
Alliance Data, a Plano-based leading provider of loyalty and marketing solutions, today announced that the company has been recognized with a Communitas Award for Excellence in Community Service from the Association of Marketing and Communications Professionals (AMCP) for the fourth consecutive year. Alliance Data was honored with the 2013 award in the Leadership in Community Service category for its corporate giving program and associated community outreach efforts.

The Communitas Awards are an extension of the pro bono recognition program of the AMCP, and an international effort to recognize the spirit of 'communitas' - derived from the Latin 'people helping people'. Nominees are evaluated based on the extent and effectiveness of their programs, which may involve volunteerism, philanthropy, and/or ethical, sustainable business practices.
In 2012, Alliance Data increased its corporate giving budget by more than 40 percent.The company continues to focus charitable giving on three tightly focused but deeply rooted areas, established in 2009 through employee input:
Independent Living: maximizing the independence of those in need
Children's Advocacy: helping to improve and protect the lives of children
Education: helping others to gain knowledge to achieve their potential
"The underlying purpose of our collective efforts is for Alliance Data and its businesses to strive for and continue to make a positive and lasting impact in the communities in which we live and work," said Dana Beckman, Senior Manager of Corporate Responsibility. "Alliance Data is committed to continuous improvement in all that we do, and our approach to community involvement is no different."
Last year Alliance Data and its three businesses worked with dozens of non-profit organizations to improve communities in the U.S. and Canada. Across the enterprise, the Company donated nearly $4 million to non-profit organizations and logged more than 10,000 volunteer hours. Some of those supported organizations include United Way, LaunchAbility, North Texas Food Bank, Mid Ohio Food Bank, ChildCareGroup, Children's Medical Center of Dallas and Boys & Girls Club of America, among many others.
To learn more about Alliance Data and its corporate giving efforts, contact Danielle Ricketts at 214-494-3782 or danielle.ricketts@alliancedata.com, or visit www.AllianceData.com or www.facebook.com/AllianceData.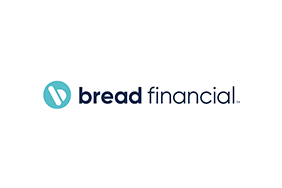 Bread Financial
Bread Financial
Bread FinancialTM(NYSE: ADS) is a tech-forward financial services company providing simple, personalized payment, lending and saving solutions. The company creates opportunities for its customers and partners through digitally enabled choices that offer ease, empowerment, financial flexibility and exceptional customer experiences. Driven by a digital-first approach, data insights and white-label technology, Bread Financial delivers growth for its partners through a comprehensive product suite, including private label and co-brand credit cards, installment lending and buy now, pay later (BNPL). Bread Financial also offers direct-to-consumer solutions that give customers more access, choice and freedom through its branded payment, lending and saving products.
Formerly Alliance Data, Bread Financial is an S&P MidCap 400 company headquartered in Columbus, Ohio, and committed to sustainable business practices powered by its 6,000+ global associates. To learn more about Bread Financial, visit BreadFinancial.com or follow us on Facebook, LinkedIn, Twitter and Instagram.
More from Bread Financial