Published 10-02-13
Submitted by Telecom for Charity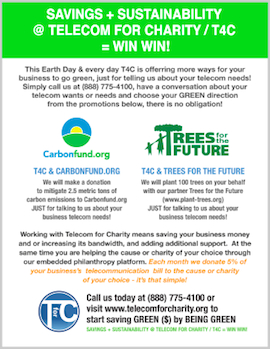 Telecom for Charity (T4C) is an initiative that helps clients save on business telecommunications solutions while helping support nonprofit organizations: T4C donates 5% of clients' monthly telecom expenditures to any charity of the client's choosing. T4C seeks to increase charitable giving by introducing its unique embedded philanthropy model into the telecommunications procurement vertical.
The new website and video will help T4C share its message with potential clients and not-for-profit partners.
The video, to be released this week on the Telecom for Charity website (www.telecomforcharity.org), is an animated short produced by Ecodeo Group, a digital media firm focused on environmental sustainability.
The branding and redesign of the Telecom for Charity website, designed by Melissa Mesku, highlights the initiative's fresh take on telecommunications procurement. T4C's embedded philanthropy model and value proposition for companies and organizations is explained in bold detail. T4C seeks to become a leading alternative fundraising method for nonprofits, and a special section on the website invites nonprofits to grow their support base by partnering with T4C. Every Day is Earth Day, a featured promotion on the website, underscores T4C's dedication to mission-driven growth: when a potential client calls T4C for a free consultation, Telecom for Charity will make a contribution to cleaner air with partners Trees for the Future and Carbonfund.org.
Telecom for Charity's new messaging consistently conveys its commitment to social responsibility and better business, helping companies save money and support a cause they love.
Watch Telecom for Charity from Liz Rubin on Vimeo.
Telecom for Charity is an initiative of Nice Touch Communications, an established telecommunications consulting firm with over 15 years of industry experience, resources and relationships.
Jay Frank is the program director of Telecom For Charity, a founding partner at Nice Touch Communications (established in 1997), and a longtime environmental advocate.
Telecom for Charity
Telecom for Charity
Increase your communication capabilities, save money, and support a worthy cause! The Telecom for Charity initiative pools resources and solutions from dozens of carriers and over fifteen years of experience to offer your company best of breed telecommunication solutions that save you money and support the charity of your choice.
More from Telecom for Charity