Published 10-01-13
Submitted by 3BL CSRwire
The Walton Sustainability Solutions Initiatives, a program within the Global Institute of Sustainability at Arizona State University, will convene a Twitter Chat on Leadership Through a Sustainability Lens. The chat will be co-hosted by professors George Basile, Senior Sustainability Scientist with the Global Institute of Sustainability and Professor of Practice at ASU's School of Sustainability, and Bruno Sarda, Director of Global Sustainability Operations at Dell and professor & consultant for ASU.
Sustainability enables a more complete understanding of the world around us. What kind of leadership is needed not only for individuals to succeed, but for organizations, communities and societies to thrive well into the future? Traditional MBA programs have taught future leaders to externalize problems, how to account for some things and not for others, and how to maximize profit and push risk off on society. Now, in order to address sustainability and the need to make businesses and organizations thrive into the future we need a new kind of exec/Master's model.
In partnership with TriplePundit and CSRwire, experts from the nation's leader in sustainability education will share their perspectives and seek feedback from the sustainability community.
Specifically we'll be discussing: 
How traditional leadership models lack the tools tomorrow's leaders need to succeed
What we mean when we talk about a sustainable organization
Is it possible to be a sustainable leader inside a traditional organization?
Principles of sustainable leadership
Does size matter? How does sustainable leadership differ at small and large organizations
How sustainable leadership practices can help intrapreneurs move organizations to operate more sustainably
And whatever else you want to discuss!
TriplePundit founder Nick Aster and CSRwire's Social Media Lead Gabe Chesman will facilitate the chat, providing an opportunity for journalists, bloggers, academicians and other interested parties to have a high level conversation on what sustainable leadership really means, and how we teach it.
Details:
Date: Tuesday October 15th
Time: 3:30-4:30pm EDT / 12:30-1:30 PST
Where: To register, send the following tweet:
Join us for the #sustleadership chat w/ @bruno68 @WSSIatASU @triplepundit & @CSRwire on Oct 15th at 3:30pm EDT! http://bit.ly/asu_csr #csr
Accounts to follow: @bruno68 @WSSIatASU @triplepundit @csrwire @nickaster @gchesman
About the Rob and Melani Walton Sustainability Solutions Initiatives
The Rob and Melani Walton Sustainability Solutions Initiatives are the result of a $27.5 million investment in Arizona State University's Global Institute of Sustainability by the Walton Family Foundation. Within the Walton Sustainability Solutions Initiatives, diverse teams of faculty, students, entrepreneurs, researchers, and innovators collaborate to deliver sustainability solutions, accelerate global impact, and inspire future leaders through eight distinct initiatives. For more information visit www.sustainabilitysolutions.asu.edu. 
About The Global Institute of Sustainability
The Global Institute of Sustainability is the hub of Arizona State University's sustainability initiatives. The Institute advances research, education, and business practices for an urbanizing world. Its School of Sustainability, the first of its kind in the U.S., offers transdisciplinary degree programs focused on finding practical solutions to environmental, economic, and social challenges.
The Global Institute of Sustainability provides leadership and coordination for university sustainability initiatives. The first-ever School of Sustainability trains the next generation of sustainability practitioners, entrepreneurs, and leaders. An emphasis on sustainability across the curriculum directs coursework, research, and outreach toward solving today's most important problems. A university-wide commitment to sustainable operations encompasses all units at all four campuses.
About TriplePundit
Founded in 2005, TriplePundit (3p) is a new-media company for the business community that cultivates awareness and understanding of the triple bottom line – an expanded spectrum of values and criteria for measuring organizational success: economic, ecological and social.   With monthly readership exceeding 250K unique readers and tens of thousands more across social media, 3p is among the leading online destinations for conversations on sustainable business.
About CSRwire
CSRwire is the leading global source of corporate social responsibility and sustainability news. Founded in 1999 to advance the movement toward a more economically-just and environmentally-sustainable society and away from single bottom line capitalism, CSRwire has paved the way for new standards of corporate citizenship, earning the international respect of thought leaders, business leaders, academics, philanthropists, activists and the media community.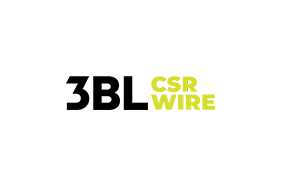 3BL CSRwire
3BL CSRwire
Respected and relied on by journalists, bloggers, business leaders and academics around the world, 3BL CSRwire is a dedicated, real-time source for major news and updates from within the worlds of ESG, corporate social responsibility and sustainability.
3BL CSRwire offers a-la-carte press release distribution to a global network of influential stakeholders and mainstream audiences—perfect for organizations just getting started in CSR or for those looking to get the most out of their corporate communications.
More from 3BL CSRwire