Published 09-25-13
Submitted by 3BL CSRwire
How does a company as large and decentralized as McDonald's first set a company-wide sustainability strategy – and then implement it?
With an expansive supply chain – from agriculture and poultry to packaging, transportation, nutrition and a decentralized culture – how does the multinational cohesively build on its sustainability promises? And how do you even begin to motivate a workforce – and keep them committed – as
diverse as McDonald's?
In the spotlight will be McDonald's CSR Chief Bob Langert. For one hour, you will have the opportunity to hear about his journey – 30 years – and what he has learned from decades of working with cross sector stakeholders.
Langert joined McDonald's in 1983, beginning his career as a logistics specialist before moving into corporate responsibility. What began 23 years ago as a short-term assignment on a project team tasked with removing CFLs (chlorofluorocarbons) from the company's packaging gradually expanded into his current role as head of McDonald's entire global CSR effort.
Also on hand will be "corporate culture game changers" Leslie Bennett and Heather Shapter of Open Spaces Learning. They will reveal their latest tool to help your organization chart the shortest path to CSR success. And use McDonald's as a case study to test the relevance and usability of crowdsourcing to answer your most pressing sustainability challenges.
Hosted by CSRwire and created as an interactive session to examine and discuss organizational change and design through the lens of McDonald's, participants will have the opportunity to test the tool, ask Langert and the Open Spaces Learning team questions in real time as well as take home practical and replicable tips on how to inculcate a sustainable culture across your organizations.
The live webinar will also serve as a follow up to the Toronto Sustainability Speaker Series' October event held in Toronto, Canada, offering attendees a chance to see which of their recommendations resonated with the McDonald's team and shift from discussion to active implementation.
To register, please visit http://bit.ly/McDsusty and send out the following tweet:
I'll join @CSRwire @TSSStweets @openspaceslearn + @McDonalds on 10/23 to discuss role of #culture in #CSR http://bit.ly/McDsusty #McDsusty
Details:
Date: Wednesday, October 23, 2013
Time: 1:00pm - 2:15pm ET
Location: GoToWebinar + Twitter [#McDsusty]

Presenters:
Bob Langert
VP, Sustainability
McDonald's
Heather Shapter
Corporate Culture Game Changer
Open Spaces Learning
Leslie Bennett
Corporate Culture Game Changer
Open Spaces Learning
Brad Zarnett
Founder and Executive Director
Toronto Sustainability Speaker Series (TSSS)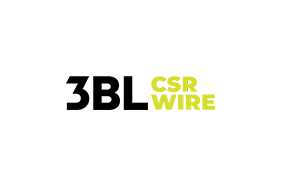 3BL CSRwire
3BL CSRwire
Respected and relied on by journalists, bloggers, business leaders and academics around the world, 3BL CSRwire is a dedicated, real-time source for major news and updates from within the worlds of ESG, corporate social responsibility and sustainability.
3BL CSRwire offers a-la-carte press release distribution to a global network of influential stakeholders and mainstream audiences—perfect for organizations just getting started in CSR or for those looking to get the most out of their corporate communications.
More from 3BL CSRwire