Published 09-09-13
Submitted by Points of Light
To commemorate the 9/11 Day of Service and Remembrance, Points of Light is supporting thousands of individuals nationwide in service projects ranging from disaster preparedness to building MedEvac bags for wounded warriors returning home.
For the past four years, Points of Light has led volunteers across the country in reclaiming the legacy of 9/11 by serving communities and solving the challenges communities face. This year, Points of Light is working in partnership with MyGoodDeed and has received sponsorships from Noble Vines, CSAA Insurance Group's Community Safety Foundation, UPS and the Corporation for National and Community Service (CNCS).
The September 11th National Day of Service and Remembrance was established by the Edward M. Kennedy Serve America Act in 2009 and furthers President Obama's call to service, United We Serve. Points of Light is a recipient of a federal grant from CNCS, which provides resources for the following 9/11 activities that complement Points of Light's ongoing preparedness program called Good and Ready.
Louisiana: HandsOn New Orleans, the South Louisiana Red Cross, Evacuteer.org and the New Orleans Fire Department will educate residents of the Hollygrove neighborhood on emergency preparedness, city-assisted hurricane evacuation and fire prevention. Volunteers will assemble and distribute print material packets, training families on how to keep their loved ones safe during a disaster. The Fire Department will be installing free smoke detectors to homes that lack them.
North Carolina: HandsOn Northwest North Carolina, working with the Red Cross, will present age-appropriate disaster preparedness training to the students who attend two local Title I elementary schools in Forsyth County. The presentation will include information on creating disaster preparedness kits, instruction on how to "shelter in place" and how to share this information with their families.
Missouri: United Way of Greater St. Louis, working with the Red Cross, will coordinate hundreds of volunteers to go on campuses in the region and promote the importance of emergency preparedness by having students download an emergency preparedness mobile app on smart phones and distributing a disaster preparedness kit.
New York: The Service Collaborative of Western New York, working with AmeriCorps, Erie County RSVP Volunteers, AmeriCorps Alums, Team Depot and community volunteers will rehabilitate two resource buildings for veterans.
Illinois: HandsOn Suburban Chicago will engage businesses and their employees in a mall to compile disaster preparedness kits and distribute these to families through elementary and middle schools.
Oregon: HandsOn Willamette has partnered with government and nonprofit agencies around disaster preparedness for residents of the Salem area. Their Get Ready Salem event on September 7 brought 700 people together to gain practical information on preparing for emergencies and natural disasters.
Virginia: HandsOn BlueRidge, working with Roanoke government and non-profit partners and Advance Auto Parts, will have trained Community Emergency Response Team volunteers give disaster preparedness demonstrations and disseminate information about personal disaster preparedness and disaster kits. CERT volunteers will also provide this information during a two-day dental clinic that serves more than 1,000 patients.
Pennsylvania: United Way of York County is running a county-wide food drive with disaster preparedness materials at drop-off locations and a month-long "Preparedness Challenge," with a quiz and prizes featured at various events and online.
Indiana: The Volunteer Center @ RSVP (Fort Wayne) is coordinating FEMA volunteer management training course, with topics including virtual volunteer reception center, managing on onsite volunteer reception center, supervising and placing volunteers, plus role-play activity and completion of FEMA certification exam.
Alabama: HandsOn River Region is partnering with FEMA, Montgomery and Autauga County EMA and the Red Cross to offer disaster preparedness training for students in five elementary schools. Training will be focused on the type of natural or man-made disasters that are most common to the local community. HandsOn is also partnering on 9/11 with local organizations at the new Friendship Mission Women's Shelter, where residents and the community will receive information regarding disease prevention, healthy lifestyles that promote well-being and resources on health and human services referrals.
New Jersey: Jersey Cares will host projects commemorating 9/11 and will have volunteers working at sites affected by Hurricane Sandy.
Virginia: Volunteer Action Center Prince William City will hold multi-day events that include disaster preparedness training at senior centers, door-to-door distribution of preparedness information and disaster training for group home staff for people with functional needs.
Florida: HandsOn Broward will provide training on how to assist at a Volunteer Reception Center after a disaster strikes. (A VRC connects individuals/groups designated to help in locations in need of assistance.) At a simulated VRC, volunteers will be trained in different positions as well as act out roles in the simulation.
Also as part of the 9/11 Day of Service, ITT Exelis executives will gather at Arlington National Cemetery to pay their respects to those killed in the war on terrorism and then build MedEvac bags for wounded warriors arriving at Walter Reed and Ft. Belvoir. Working with Points of Light in Washington, D.C., Exelis staff will also provide a job coaching workshop for transitioning officers and create job readiness packages for veterans in transition.
And Youth Advisory Council members of generationOn, the youth division of Points of Light, are managing projects that include donating blood and raising money for first responders. (Click here for a full list.)
For more information on Points of Light's 9/11 Day of Service campaign, visit www.pointsoflight.org/signature-events/911-day-service-and-remembrance.
About Points of Light
Points of Light – the world's largest organization dedicated to volunteer service – mobilizes millions of people to take action that is changing the world. Through affiliates in 250 cities and partnerships with thousands of nonprofits and corporations, Points of Light engages more than 4 million volunteers in 30 million hours of service each year. We put people at the center of change. For more information, go to www.pointsoflight.org.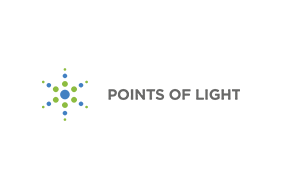 Points of Light
Points of Light
Points of Light is a nonpartisan, global nonprofit organization that inspires, equips and mobilizes millions of people to take action that changes the world. We envision a world in which every individual discovers the power to make a difference, creating healthy communities in vibrant, participatory societies. Through 177 affiliates across 38 countries, and in partnership with thousands of nonprofits and corporations, Points of Light engages 5 million volunteers in 16 million hours of service each year. We bring the power of people to bear where it's needed most.
More from Points of Light